Summary

We helped this ecommerce merchant increase sales by 91% WITHOUT more traffic by using a proven 'formula' for CRO (Conversion Rate Optimization).
The optimized page then allowed them to pay for more expensive traffic sources and grow 'run-rate' revenue by 1,212% in about 10 months (more than $10 million). We estimate we increased the company's valuation by $97 million.
What Is CRO?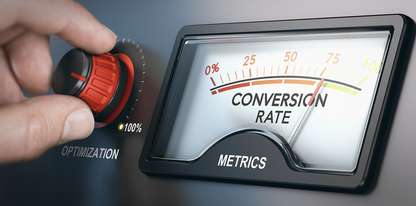 CRO (Conversion Rate Optimization) is the art and science of turning more of your site's visitors into buyers, leads or app downloads. ). i.e getting more sales WITHOUT more traffic! 
It is usually done by carrying out 'split tests' (also known as A/B tests). Below are a few of the successful tests we did for this ecommerce store.
1. Including "Free Upgrade to Expedited Shipping" in the Headline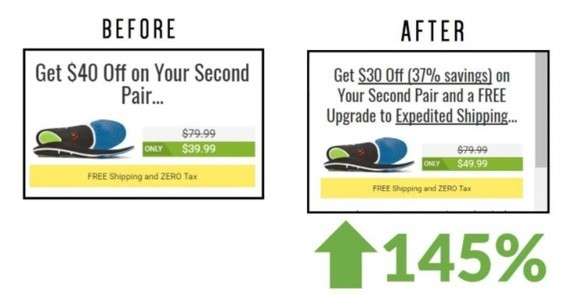 2. Adding 'Celebrity' Testimonials: 60% Lift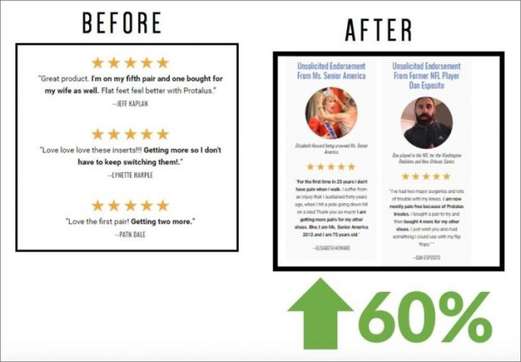 For this test we added two "celebrity" endorsements. But don't let the word "celebrity" scare you!
A "celebrity" can be anyone who is respected in your market. In our case it was a retired NFL player (that few would recognize as he played in the 90's) and Ms. Senior America. Both had experienced severe leg/knee/back pain and the insoles helped.
3. Did a Better Job of Justifying the Price–and Five Other Things: 58% Lift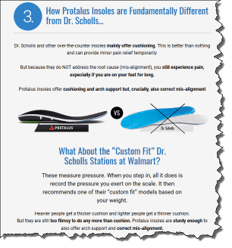 Here, we addressed the concerns uncovered by our proprietary customer survey (also in the cheat sheet below).
One of those concerns was why someone should pay $79 for insoles when Dr Scholls cost $6. From the testimonials, we learned that people who used them got similar results to using custom orthotics,  which cost $600 to $3,000+
We therefore positioned Protalus' insoles as "Almost as good as custom orthotics but cost 87% less"…