Answers

Nov 03, 2017 - 06:37 PM
Option 1:
Facebook's semi-structured natural language search engine called Graph search isn't completely disabled but has been replaced by keyword based search that is more focused on status updates & posts. Most of the graph search functionality is still available but you'll have to look for it. While you are still able to use the search bar for simpler search queries, more advanced queries can only be processed via a direct URL at
https://search.fb.com/
. Here you can search for the following –
Find any post you've seen before on Facebook
Explore the world beyond your News Feed
Find old friends—and new ones, too
Here's how to use Facebook Advanced Search Tips - Graph Searching 2.0
To start, it'll work better if you have already signed up and activated the
graph search feature
.

Search Basics
Using the Search Bar
How do I search for something on Facebook?
To search for something:
Click the search bar at the top of any page on Facebook
Enter what you're looking for and choose from the results
When typing something, you may see predictions for what you're looking for. If you see what you're looking for in these predictions, click it to save time searching.
To filter your search results:
Type something into the search bar at the top of any Facebook page or select something from the typeahead
Click a filter at the top (ex: People, Photos) to narrow your search
To use keywords in search:
Search supports keyword searches to help you find what you're looking for on Facebook. When you start searching with keywords (ex: Caroline wedding or cookie recipe Lisa) you'll see results that you can filter. You can also select one of the predicted searches to see a full list of search options for that prediction.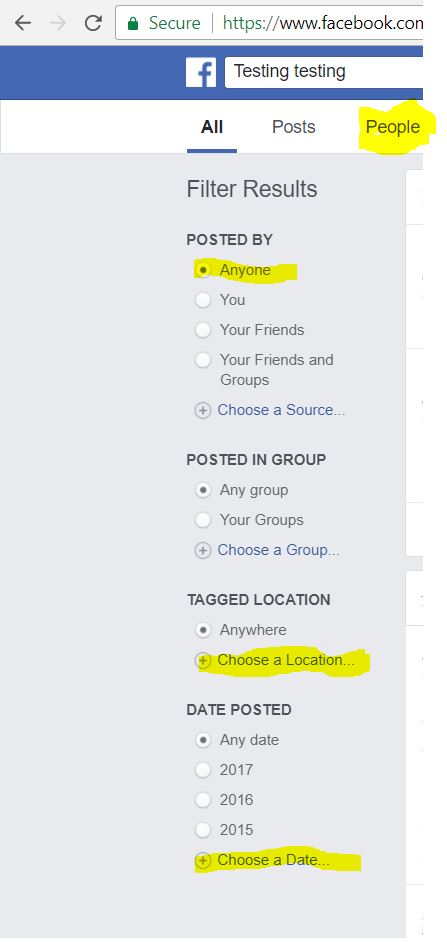 Option 2:
Alternatively, there is an unofficial third party Facebook Search Engine that may offer additional functionalities that you may find useful in your search. It is called "
Search Is Back
" and was launched after Facebook scaled back its own Search Graph functionalities.
The benefits of Search Is Back are –
No extra login required
No need for complicated Graph Search terms like "Friends of Friends named Kimberly who live in San Francisco and work at Facebook". Once you select and enter your search conditions, Search Is Back converts it into a proper URL and redirects you to the official search results page on Facebook.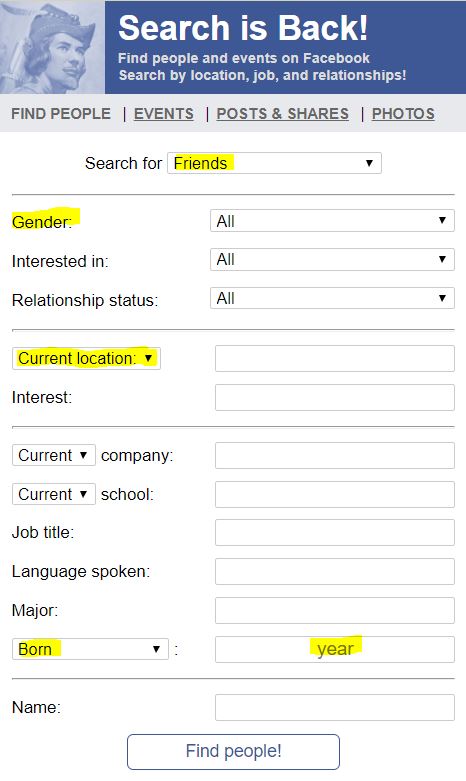 Sample search on
Search Is Back
includes-
People from your home town who now live in your current city
Friends of friends at a company you are interviewing
Friends in a city you're visitin2: