Answers

Feb 28, 2019 - 01:05 PM
In short yes. If you are looking for a new marketplace, then Bonanza is very much a place where you can grow your sales. The site mirrors eBay to a great extent and eBay critics seeking a new opportunity will find it a favorable option.
It is a fast-growing online marketplace based in Seattle, Washington. The marketplace lists over 20 million items offered by sellers ranging from sunglasses to perfume.
Bonanza, touted as a platform "built by entrepreneurs, for entrepreneurs," understands that some sellers might be too busy for inconvenience. Hence, the platform eliminates the need for sellers to have technical expertise to build profitable online businesses.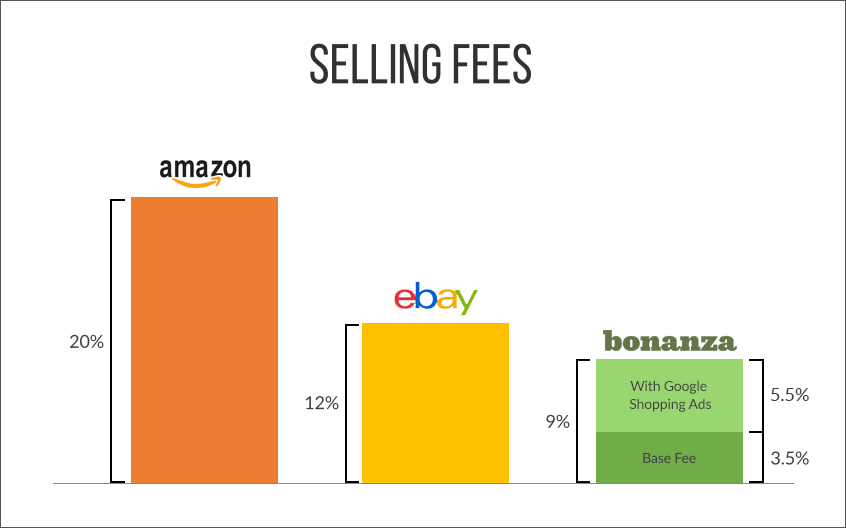 Pros and Cons of Bonanza
Pros
The marketplace has low fees that only apply at point of sale. Since Bonanza does not make money until you do, you will realize much higher profit margins.
Bonanza automatically sends listings to Bing and Google Shopping. This allows sellers to have more exposure through advertising their listings in other channels like Nextag, PriceGrabber and its own affiliate-advertising program.
Easy-to-use import features for eBay, Etsy, and Amazon listings
Bonanza has easy to use import features for items on eBay, Amazon, and Etsy. Sellers like to list their items on multiple platforms.
At 1300:1, the ratio of buyers to sellers on Bonanza is much higher than eBay. This implies that there is less competition between sellers and more chances for buyers to notice your products.
Cons
Bonanza has limited options for customizing layouts for specific listings.
Big name competitors generally have superior item inventory compared to Bonanza.
Bonanza is not yet a recognized brand.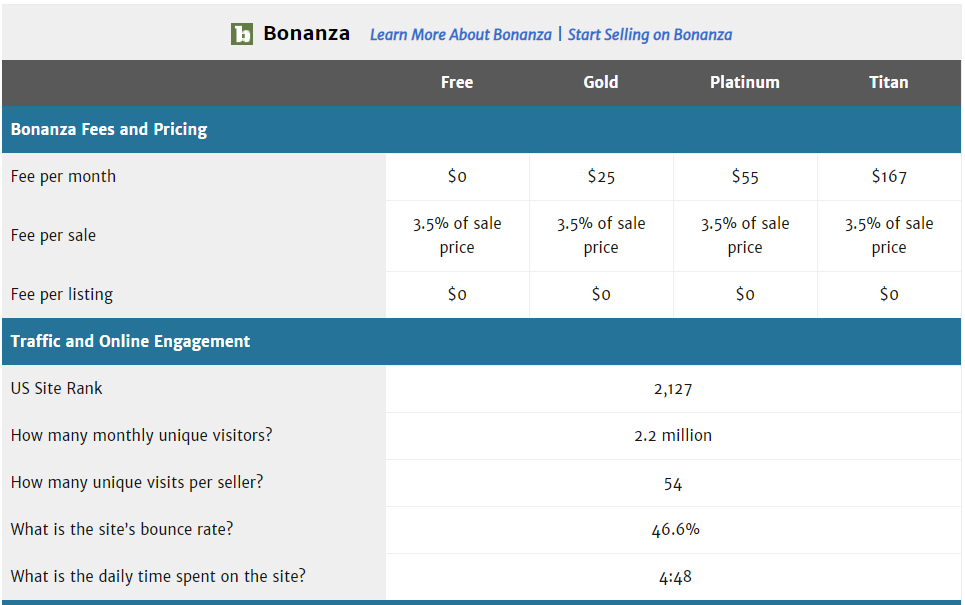 What is the Value Proposition for Selling on Bonanza
Most sellers are already making good money on Bonanza. The site boasts of merchants and shoppers in nearly every country in the world.
Bonanza is the easiest platform to sell on online with a fast rising popularity among sellers. For example, Bonanza came first in last year's Sellers Choice Awards in the communication category. The platform was also voted the most recommended selling venue among sellers.
Besides online ratings, several neat features make Bonanza an attractive venue to sell your items. First, you can import your eBay and Amazon listings via a CSV file to bring up your inventory quickly.
Second, Bonanza does not have listing fees and have a lower commission than sites like Amazon and eBay. Besides, Bonanza integrates several payment services like PayPal and Amazon Payments.
One problem that sellers need to tackle when they go to a new marketplace is earning trust and building reputation. If you have a five-star rating on eBay, do not fret. The best thing about Bonanza is that you can bring your eBay reputation with you. There is nothing as satisfying as seeing your eBay credibility shown off on your day-old Bonanza page.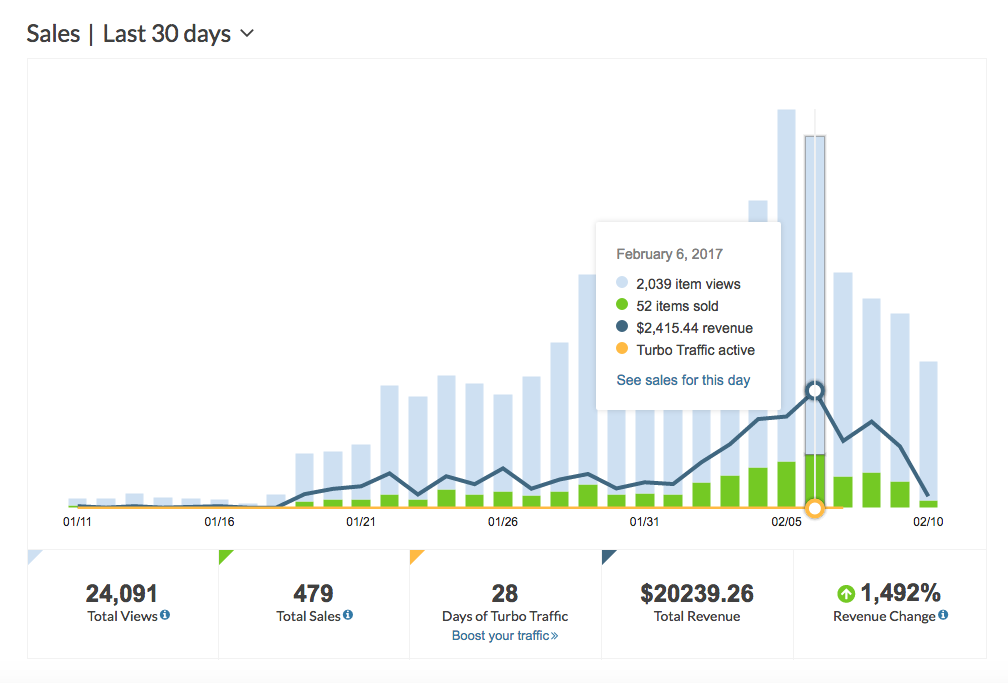 Source: Bonanza
Finally, if you are a data junkie, Bonanza has a long history of working alongside Google. The platform has many features to help you make your products visible. Your Bonanza listings have an option to get seen by many potential buyers via Google Shopping Adverts, its affiliate partners and Bing.
But after all is said and done, does Bonanza have the credibility threshold for making decent sales? Certainly, it is not even a marginal male in the eCommerce world but if you are considering selling here, you can get the most out of the marketplace.
The secret of successful eCommerce business is multi-channel selling. Never put your eggs in one basket. While I was scouring many seller reviews, most people had comments like, "Bonanza is not good, I've only had one sale in a month."
That is because they are risking everything on one endeavor. To sell more, also consider selling on other platforms like Etsy, eBay, etc. If Bonanza is the only place where your brand has a presence, you will hardly succeed.
Shoot your shot. Bonanza has a big potential and investing your time on this platform will not be in vain.
Find out you can become a good seller on Bonanza:
---

Jul 01, 2019 - 03:08 PM
@DrCapitalAndGrowth
Is it recommended that when implementing a multi-channel sales strategy, we use the same name for all our online stores, so that if at Bonanza we're known as 'Nancy's Shoes' we should also name our eBay store the same way etc?
---

Jul 01, 2019 - 03:29 PM
Great response @Dr. Capital & Growth!
@$$ANON_USER$$, It really depends on your brand. For example, if you specialize in a product/product line/brand, then it is in your best interest to have that identity on all of your marketplace channels.
If you specialize in different products/brands/verticals then it is probably best to create unique brands for each of them. The most important thing in multi-channel selling is making sure that your items are priced appropriately so you do not compete with yourself (which could cost you more in Google Advertising).
For example, if you are selling on Bonanza and eBay and Amazon, each marketplace has different fees associated with the platform.
So your items on Bonanza will be cheaper to sell than eBay or Amazon because the fees you are paying there are much less, so price your items less on Bonanza. Otherwise you could inadvertently drive buyers to channels that cost you more money. Hope that helps.
---

Jan 19, 2020 - 01:12 AM
We just closed the account with Bonanza after 10 years of selling. They used to do better! The best feature is the ability to simply pull listings from Amazon, Ebay and other shops. Setting up a shop is so easy and far better than any other only market place. One of the worst selling features is where Buyers' transaction have to be APPROVED by the seller. Yes, you can adjust that feature somewhere (I guess), but if you miss that, you offend potential buyers. Heck, there are so many Sellers out there who are happy to let me spend money on them, why would I feel good about having to be approved? Bonanza should be able to figure the cost of international shipping, without Sellers having to approve an invoice and then add the cost of shipping on afterwards ...

Basically, the Bonanza store is not CUSTOMER-friendly. The annual fee of over $140 AND the Sellers Fees make it the most expensive place to sell on. Yes, Bonanza's tries to sell their store by saying that their selling fees are cheaper than other stores - but they really aren't. You have to go through Paypal or Amazon to collect the funds, and they take their cut. So on top of the Annual Selling Fees, the Transaction Fees and then having to pay the payment processor - Bonanza has become an expensive place to sell.

At one time, it did actually okay. We sold on a regular basis. Then they introduced "turbo sales" - which means advertising fees and those that didn't pay that (considering how expensive selling on Bonanza already is) stopped having any sales at all. I think we had about 5 sales in a year - so the yearly cost of $140+ - no longer made sense. It's a shame though. I was so excited about a platform that made selling SO EASY. You can literally put up thousands of listings in a day ... It is unknown anywhere else.

But you don't sell anything. We would have kept Bonanza up hoping that the Bonanza "teckies" would eventually figure out how to attract and KEEP more customers coming back (rather than offending them) - it could have become our next Amazon. But it seemed that the storefront was initially well designed, but less thought has been given to facilitating the process of placing orders and calculating shipping. At this point, I am hoping that the smart people who developed the original Bonanza backend are hired by Amazon, Ebay, Walmart (ESPECIALLY Walmart - because listing with them is a NIGHTMARE!) - so that listings can be created more easilys and more products are available for sale ... Maybe the Bonanza team will get it worked out eventually ... At this point, Bonanza is an incomplete project and it seems that they stopped working on it. So we deactivated our store before the next annual fee is due ...
---

Feb 04, 2020 - 01:40 PM
I've been on Bonanza for a few years. I have several thousand listings (they sync from eBay - for the most part). I can count on one hand the number of successful sales I've made on Bonanza. Is it worth it? Sure - it doesn't cost anything and the listings sync automatically. Are you going to see a noticeable increase in sales? Not a snowball's chance in hell. Also, their "automatic sync" is a joke and I kid you not I have had TWELVE situations in which a Bonanza buyer has purchased an item that had been long since sold on eBay - and the Bonanza support reps can't figure out how to fix the glitch. That's twelve fuckups and five successful sales.
Source: https://ggstreetview.com
---

---

May 08, 2020 - 03:31 AM
No. Not in my experience. I copied my entire ebay store over to bonanza and zippo has sold. Nada. Nothing. Meanwhile I have sold a lot on eBay , Poshmark (huge commission taken out though) and Mercari.
---
Mar 30, 2021 - 12:08 PM
Your review counts!
You reviewed Bonanza
Add photo
Richard Freiburghouse
1 review
1 star: Bad
Updated just now
Wish I had never heard of Bonanza
Yea, I sell on eBay and I am always looking for an alternative. Wish I had never heard of Bonanza. Once you give them a credit card they secretly start charging you seller fees that they say are free.

Before I realized what was going on they got me for $50 (and I never sold anything?!?). I had to go through my credit card company to stop payments even though I cancelled my Bonanza account but of course I got no refund for the fraudulent activity.

Absolutely ZERO customer service as they would not respond to any of my emails. Even worse there seems to be ZERO buyers on the site and I imagine they over-inflate sales data to sucker in potential sellers like me. AVOID, AVOID, AVOID!
---

Sep 04, 2021 - 07:48 AM
We are selling on Amazon, Ebay, Walmart.com and Bonanza.

But now we found a NEW marketplace called TurtleEgg.com

Its super easy to use, load products and manage business. They promote our business and products rather than just the marketplace. So we have a way to build our business and customer base.

We are always looking for more sales and feel the more marketplaces we post our products on the better our chances.

Try them out : TurtlesEgg.com

---

Sep 28, 2023 - 01:15 PM
Stay away. No Seller Support and NO Seller Protection at all.