Answers

Aug 27, 2019 - 08:10 AM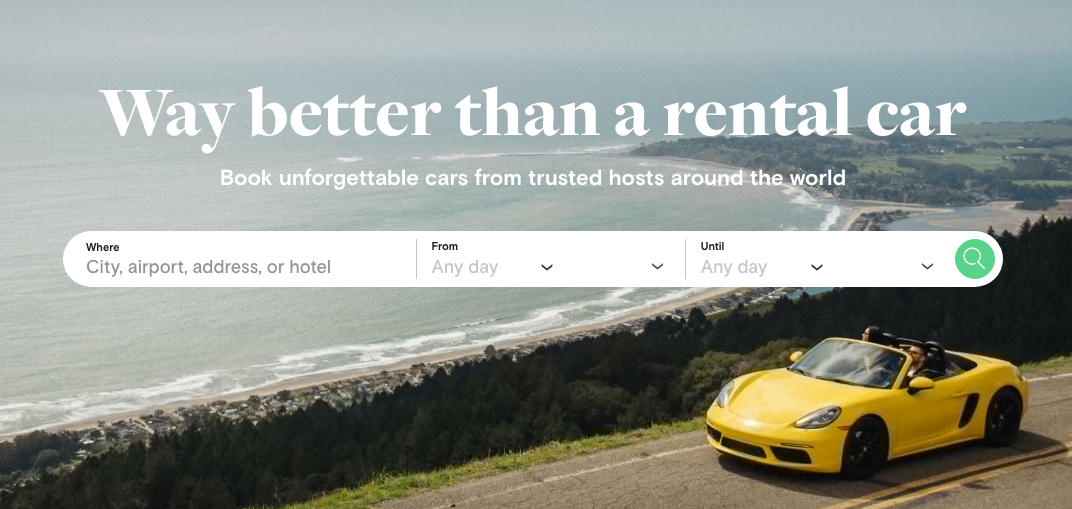 How Turo Works
Turo is effectively the Airbnb of cars. However, there are some important differences between renting out an apartment and renting out a car that could affect your ability to profit.
Like Airbnb, listing on Turo is free, and any communication with people wanting to book your car gets done through the app.
Once you've accepted a request to book your car, you'll either need to meet in person to hand over the keys, or do a remote check-in. Needless to say, meeting in person can eat up large swaths of time, making it difficult to rent out a whole fleet. But if you do remote check-ins, you can save some time, though you'll still need to go through Turo's verification process.
After your guest is done with the car, you'll retrieve it using the same process. Turo also offers insurance for car owners, which takes a significant burden off your shoulders.
Is the Brand Making Money?
Many users like Turo for offering something more flexible, and typically more affordable, than most car rental companies. But in spite of its popularity, it's not a well-known and widely-used success in the same way Airbnb is. Is the brand really making money with this business model?
RIght now, it seems to be. IAC recently invested $250 million in Turo, bringing the company's valuation to more than $1 billion. Turo was founded in 2010, so it's promising that the brand is still doing so well after nearly a decade. It's already seen more than four million users, another promising sign.
While some brands that experience fast growth ultimately crash and burn, Turo doesn't seem likely to. It made its nationwide launch in 2012, so it's been long enough to suggest that Turo's success is no fluke.
And while other brands (notably ecommerce clothing brands) often fail due to irresponsible spending on growth (like quickly opening new brick-and-mortar stores), Turo likely won't see the same issue. While other industries offer easy pitfalls for brands that want to expand, it's hard for a straightforward car-sharing company to find things to spend frivolously on.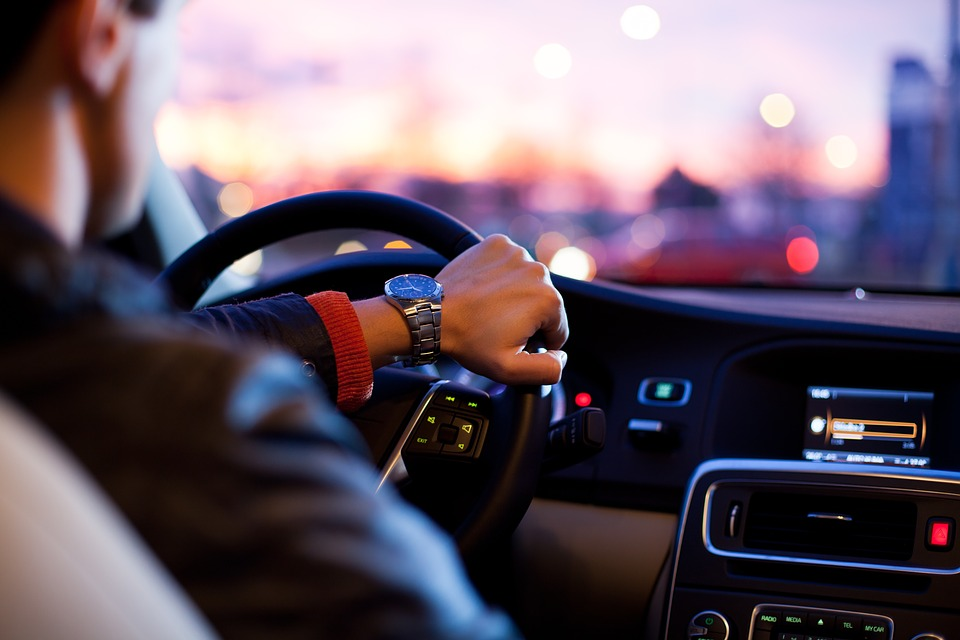 Image via Pixabay
Can You Make Money with Turo?
With that in mind, it looks like Turo is here to stay for the foreseeable future. But can hosts really make lots of money with the platform? Let's weigh the pros and cons.
Pros
One of the main perks of Turo is that it's easy to use. You can try it out with just one car and see how it goes. Setting up to list your car doesn't take much work. Turo's site even offers a calculator to help you see how profitable your car might be.
It's equally easy for people to rent your car. In some areas, you might find your car(s) booked on the daily. However, certain cities are more competitive than others. If you're in an area where driving is necessary, and people frequently come from out of town, you'll probably have better luck with getting clients.
It's also a significant benefit that Turo offers insurance to its hosts, and prices its rentals fairly for both renter and host. The platform makes things as easy as possible for you.
Cons
While the benefits of being a Turo host are straightforward, the drawbacks are a little more complicated.
First, making money on Turo is harder than making money on Airbnb. Cars inherently require things that a rented apartment doesn't. For example, you'll need a safe place to keep all of your cars when they're not in use. While you could start at home, if you want to expand, you'll need to factor in the cost of a garage or similar space for storing vehicles.
There's also the question of maintenance. People who rent out Airbnb apartments that they don't own enjoy a big perk: their landlord is still responsible for maintenance. But with a car, you'll need to budget for any repairs and regular maintenance, or replacing the vehicle if get gets totaled.
And there's also no way to minimize the risk of your vehicle getting damaged. While it usually takes a certain kind of person to trash an apartment, even the safest driver can find themselves in a car accident through no fault of their own. Some Turo hosts have had to fight to get compensation for totaled cars. Is that a financial risk you're willing to face?
While Turo does offer insurance, the payouts for totaled cars are based on the car's "actual cash value," which is a fairly subjective measure. This can leave owners getting reimbursed for far less than what they paid for a car.
A different sort of concern is that Turo doesn't allow hosts to rent out their cars in any other way while also using Turo. This means that if you want to fill in the Turo gaps with other rental options, you won't be able to. You'll depend exclusively on one website for your profits.
Finally, the idea you propose would be time-consuming. You'd need to spend time vetting renters, checking and cleaning cars, scheduling maintenance, and so on. Even with just a handful of cars, this process would eat up lots of time.
Again, compare it to Airbnb. There, renters often use spaces for weeks or months at a time. This means hosts need to spend a lot less time cleaning and prepping for client turnover. But with daily car rentals, this prep work becomes a daily need.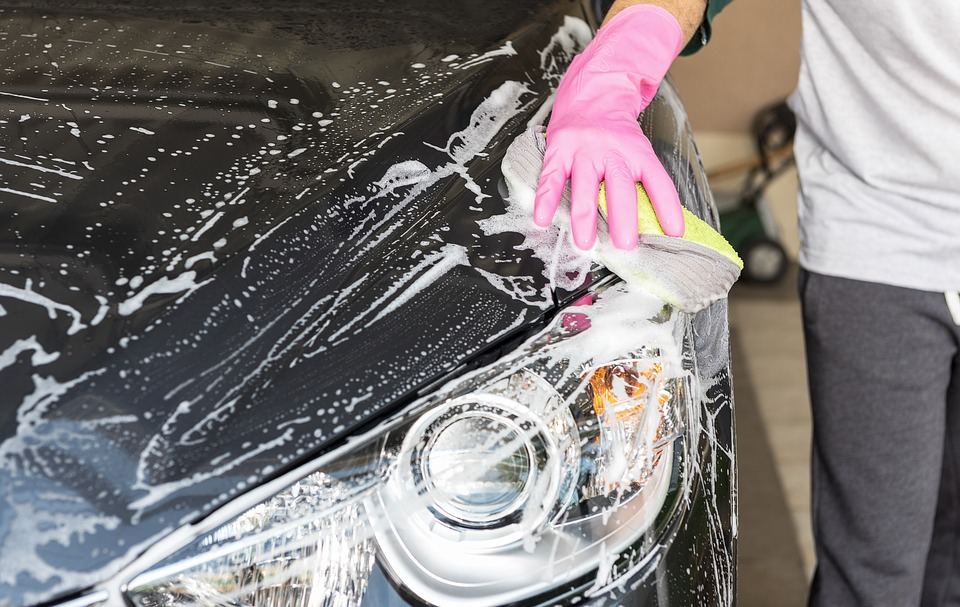 Image via Pixabay
The Verdict
All of that said, is Turo profitable? It very well may be, but it's also very risky.
There's no reason you couldn't profit using your proposed business model. However, if just a few things went wrong, you'd also stand to lose a lot of money. This isn't a good plan if you want surefire income. But if you're willing and able to take a risk in exchange for potential profits, that's a different story.
Turo itself is making money, and hosts who rent out their personal cars are making a small personal profit too. I'd suggest starting that way, with a car you already have, and seeing how it goes before you add to your fleet. This will help you get a better idea of the kind of time and money you'd need to invest as you grow.
Start small and don't take any financial risks you aren't ready for (like buying a premium car that you can't afford to lose). If it works out, great - and if it doesn't, you'll easily be able to get out before you've sunk thousands into the plan.
---

Apr 19, 2020 - 09:52 AM
Great question but it really depends on location. A Lambo will do pretty good in the Los Angeles market but it won't in Raleigh, NC market. Sharelytics
helps you easily check what kind of monthly revenue and utilization a car makes in different cities/markets and based on season. Below are some examples of exotics and their estimated past 30 day revenue from the Sharelytics Top Turo Cars page.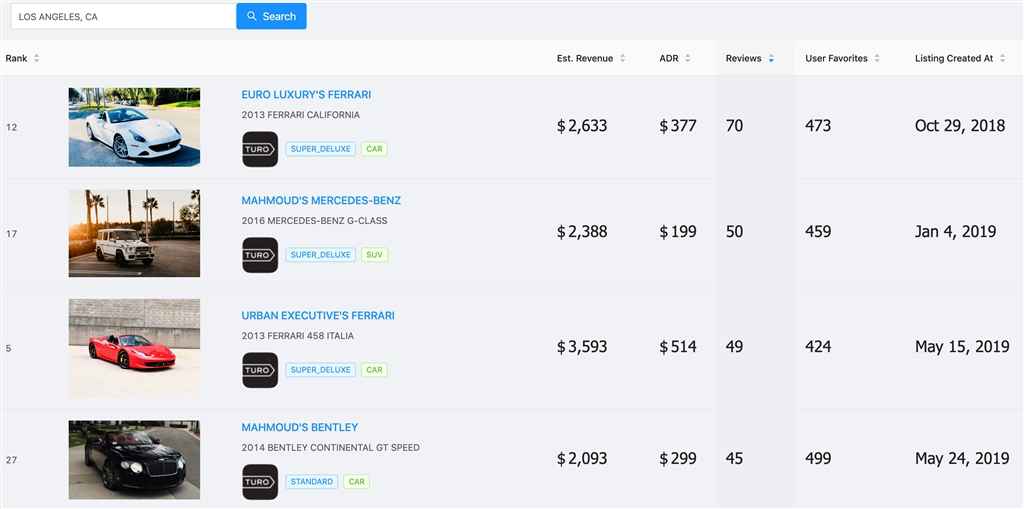 ---

Oct 15, 2021 - 08:22 PM
According to the WSJ, on whether you can make money:
Turo's website says hosts with a fleet of nine cars can earn an average of over $90,000 a year. Compared with Airbnb, a small business on Turo seems more achievable.


And on whether Turo itself is profitable:
The third quarter of last year marked Turo's first profitable quarter and, while the company is currently in a quiet period ahead of its initial public offering, it has previously forecast achieving full-year profitability before interest and taxes next year. As of the beginning of January, Turo had been expecting to finish 2020 with record revenue of over $150 million.


See the full article
here:
Source: WSJ
---

Apr 10, 2022 - 01:40 PM
90k is not achievable with 9 cars.
Considering that economy cars rent out for $20/day, and realistically only are rented out 150 to 200 days a year, you're looking at a much lower than 10k per car income. More like 3 to 4k, of which you'll need to pay gap insurance, maintenance, taxes, etc... not worth it, unless you can buy the vehicle for half the current price