Answers

Mar 01, 2019 - 07:23 AM
I also heard about the "money-empting craze" and it is such an unfortunate incident, which can happen to anyone, I believe. I confirmed that the billing error has since been solved.
But let us get back to your question. I have seen it framed in many different ways with the most common one going this way:
"Can one make a living wage on Etsy?"
If I am hard-pressed for a yes-no answer, the simple answer is "Yes". However, it depends on your niche, effort, and aggressiveness.
It also depends on what you consider living wage. Some people are content with an extra $1000 dollars a month while others need to make above their state's annual minimum wages.
Things are seemingly getting complicated nowadays. Imagine all the selling platforms you have to master to sell your items – Amazon, eBay, Shopify, Etsy and others.
Then comes the challenge of integrating them together with cross-channel solutions like Stripe, Social Media Plugins etc., as well as other features like accounting, time management and payment processing.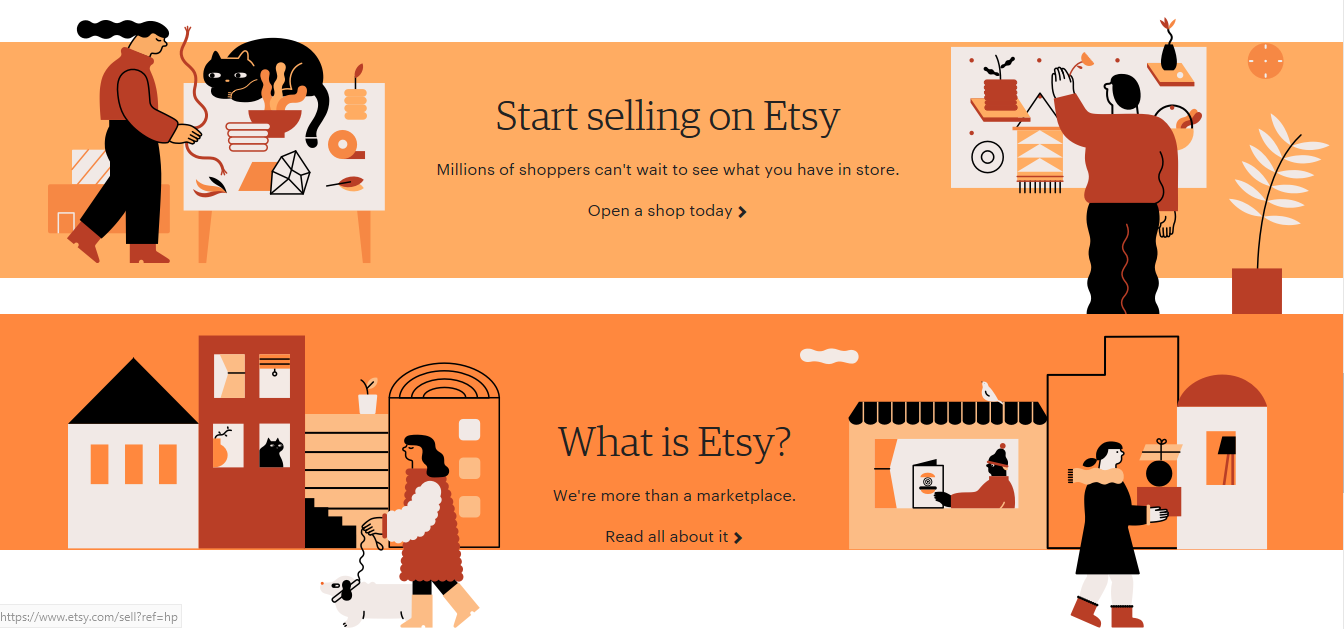 Source: Etsy
So, the question really is – can you really make a full-time income only from selling stuff on Etsy? For many people who are just getting started, this may seem too difficult but there are quite a lot of people who are making a living wage on the platform.
Etsy is the largest online market place for handmade crafts and antiques in the world. It has 43.9 million users and over 20 million unique items on sale on the platform. The platform makes it easy for users to sell or buy arts and creative products.
On the upside, anyone with even a little tech expertise can easily set up shop and within a few moments they are up and running. All you need to do is stand out from the crowd of over 2 million sellers that make a living from this site.
How Etsy Income Has Made a Difference in Sellers' Lives
Back in 2013, Etsy commissioned a report dubbed: Redefining Entrepreneurship, that reviewed the status of its marketplace then.
18% of the sellers who were interviewed indicated that they sold their goods full-time on Etsy. The remainder of these sellers claimed that they supplement their annual income. The net effect of this is that Etsy earnings contribute to their financial security.
When it came to how these sellers spent this income, the report pointed out that they, spent 36% of the income to cover household expenses, 24% for discretionary spending and they contributed a further 20% to their savings.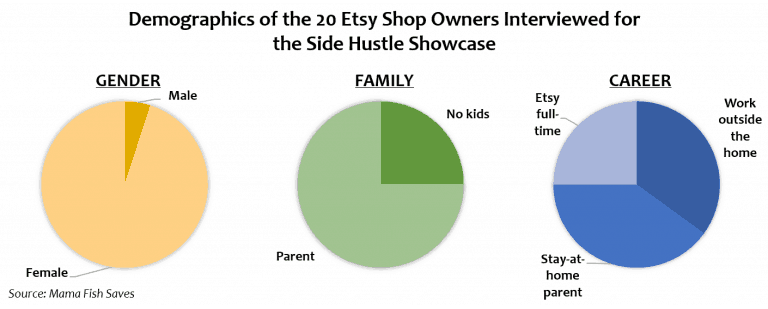 How do the Demographics compare to 2018?
Fast forward to 2018 and if the results are to go by, the trend is still the same. Many people who come to sell on Etsy are looking to sell full-time while others only come here to look for ways to supplement their income or look for a creative outlet.
Some sellers seem to be interested in only keeping their businesses at a manageable scale. This however, does not imply that they are short of ambition.
Smith, who always participates in Etsy's annual seller census, knows a thing or two about the behavioral tendencies of Etsy's sellers. She says that in Australia, the sellers are predominantly female (about 94%), and just likely to b be under 35 years.
In Australia, Smith reckons that a large number of sellers are parents with children at home and that 27% of these sellers have a household income of less than $800 a week.
As of what makes people get into Etsy in the first place, she found out that some go in with the intention to support their income, others to quit their day job, and another faction just find it almost accidentally!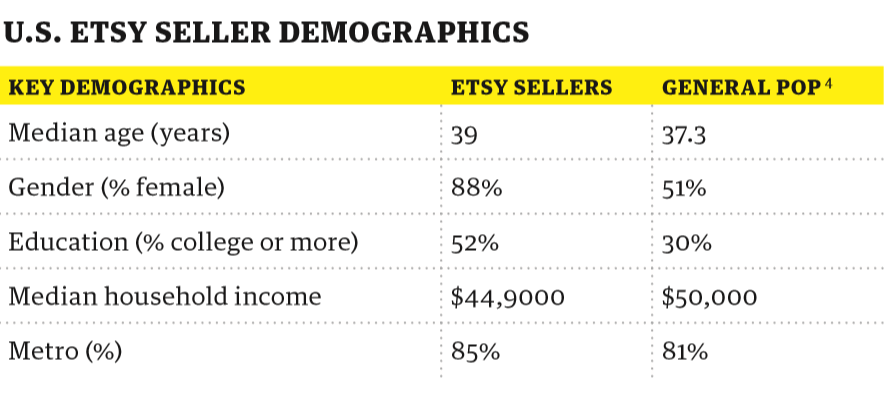 Source: Etsy
Check out a few people who have been killing it on Etsy.
I should probably start with a disclaimer; you should not use these success stories as a yard stick, but rather as an inspiration to building your own business. These are stories of how people choose to build a business selling a product.
Just imagine that this is a reflection of what you can achieve by concentrating on building a business online. These are just some of the hero stories of Etsy sellers who have been generous enough to share their success. Many more ventures that are successful go undocumented.
ThreeBirdNest
Undeniably one of Etsy's most famous success stories, ThreeBirdNest, owned by Alicia Shaffer is rated among the most successful ventures by revenue on Etsy.
The store's financial outlook is incredible, not only on its own but also by comparison to other Etsy success stories. The secret for this store lies not in steep listing prices nor an extraordinary business model. ThreeBirdNest thrives on high sales volumes – over 2300 orders per month at an average price of $23.
A look at these numbers demonstrates nothing short of efficiency. Combine these two figures and you are looking at an average monthly turnover of $80,000 and an annual figure of over $960,000. Impressive!
In one of the interviews, Alicia Shaffer was asked about her business model and how she manages such astonishing results. She had this to say:
"I'm working my butt off for it. I'm not just sitting here pointing my finger at people and telling them to get to work. I get home, put my kids to bed, and keep working. It's a 24/7 operation."
ThreeBirdNest named from Alicia's bird-nest tattoo was founded in 2011. At the time, Shaffer who worked at a small women's boutique in Livermore, CA, wanted to earn just enough money to help pay for her kids.
Alicia has been featured in many articles and blogs, but this feature by FastCompany details her success tips and I find it a worthy read: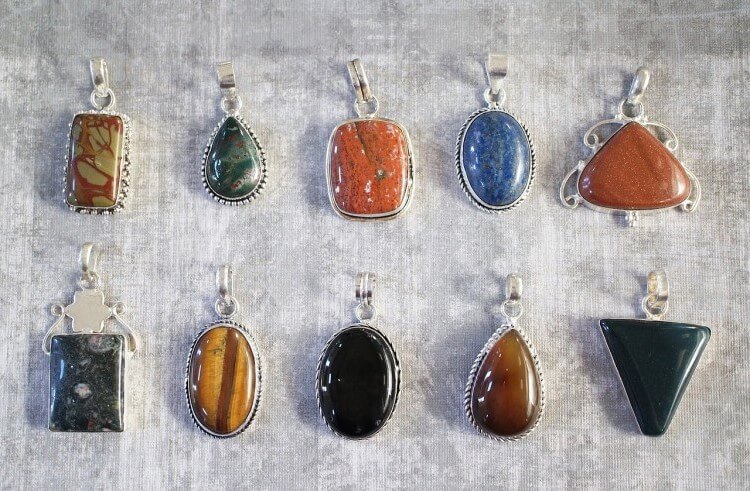 Source: Bohemian Findings
2.) Bohemian Findings
Bohemian Findings is Etsy's other newsworthy gem. The store boasts of the largest amount orders on the platform at over a million items sold. It is even more exciting that they ship everywhere from the United States all the way to Australia and anywhere in between.
Bohemian Findings, owned by Hope Milner and her husband, is a store that specializes in charms and other small items and sells them at significantly lower prices than in mall stores.
Money always seems to follow anyone who is passionate about their work and put their heart and soul into it. Hope started the business when they, together with her husband, while moving for retirement, decided to sell some charms from a past business.
Naturally, they decided to put them online and surprisingly, the items sold like a charm. The demand was growing without a stop and a few months later they realized they could use some help. They have since hired some more people and the business does not seem like it will relent soon.
She narrates the story of her journey in the video below:
More Success Stories
Here are a few other articles detailing businesses that have worked on Etsy. Some of them rose above a series of fails and you could hack it too:
And if you are curious to how you too can make it, here are a few expert tips on how to sell and what to sell:

3DCart also has a "selling stuff on etsy" guide that you might find useful.

What makes Etsy a distinct marketplace must be that which lies at the heart of its mission: "To keep commerce human."