Answers

Nov 17, 2017 - 02:47 PM
Great question. In the process of responding, I've decided to provide an effective and actionable response in the form of a strategy that can be implemented rather than an academic response. That being the case, I'll post response in sections, based on the format of the question, i.e-
1.Email Open
2.Email Opt-in
3.Click Through Rates
4.Social Sharing Email Content
Email remains the top marketing channel for marketers to reach their audience. Research by
ExactTarget
shows that "77% of consumers prefer to receive permission-based marketing communications through email."
That being the case, it is important to understand that
Time
&
Attention
are in short supply for your audience and potential customers. You are competing with other content providers, marketers, jobs, family time, hobbies, entertainment, gaming, TV, movies, etc, etc. So you really have to offer something of tremendous
value,
precisely at the
time
when your audience is ready and open to accepting your offer, and in the
format
that they are familiar and comfortable with; and the
channel
that they trust.
Email Open
In part 1: Email Open- I'll provide strategies on how to create an email format and content that fosters interest and offers reason for your audience to want to open and become subscribers to your email list.
---

Nov 17, 2017 - 05:31 PM
Part 1: Email Open
1
.
Build Your Email List
You will need to build your email list in order to have an effective email marketing strategy. You may purchase the list from list vendors or compile your own from various sources including your social media fans, prior business contacts, etc.
2. Determine Best Time to Send Email
Part of your strategy planning should be focused on determining the best time to send email to your audience. Which also mean knowing who your audience is. So you will need to create a demographic profile of your potential audience.
Example:
What professions are they likely to be in?
When are they generally on their device checking email?
Etc
One way of determining the best time is to segment your list into 2-3 equally sized groups, and send similar copies of your email to both groups at different times (ex: morning, afternoon & evening). There are applications that enable you to see if your email has been opened or not. Using this application, you can see which group yields the most opened email rate. You can run this test multiple times. Just be sure to keep the variables (groups, times, email format, etc) constant. You should be able to see which time works best for your email marketing to reach your audience
3. Plan Your Email "From" Field
In the age of spam and other concerns, people are skeptical of opening email from senders that they do not know. It is important to make sure you identify the "From" so your audience know who sent the email. Think about the information you put in the "From" field. Secondly, spam filters are becoming smart enough to filter emails based on the "From" name. So keep this in mind in your strategy.
Example: TED Talks is one of my favorite newsletters. I signed up for it when I attended a TED Talk conference. The TED Talk email "From" field below is "New on TED.com" this tells me it is new content, fresh ideas and an email that I very much want to open and listen to the talk.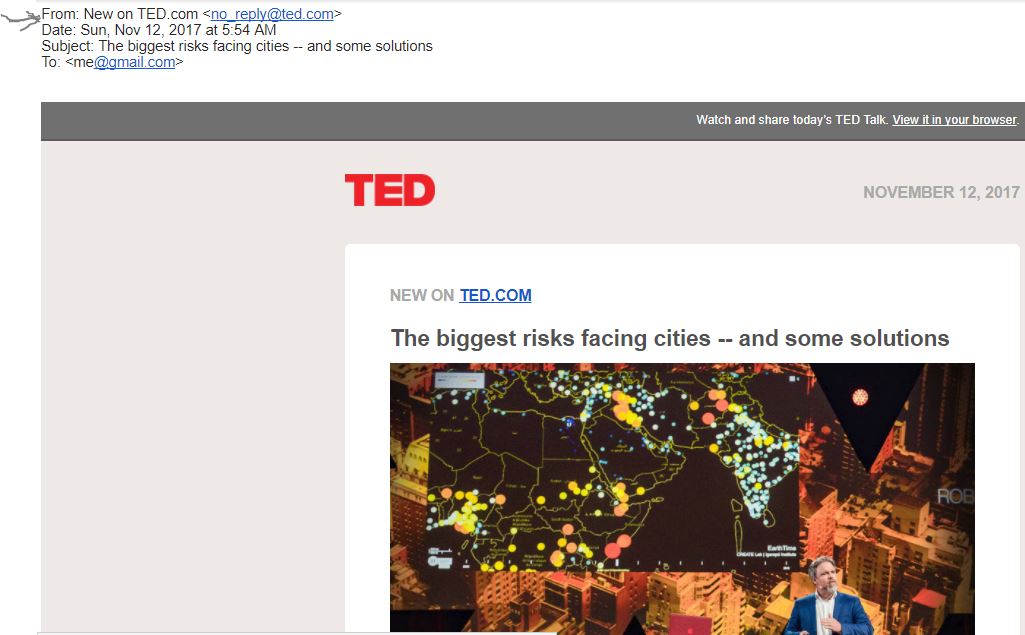 4. Plan Your Subject Line
Don'ts
Avoid generic subject lines. Example "November Newsletter"
Dos
List: Lists are easy to scan quickly
Teaser: Generate interest and anticipation
Announcement: Announce something new but be transparent and to the point
Question: Enlist their expertise and feedback
Command: Be direct and seek a call to action

5. Get to know your audience
How well do you know your target demographic?
What do they do?
Where do they shop?
What do they read?
Where do they travel?
Why did they join your email list?
What questions are the needing answers to?
You can gather these insights by implementing the following- Here are three ideas to help you do it:
In-person: As you interact with customers every day, ask and gather feedback and response to their questions.
Survey: Send out short 1-3 questionnaire & surveys
Posts: See the "likes" and "follows" to your posts on social media
Reports: See which links are getting the clicks.
Poll: As your audience gathers, ask them to take a quick poll.

6. Review and Modify Your Sign-Up Process
Your ultimate goal is to get your audience to open your email regularly. Success rate goes up when your audience understands what they are signing up for i.e., content and frequency.
Expertise & Resources - What value will they get for singing up?
Content & Format - What should they expect receive?
Frequency & Consistency - How often will they receive emails from you?
Iterate 1 - 6
Very important to iterate, update and improve your processes