Answers

Sep 05, 2018 - 09:42 PM
In order to figure this out, I looked at both SimilarWeb and Alexa's analysis of my company's own website LogicInbound.com.
Here is a Google Analytics snapshot of our actual traffic. This is the most reliable data you'll find: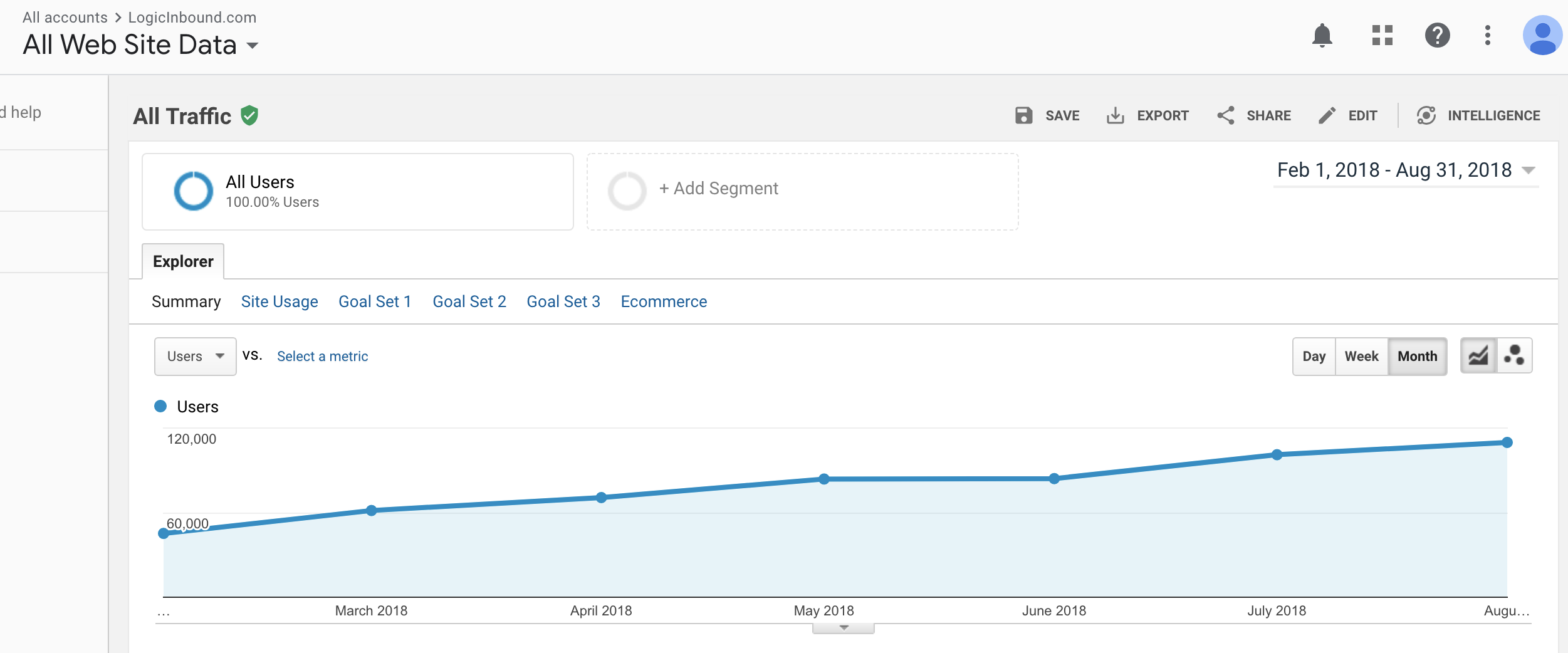 You can see that our traffic doubled in the last 6 months.
SimilarWeb vs Google Analytics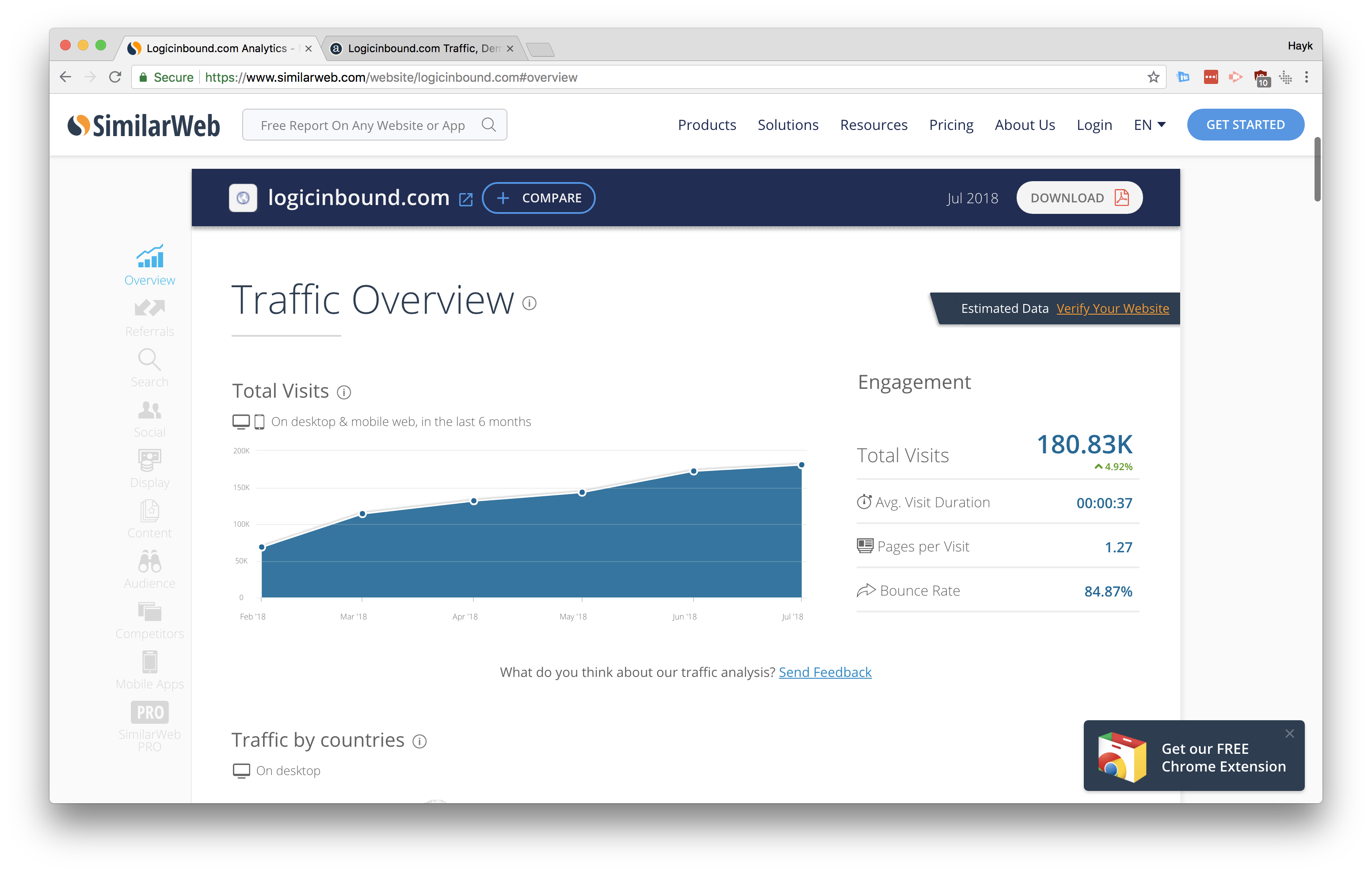 Here you can see a pretty similar trend, but the absolute numbers are not really correct.
Even if I look at our "sessions" instead of "users" SimilarWeb seems to overshoot us by 20-30%.
However, I would argue the trends are more important.
SimilarWeb is spot on for trends.
It basically mirrors our true analytics data, so I presume however they're getting this data is pretty reliable.
This similarweb query was also free. I'm sure they charge after a certain number of uses, but I was able to pull this data without paying anything or signing up for anything.
Alexa vs Google Analytics Alexa was far less helpful, and they put the traffic estimates behind a paywall.
They do show trends for alexa ranking.
However, "Alexa ranking" is pretty useless for measuring how good a website may be. This is because it's too disconnected from any useful numbers (users, sessions, transactions, engagement, etc.).
Alexa ranking is also very easy to manipulate, most of the Fiverr gigs that claim to inflate your alexa ranking
actually do so effectively
. But alexa ranking isn't going to increase your revenue so I would ignore it.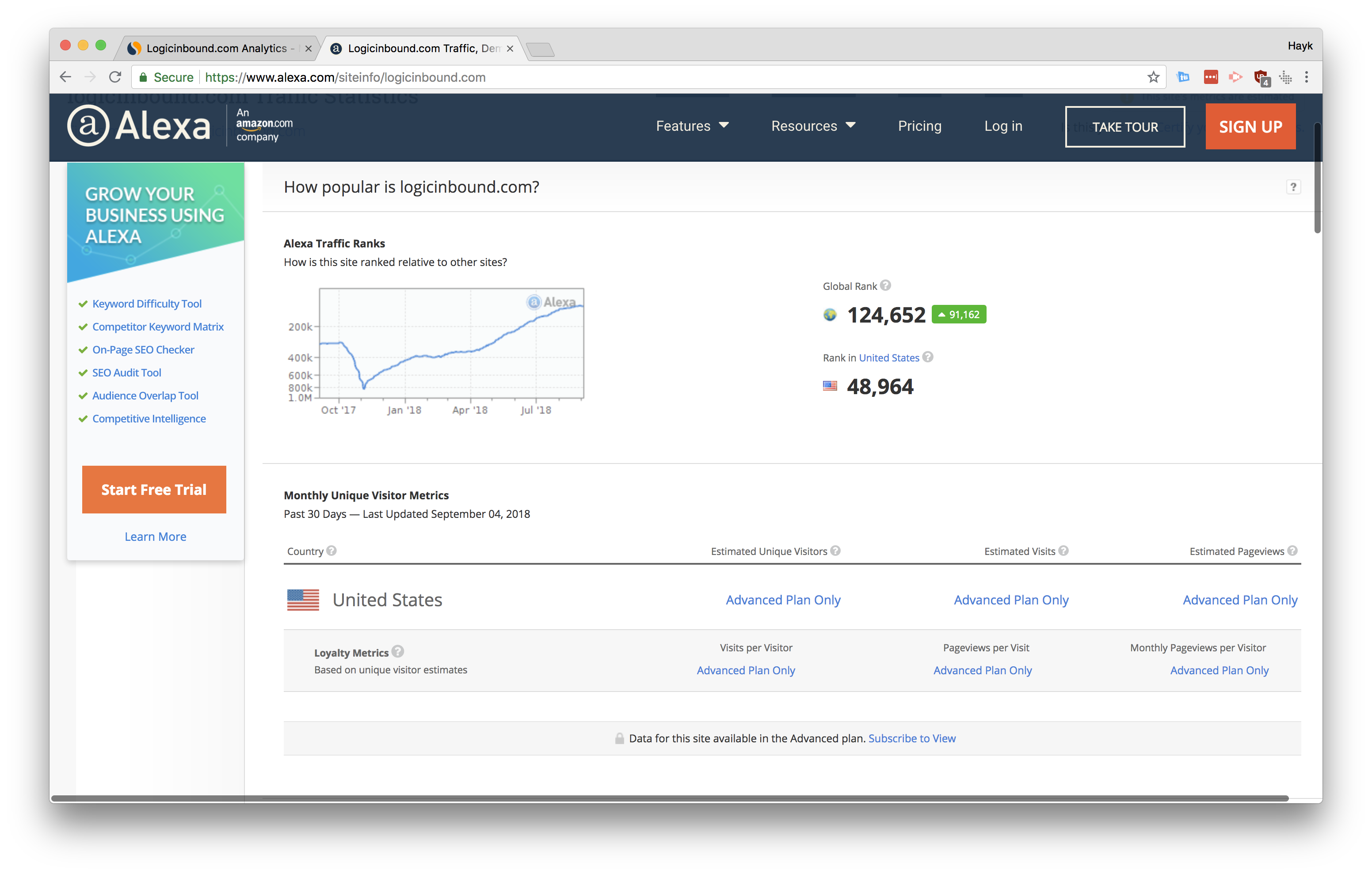 Alexa vs SimilarWeb
In conclusion, SimilarWeb is better than Alexa in every way but brand recognition. Alexa built a brand around the "Alexa Ranking", but not much else. SimilarWeb is the best way to get quick competitor intelligence at a big picture level.
---

Sep 06, 2018 - 12:53 PM
In comparison of competitive intelligence tools, SimilarWeb has been mentioned as the more reliable resource in several sources I've found.
In 2007 Alexa has been critiqued for accuracy issues. Alexa used to primarily get its data via the Alexa toolbar installed on web browsers. Since 2008 Alexa improved accuracy of data by using a combination of 25,000 different browser extensions.
Considering that both Alexa and SimilarWeb provide estimates they are best used for studying trends rather than understand real traffic numbers.
Taking a look at the data, SimilarWeb says that:
"We leverage hundreds of sources which we categorize into 4 distinct groups:
1. Global Panel Data from hundreds of millions of desktop/mobile devices
2. Global ISP Data from partners with millions of subscribers
3. Public Data Sources from over a billion sites and app pages every month
4. Direct Measurement Data from hundreds of thousands of sites and apps"
From this it appears that Similar Web has more diverse data.
Several sources I've found looked at their website data and concluded that Alexa has been inaccurate.
Recently Seperia, a digital marketing company compared both Alexa and SimilarWeb. They found SimilarWeb to be more accurate, detailed and especially found the additional metrics particularly useful compared to Alexa. Interestingly, Alexa was accurate for websites that had greater than 60,000-70,000 visitors per month but didn't have insights for websites having less than that amount of traffic; meanwhile SimilarWeb had full information regardless of amount of traffic per month.
SimilarWeb also allows to see data between 1 and 12 months while Alexa shows 3 months of data.
For details here is the article:
https://www.seperia.com/blog/competitive-intellig...
As mentioned, SimilarWeb has many more features than Alexa and Seperia says they outshine Alexa.
Both Alexa and SimilarWeb are useful tools for studying trends. For accuracy purposes SimilarWeb has been mentioned to be more reliable and especially useful with the extra features SimilarWeb offers.