Answers

Oct 09, 2018 - 08:33 AM
Below are few that come to mind:
Soda: Like Coke, sprite and the rest. And especially the fountain drinks at restaurants, convenience stores. The $2.99 drink likely costs a few cents on the dollar. The margin is north of 90%. I've heard that the plastic cup costs the merchant more than its content. But usually the other parts of the business are really low margin so not sure how you would go about building a new viable venture here.
Mattresses: Ever wondered why there are so many mattress stores? And why they all spend heavily on radio advertising. It is because they all make money with 60% to 70% profit margins. Even the really high end mattresses priced at several thousand dollars likely only cost a few hundred dollars. I believe it is the reason why we are seeing a number of startups entering the space. Casper is one of the more successful ones.
Shaving Blades: Gilette has cleaned up in this space for nearly a century by 'giving away' the razor and selling high margin blades. The gross margins on blades are probably 70% to 80%. But with nimbler upstarts like dollar shave club and Harry's it is becoming a lot more competitive.
---

Oct 12, 2018 - 08:50 PM
First, a note about profit margins: they're often conflated with product markups, but while the two are related they're actually different. Markups refer to the sale price versus the cost to make the item. High markups often mean high profit margins.
However, other costs such as business operating costs can cut into the profit margins created by the markups, so margins and markups aren't perfectly linked. A profit margin simply refers to the percentage of each sale that translates into earnings for the seller.
Also, some products with high margins aren't ideal for new business ventures - the industry might already be dominated by a small number of companies that are virtually impossible to compete with. Look for industries where startups are thriving to decide which products to focus on.
Long term, your venture's success will be determined by having a sound strategy--and as Prof. Michael Porter has taught us, the essence of strategy is picking a differentiated set of activities your business will undertake i.e. choosing what not to do. See this:
https://capitalandgrowth.org/questions/1138/are-th...
But I digress, here are a few products with "ridiculously high profit margins"
Diamonds The diamond industry is a prime example of both high profit margins and high markups on an item with relatively low value. This is largely thanks to clever marketing by the De Beers company, which created an artificial scarcity of the relatively common gemstone in the 20th century, and also launched a campaign to make diamonds a symbol of love.
Today, diamond companies pocket a large profit with every engagement ring and other diamond item sold, even though the jewelry has hardly any resale value.
Source:
https://pixabay.com/en/lady-black-dress-jewellery...
Smartphones A smartphone might seem expensive to make, but the prices people pay for them are far higher than the cost of manufacturing.
You can see evidence of this in the pricing structure for smartphones. As phone models become "outdated," they fall drastically in price, even though the old models have many features that are the same as newer ones .
However, this industry isn't welcoming to competition. Apple and Samsung dominate the market and get huge profit margins, while many competitors lag far behind, even to the point of losing money.
Source:
https://pixabay.com/en/iphone-smartphone-apps-app...


The Wall Street Journal recently published a deconstruction of the iPhone X component costs (below). As you can see it costs $390 to make but sells for $1099. Marketing and distribution costs are not included but they are likely negligible given Apple's strong brand and demand for its products. Few other companies have people lining up for its products at midnight the day before the launch!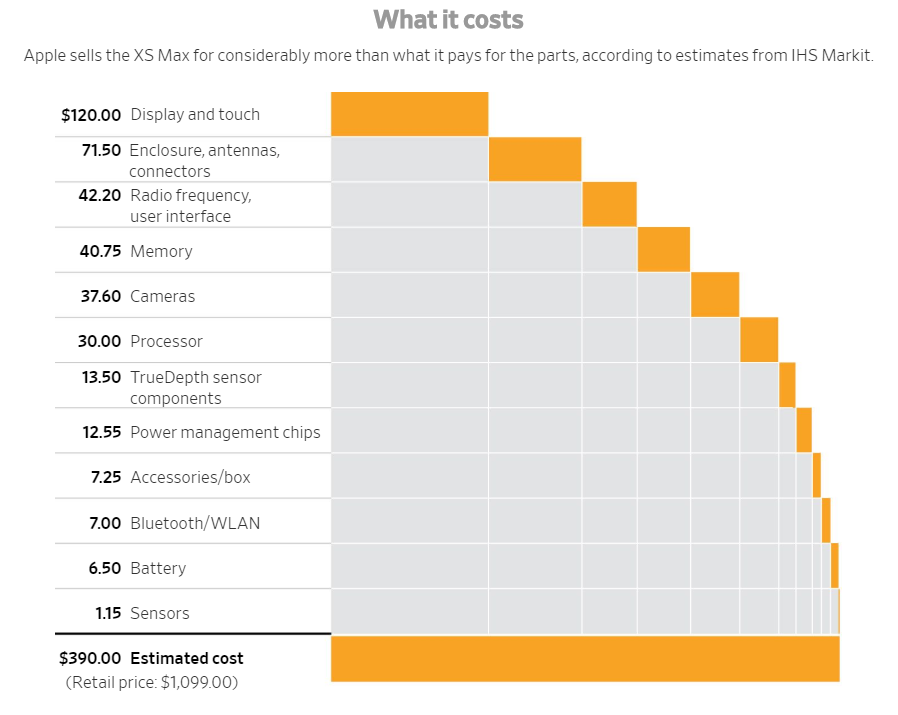 Source: WSJ (see exploded diagram here:
https://www.wsj.com/graphics/iphone-t...
)
Designer clothing/jewelry Designer brands of clothing and jewelry have notoriously high profit margins. Although the cost of raw materials may be low, people are willing to pay a high price for the right brand name.
Non-designer clothing tends to have a high markup as well. However, the profit margin for non-designer brands is lower, so these retailers rely on selling a high volume to make profits. Designer brands, on the other hand, have incredibly high markups that translate into larger profit margins, even though their sales numbers aren't massive. Designers pour funds into their marketing campaigns to keep people buying.
Cosmetics Cosmetics companies also enjoy high profit margins, and niche cosmetics are hot right now, making this one of the best industries to enter as an investor or entrepreneur. This profitability is driven by factors like brand loyalty and repurchase frequency.
Many customers continue to happily buy their favorite cosmetics, even when the economy is down. That's why gross margins of 60 percent or higher are common in the beauty industry.
Eyeglasses The eyeglasses market is another industry with high profit margins that's dominated by just a few companies. Glasses also have a high price markup, even on non-designer frames. Since people need eyeglasses, companies can charge higher prices and still find consumers willing to pay them.
Source:
https://pixabay.com/en/glasses-eyes-vision-eye-gl...
Razors You might have noticed a recent uptick in razor company startups. This is for good reason: there are high profit margins to be had. The razor industry also enjoys similar benefits to the cosmetics industry, such as brand loyalty and repurchase frequency.
Furniture
Finally, furniture, from mattresses to designer living room sets, also has high margins. Name-brand items in particular have high markups. Designer furniture profit margins are similar to those of designer clothing: consumers willingly pay for the brand name, and the companies invest a significant amount of their profits into advertising.
Source:
https://pixabay.com/en/living-room-sofa-couch-256...
Sources:
https://www.thebalancesmb.com/what-is-profit-margin-in-retail-2890209
http://fortune.com/2016/08/23/apple-samsung-smartphone-profits/
https://www.businessinsider.com/history-of-de-beers-2011-12#in-1888-de-beers-co
nsolidated-mines-ltd-was-formed-creating-a-monopoly-on-all-production-and-distr
ibution-of-diamonds-coming-out-of-south-africa-3
https://www.forbes.com/sites/ryancaldbeck/2014/02/06/why-you-should-think-about
-investing-in-beauty-instead-of-bitcoin/#6b969b386f84
https://www.nytimes.com/2014/09/24/technology/24shave.html
https://www.forbes.com/sites/sageworks/2014/03/23/...
---

Oct 13, 2018 - 12:45 PM
Both the diamond and sunglass industries are dominated by De Beers and Luxottica respectively and they unnecessarily jack up the prices. Have you ever tried selling back the diamonds to the companies from which you purchased? They will never buy them back buck they will repurchase gold and Platinum as because they are rarer then diamond.
<a href="https://bit.ly/2OkWn9U"> Good article. Thanks. </a>