Answers

Jan 15, 2019 - 07:56 AM
As with most things in CRO, you need to test it. We have seen countdown timers increase sales by almost 2x and also seen them reduce sales by 67%.
One of Mouseflow's (our partner) adult industry clients uses them quite successfully. The more there is a believable reason for the limited time sale, there more likely they are to work. Chances are, just slapping a countdown timer onto an existing page with no explanation, will not work.
For example, reinforcing Black Friday/Cyber Monday sales with the visual of a timer usually works, as does doing the same thing for Single's Day in China (as I have heard).
You should split test this to find out if it works in your situation.
---

Jan 19, 2019 - 11:07 PM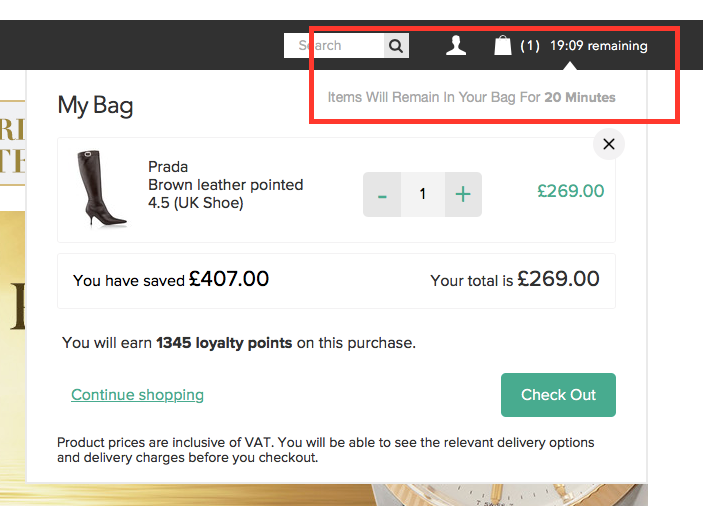 Source: Secret Sales
There is no more compelling reason to make your visitors buy NOW than when the time is ticking on the price. Customers get convinced by nothing more than seeing that time is actually running out. Think of it like a price lock for a flight such that, you can travel at half the price only if you book by the end of the week.
Ticking timers are legitimately one of the most effective ways to set customers into action. From a psychological perspective, customers tend to automatically lean towards the "action route" (purchasing, subscribing, or reserving a service) when their purchasing decisions are based on urgency. This, for most potential customers, kicks in the instinct of fear of missing the deal. Ticking timers give customers a sense of urgency, which subsequently drives up sales and conversions.
University of Nebraska published a research article, which suggested that retailers have an advantage when it comes to compelling shoppers to making an instant decision to buy by creating scarcity. Scarcity, they argue, entices customers to "Buy Now" as they anticipate regretting later about missing the deal (Fear of Missing Out). An interesting fact is that FOMO still runs the place even when the shoppers know that the retailer deliberately creates scarcity.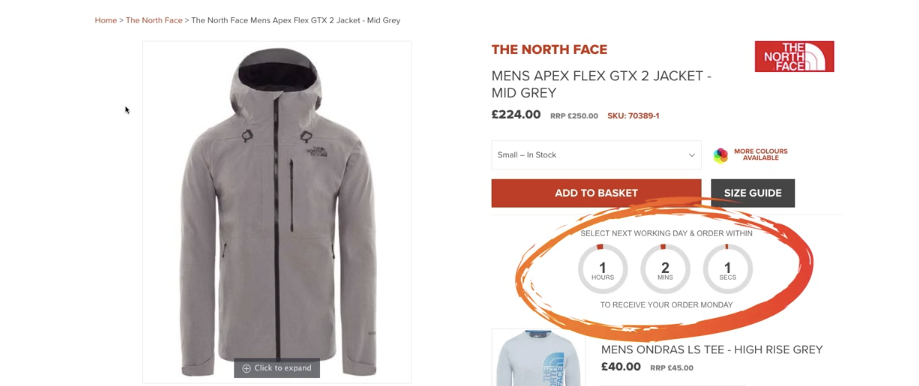 Source: NorthFace
If you want a simple yes-no answer to your question, ticking countdown timers on eCommerce sites can deliver great results, albeit with the following points to keep in mind:
Clients appreciate honesty: Countdown timers create a sense of urgency that works well. Hence, you may be tempted to use fake deadlines to push sales. The inherent risk herein is that clients will call out blatant lies, you may risk alienating them, and they may never return to your site.
Use ticker timers where clients are considering a purchase: This is an obvious place to use them, as they have proved successful in home pages and product pages on eCommerce sites. One site that goes big on this technique includes China's Aliexpress, an Alibaba affiliate, especially on Single's Day.
Amazon has a beautiful execution of the strategy as well despite their approach being a bit different. They add a countdown ticker timer on the delivery cut-off time, which on the hind sight makes their products and sales pitches more persuasive. When shopping for a product on Amazon, you must have seen the tag, buy in the next X hours to receive it by day Y. The ability to deliver an item fast, combined with a delivery countdown timer, is an effective driver for sales.
Use the tactic sparingly: Do not overuse the tactic, or customers will lose trust in your information. Timers are only effective when customers find the information believable. Alibaba rarely uses this tactic but they go hard on it during the runner up to Single's Day Shopping Festival.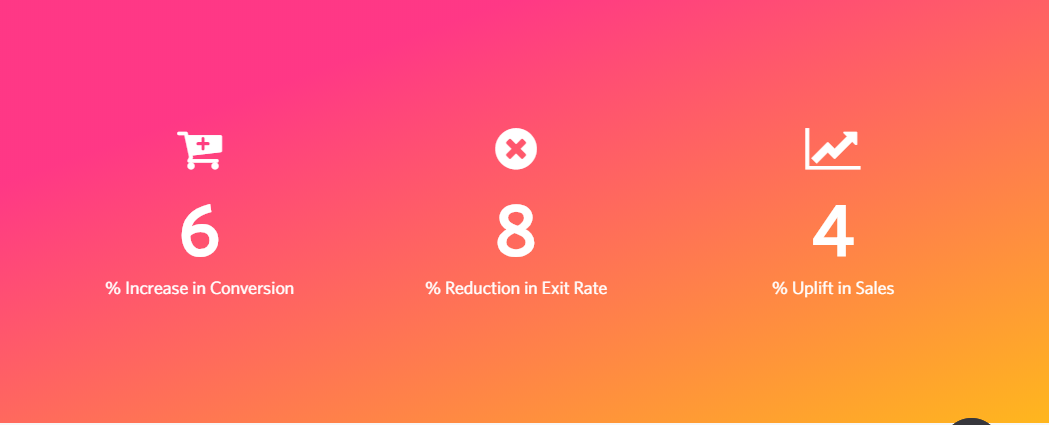 Source: SaleCycle How ticking timers increase conversion metrics
SaleCycle has a very informative article on the strategy of countdown timers. Their view is that countdown timers actually work and they should be placed in the webpage in a way that:
Increases urgency without interrupting the visitor

Integrates messages into different areas of the screen

Sticks to a location of the screen

Triggers when exit intent is shown

Multiple CTAs can be used in one overlay
There is a lot of buzz around this marketing sphere about cart abandonment. One way to remedy an abandoned cart and persuade the customer to buy a product they were almost purchasing is sending them a reminder email offering a deal with a ticking timer.
Case Study: Adding urgency increases conversions by 5%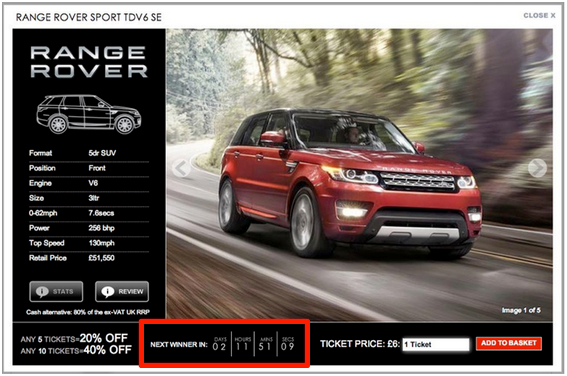 I came across an interesting piece documenting Best of the Best's bi-weekly competitions. In this competition, customers had a chance to win their dream car. At first, Best of the Best featured a countdown timer that would reset at every contest and visitors would then know when another one was up.
Hypothesis: If they added a countdown timer just three days to the competition, Best of the Best figured that their competitions would likely increase.
Results:
When the company put the timer on the website with only three days left, their conversions increased by 5%.
The split test results mean that adding countdown timer to products increases urgency as it drove customers to act on impulse and pull the purchase trigger. One thing to note is that a far away end date does not put any one to action, as there is a perception that "I still got plenty of time to catch this deal."
OptinMonster provides highly effective countdown timers for your eCommerce sales campaigns. With their services, you can create intelligent, scarcity-based campaigns. These type of campaigns can effectively convert hesitant buyers.
OptinMonster provide two types of powerful countdown timer campaigns:
Static Campaigns: these campaigns have a universal deadline for all visitors and one selects the date and time that the countdown will end.
Dynamic Campaigns: These campaigns are customizable to each visitor's need. One chooses the length of the timer in days, hours minutes, and seconds unlike the static one where you set the end date.
Several other ways you can utilize the concept of countdown timers to boost sales and engagements with your customers include:
Flash Sales

Limited-edition products

Holiday and Seasonal Campaigns

New Product Launches
This article is not exhaustive of the potential countdown ticker timers have but, to some extent, illustrates that this is a marketing strategy still has a place in current marketing times. Remember that you can use this technique alongside other optimization strategies to increase your conversions.
Here are a few interesting reads and a video on creating urgency in sales and pricing psychology: