Answers

Jan 25, 2019 - 07:35 AM
Unbounce recently published an article on this. Here's are a few excerpts from it:
"Did you know that 86% of women between 18 and 24 admit they're less likely to buy something when a webpage is slow to load? " If your landing page is too slow,
almost half your potential visitors admit they're less likely to make a purchase
, and
a third say they're less likely to come back to your site
. (Even worse, another question revealed that
a quarter of them will hit a competitor's site instead
.)
And here is a visual summary of what web users think about it: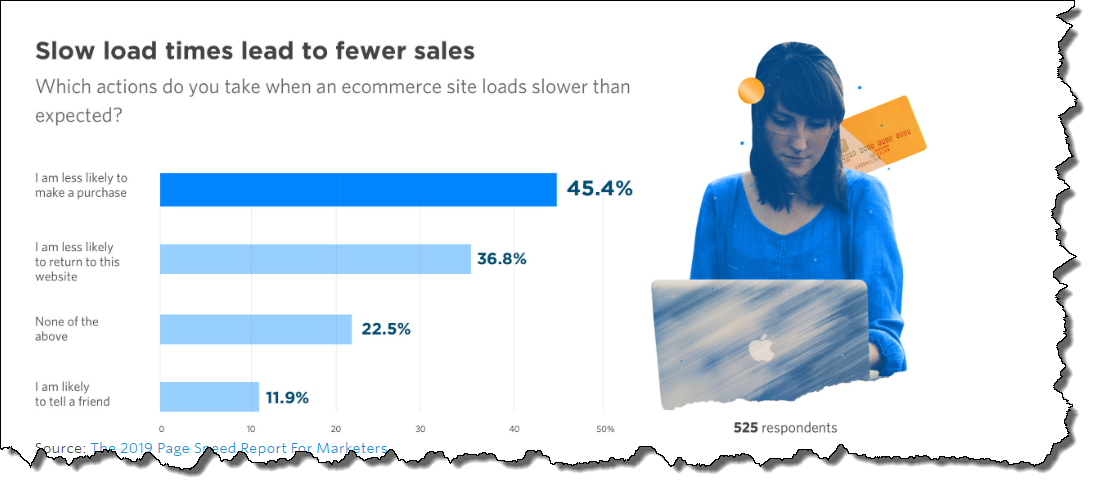 Below is a link to the two unbounce articles:
https://unbounce.com/landing-pages/slow-loads-sabotage-conversions/
https://unbounce.com/page-speed-report/
Here is a useful tool to speed up page load times * within * a site. It doesn't work for the first point of entry into the site, which is often the most crucial.
---

Feb 03, 2019 - 10:34 AM
When it comes to website performance, time equals money. Anyone who appreciates this fact knows that fast page load times are crucial to site performance and conversion. Website page load speeds permeates all other aspects of the site's digital presence.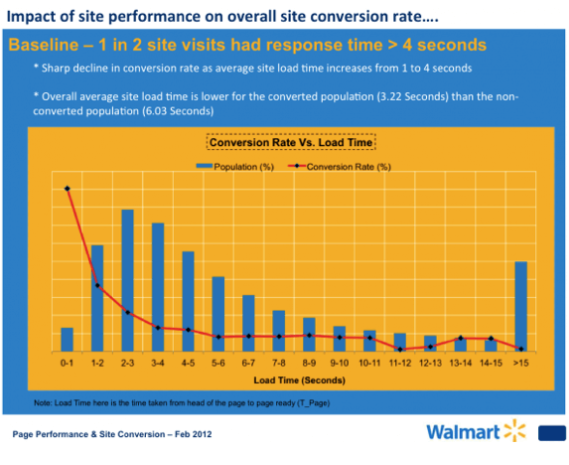 I have walked out on countless websites when the pages could not load as fast as my patience could allow, or at least, as I expected.If you are like me, you can see the correlation between slow site load speeds and low conversion rates. This is just a case from my own experience.
However, does this assumption hold for actually tested and more authoritative experiences?
How does site speed actually affect conversions?
Indeed, slow site speeds affect conversions on a website in a myriad of ways:
Slow speed affects sales

Slow page load speeds have a negative impact on user experience
You might be curious about what happens when speed drops. Hosting Tribunal has a cool info-graphic that highlights the possible scenarios that may play out should your website take a lot of time to load.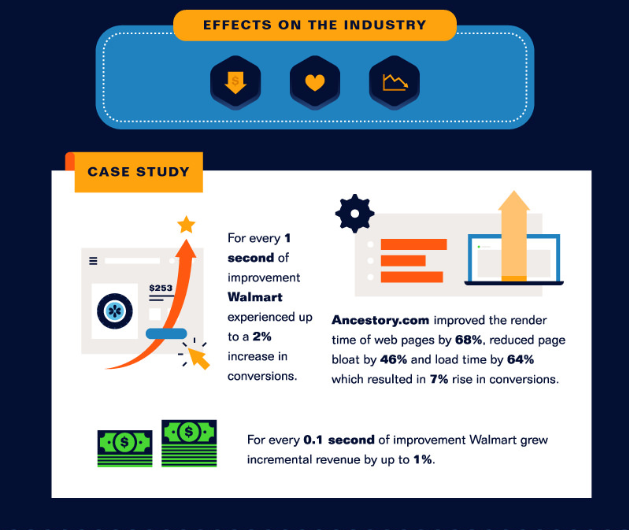 Source: Hosting Tribunal
Slower sites experience a greater bounce rate compared to their faster counterparts and this instantly leads to poor sales. 51% of US online shoppers cite slow websites as their top reason for abandoning a purchase midway. Another 39% confess that they leave a website if images take too long to load or if they fail to load at all.
On mobile devices, while the customers are more generous in their wait times, almost all of them (74%) will leave the website if it does not load within 5 seconds.
The total estimated cost of abandoned online shopping carts online is a whooping $18 billion. As I will later point out, slow page load speeds directly contribute to cart abandonment. Another thing to consider is that 79%of customers are unlikely to purchase from your website again if they are not satisfied with its performance.
As if a down vote is not enough, research shows that customers interact and most of them are prowling the product reviews for information before diving head on into a purchase. Guess what? If your page load speeds are slow, not only will customers abandon their shopping carts but also 44% of them will go on and report their bad ordeal to their friends and other users.
Someone talked of cart abandonment on this site before. This disease cannot be deadlier than it already is – I mean $18 billion lost annually due to abandoned carts! One major contributor to abandoned shopping carts is slow websites. Hosting Tribunal's article points out that a delay of up to 60 seconds in page load time reduces the user's satisfaction by 16% and this effectively implies a proportionate decrease in desire to return to the sluggish website.
A second's delay could be tipping point between a successful or a failed transaction and by extension, the kind of interaction and perception a client will take from your site. This necessitates concerted efforts form e-commerce site owners to generally look into their site speeds and make deliberate efforts to improve the speed.
All factors constant, the impact of page load speeds go beyond just customer satisfaction. Page load time also affects website rankings on search engines as well. Google's indexing algorithm has a low appetite for sites that have no value. Subsequently, the algorithm will penalize, at every turn, such sites with a lower rank. Devoid of such penalties, a 1-second delay in a website's page load time lowers the number of page views by 11%.
This phenomenon coupled with the fact that Google's, page indexing, crawler spends limited time on each site spells doom for those businesses with slow websites, as only a couple of pages will get indexed. This adversely affects your websites ranking efforts.
Real-world Case Studies that show why you should improve your page load speeds
1. AutoAnything's 75 % Speed Boost Experiment
In realization of the fact that customers have little patience for slow websites and that their loyalty can be lost or won in a matter of seconds, AutoAnything turned to Compuware for solution to improve their page load speeds. Therefore, they set a high target in terms of what they were to achieve – 75% slash in page load times! This quest to improve site speed was indeed a target of an unforeseen magnitude. The reward was worth it – the system enabled AutoAnything to leap ahead of the competition, in terms of transaction speed and user experience.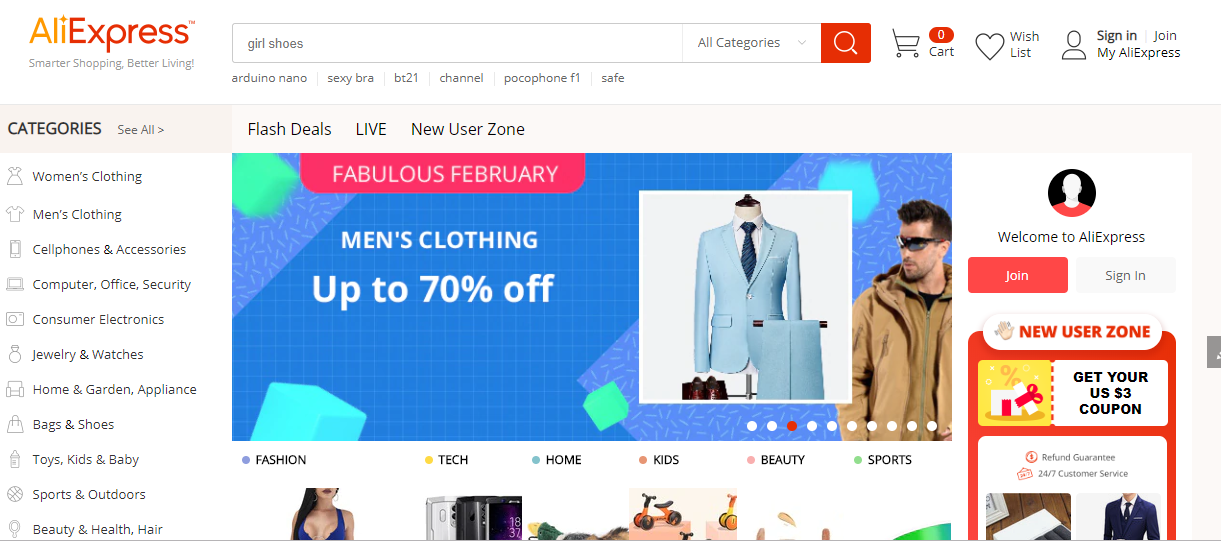 2. AliExpress Experiment on Checkout Rate (Conversions)
Two things go for checkout rates: 44% of online customers are concerned (read worried) about a transaction's success rate depending on how long it takes to complete checkout. The relationship between customers concern and checkout delay is directly proportional.
Whether a customer will return to a site is also another factor to be determined by page load speeds. Hosting Tribunal claims that 46% of online buyers rely on checkout speeds to determine whether they will return to the website or not.
AliExpress conducted a study to determine the impact of reduced page load time on checkout and conversion rates. When the "Chinese Amazon" reduced page load times by 36%, they experienced an increased conversion rate of up to 27% for new customers and a 10.5 % increase in total orders placed.
3. Amazon and Mobify (Effect on Revenue)
Amazon, one of America's largest online retailers did a reverse test. While most of these studies hinged on checking the impact of increasing speed on conversions, Amazon premised its test on an already optimized site. They wanted to find out what would happen if their page slowed down by just 1 second.
Indeed, the results were startling. The test showed that they would lose $1 billion every year were their page load speeds to decrease by just 1 second.
Conclusion
When it comes to identifying a perfect load time for your websites, Google claims that most users (53%) will leave a website that takes longer than 3 seconds to load. Keeping all factors constant, this, therefore, is the amount of page load time that you should aim for.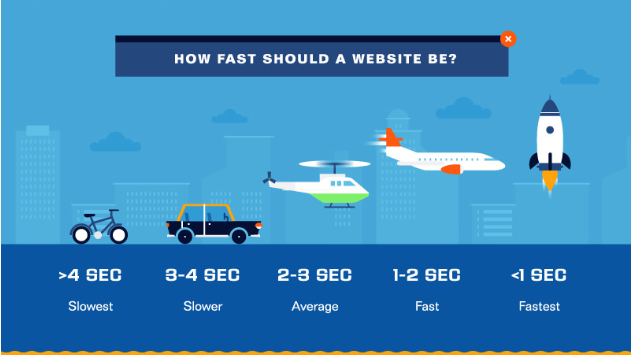 Image: Hosting Tribunal
An Abtasty article has a startling revelation about this phenomenon: On average, it takes 20 seconds for mobile websites to load its pages fully! This means that millions of website are yet to attain the ideal load time.
Should you feel that your website needs a speed test drive or tuning, then you could use these tools to identify the culprits that are choking your website's speed:
All the best as you seek to improve your page load speed and subsequently, conversion rates.
And while you are at it check out HostingTribunal's Infographic.
---

Jul 10, 2019 - 05:53 AM
According to Skilled report:
79% of web shoppers who are dissatisfied with website performance say they won't return to the site again.
A one-second speed improvement generates an additional $7K daily.
A one second delay in page response can result in a 7% reduction in conversions.
And the same one second delay means 11% fewer page views.
Plus, Google loves websites that load quickly. The search engine ranks them higher.
This information was taken from https://whidegroup.com/blog/e-commerce-performance-optimization/ . Here you may find also tips on how to optimize your website productivity..