Answers

Feb 13, 2019 - 06:38 AM
People are generally willing to pay high prices when certain factors are present. For example, people will pay more for perceived value, such as when a product is higher-quality or longer-lasting than the cheaper competitor.
They'll also pay for status, such as when a product comes from a recognizable brand they want to be associated with. With that in mind, here are a few products that fare well with high markups. There is also another related question about high margin products.
Furniture
People consider furniture an investment item. You don't update your living room every year, so the new furniture you buy should be able to last through several years of wear. That's why people spend so much on new furniture, as long as you can demonstrate that it's high-quality. If the furniture is name-brand, they'll often pay even more.
However, one exception to this trend is mattresses. With the new influx of inexpensive, convenient mattress-in-a-box options, the expensive mattress has become a harder sell.
Accessories
In the age of fast-fashion clothing, it's often easier to sell people on long-lasting accessories such as bags or shoes. These are statement items, and many people identify luxury brands by their accessories more than by their clothing. Just think of how iconic Louis Vuitton handbags or Christian Louboutin shoes have become.
And Saks 5th Avenue just introduced a $49,500 alligator bag:
https://www.forbes.com/sites/marioabad/2019/02/05/saks-fifth-avenue-flagship-ha
ndbags/#7707f43b5ab2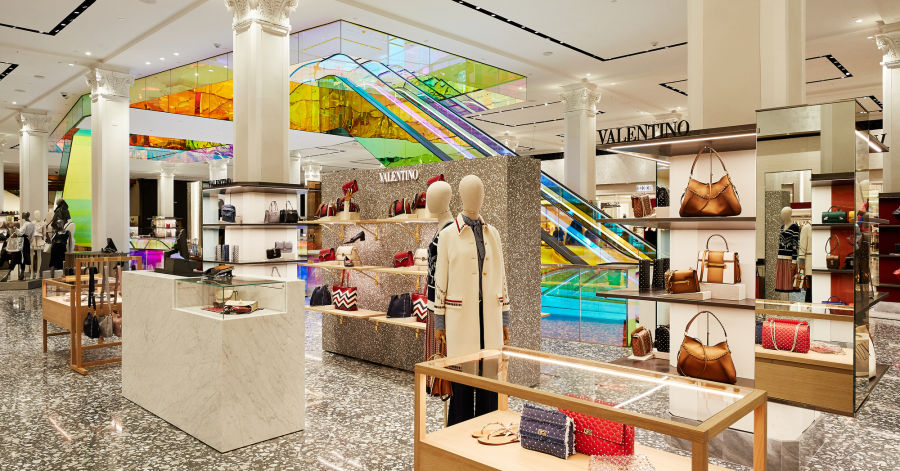 However, even if they're not designer, people often pay more for accessories that promise to look good for years to come, such as a well-crafted watch or leather briefcase.
Luggage
Although it's not quite an everyday accessory, luggage fares well at high price points for similar reasons. People are willing to pay more because it's a statement item, and also because they want luggage that will last for years. Navigating the airport while looking good, and never having to struggle with a broken zipper, is worth double the price to many.
Tumi knows this well. Their luggage isn't really anything special (compared to Samsonite, say) but they are able to charge an arm and a leg: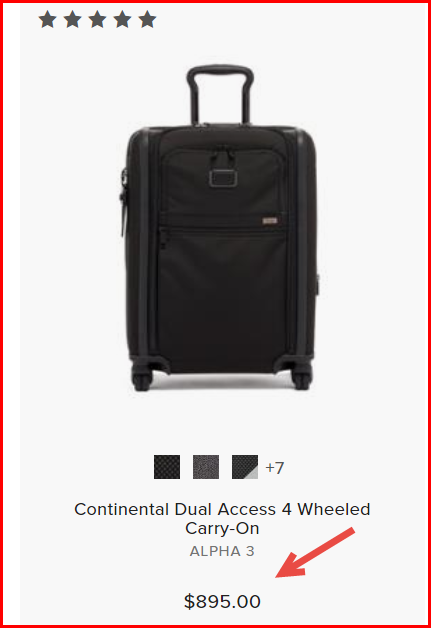 Personal Care Products
Skincare, haircare, and other personal care industries are booming right now, and high-priced products are thriving. That's because people are willing to spend lots to maintain their image, as long as they're the kind of person who values that image.
Many people will gladly pay double for a skincare product that contains more beneficial ingredients than a competitor. The risk of having a visible problem, like a breakout or dull skin, makes it hard to justify cutting costs for a lower-quality product.
That's why some of the most successful ecommerce stores are in the personal care space. And do you want to know a dirty little secret?
Many of the products are made by the same contract manufacturers with largely the same ingredients. And then the branding folks put a nice wrapper around them!
Cookware
Good cookware offers many benefits that are worth high prices. With high-quality cookware and accessories (like kitchen knives), it's easier to make food, and the results are better. Some cookware might even reduce health risks. For example, certain kinds of nonstick pans use unsafe materials, so good nonstick alternatives can command high prices.
Sometimes, cookware can even be a status symbol. For example, those who are into entertaining might spend more on chic pots and pans. But even those who only cook for themselves are often willing to spend a lot on cookware that promises to deliver great results over the years.
Outerwear
The popularity of pricey outerwear brands like Canada Goose shows that for some, price is no object when it comes to staying warm. This is also an investment item: people don't usually want to buy a winter coat more than once every few years. Expensive outerwear brands that can demonstrate how effective their materials are against the elements tend to fare well.
Another example of this is Cotopaxi with their $250 jackets and $80 inner tights!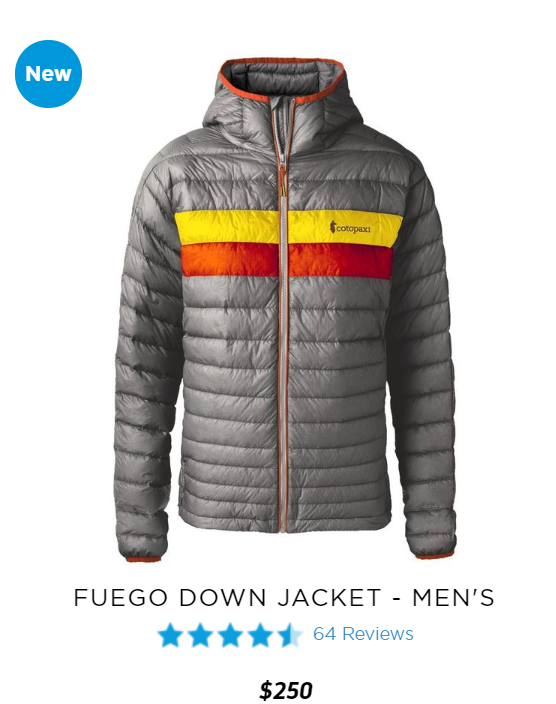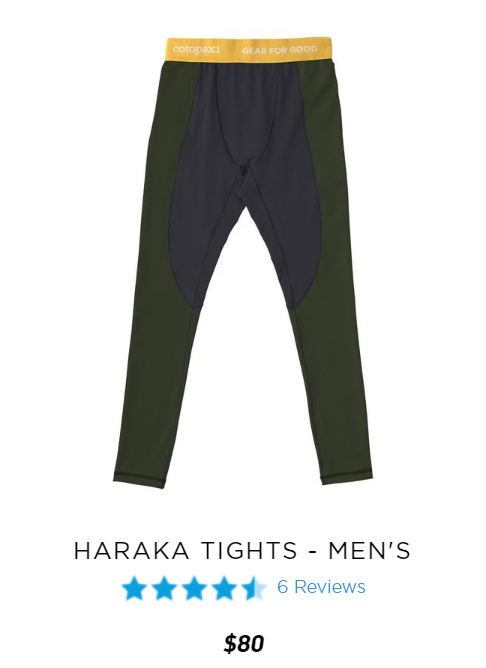 ---

Feb 14, 2019 - 08:01 AM
From Hacker News:
https://news.ycombinator.com/item?id=19153673
How about living essentials. Food, energy, gasoline, transportation, etc.
-----------
Food. Medicine. Shelter.
Thankfully, these are generally well-regulated in Canada. I am having a hard time thinking of other products which I would pay double for:
* clothes: I already buy these at a thrift store
* laptop/computer/internet access: provided by university; I do have home internet, but if the price doubled, I'd probably just spend more time at the library
* soap/toothpaste/shampoo: I don't use soap, as water-only showers I find are pretty good in keeping me smelling neutral; toothpaste I could do without (it just feels more icky) and shampoo I can actually replace with soap, if its price doubles (soap being cheaper than shampoo)---in terms of hygiene, I don't think there is anything else I really use (maybe razors, but I could just get used to growing a proper beard if the price of razors doubled?), and I think I do a pretty good job of not smelling
* apps/games: I don't spend money on these typically, and definitely not if their price doubles; also, open source stuff is awesome
* transportation: I use public transit, but again this is regulated in Canada; if the price did double though, I could pick up cycling (especially since there are also likely to be less cars on the road then)
The great thing about working in math is that you can do useful mathematics even if you are in a prison, without pen and paper. So, my "work" (does play really count as work?) requires very little in terms of resources, apart from a metric crap-ton of patience, and mental energy (which depends on food). It's worth noting that I am not in any sort of fancy/well-paying/tenured position at a university.
Yay for taxes, which provide public services which help lazy do-nothings like me keep their mental hallucinations sustainable!
--------
Coffee.
I roast my own coffee, so I can get many pounds of green coffee for ~$6 a pound or less. Buying it pre-roasted easily quadruples the price. Buying a cup of coffee, whether a latte or trucker-stop black, is tantamount to lighting money on fire.
At the same time, I look at the markets for coffee and it strikes me that Hawaii's Kona is likely closer to the true cost of coffee production if we wanted to pay a non-exploitative and sustainable price (both are debatable, I'll admit). This doubles the price of green beans compared to other origins.
Thus not only would I pay double (because I have in the past) but I also think coffee is underpriced in the global market.
----------
condoms - the cost benefit analysis is huge
----------
Cheap things. For example, Q-tips are $3 per box which lasts a us couple of years. If the price doubles (or triples for that matter), I'd still be buying that.
----------
Video card and processor prices have essentially doubled recently and I keep buying them so there you go.
-----------
Water:
Thus the rationale behind this prescient (devious?) investment trend: https://www.wsj.com/articles/harvard-quietly-amasses-califor...
WSJ: Harvard Quietly Amasses California Vineyards—and the Water Underneath Making a bet on climate change, the university's $39 billion endowment has been snapping up farmland and the related water rights
I recently found out from a friend that the Walton family is (supposedly) doing a similar thing here in Colorado. Basically buying up large properties with water rights, and then sitting on them for later. I'm not thrilled about it, but at least they're not developing them.
I remember at the end of the movie The Big Short, it had said Dr. Burry was investing all of his money on his next big bet: water.