Answers

Mar 16, 2019 - 09:50 AM
There was a tool called Market Samurai that used to do this kind of thing. I used it back in 2010 but it now appears to be "abandonware" and has not been updated in a long time.
They have a free trial so you can test it and see if it does what you are looking for.
The source of their keyword data is Bing which has a less restrictive API than Google's.
---

Mar 16, 2019 - 12:34 PM
This would have to be collected at the ISP, since Google won't provide it. A long time ago Hitwise might have been able to provide it (I do think they did keyword correlations). When Google launched Hummingbird, they kind of built this into their regular search. For example, a search "best restaurant" might take into account your location, and essentially show you "best restaurant seattle, wa" without you asking.
You mentioned related keywords. Here's what I get for best restaurant Seattle:

And, of course, you can use the auto suggestions by typing in part of the query: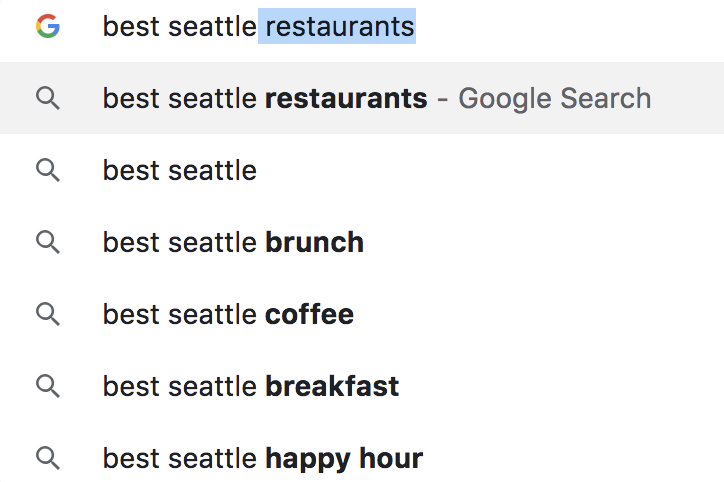 Perhaps closer to what you are seeking, is the new "People also asked" feature in Google's results (this also showed up on my query):

The cool thing about the new "people also asked" feature, is you can expand it. If I click on the 4th question, it will automatically load more. Then you can click on the last one and it will load more. Then you get a list like this: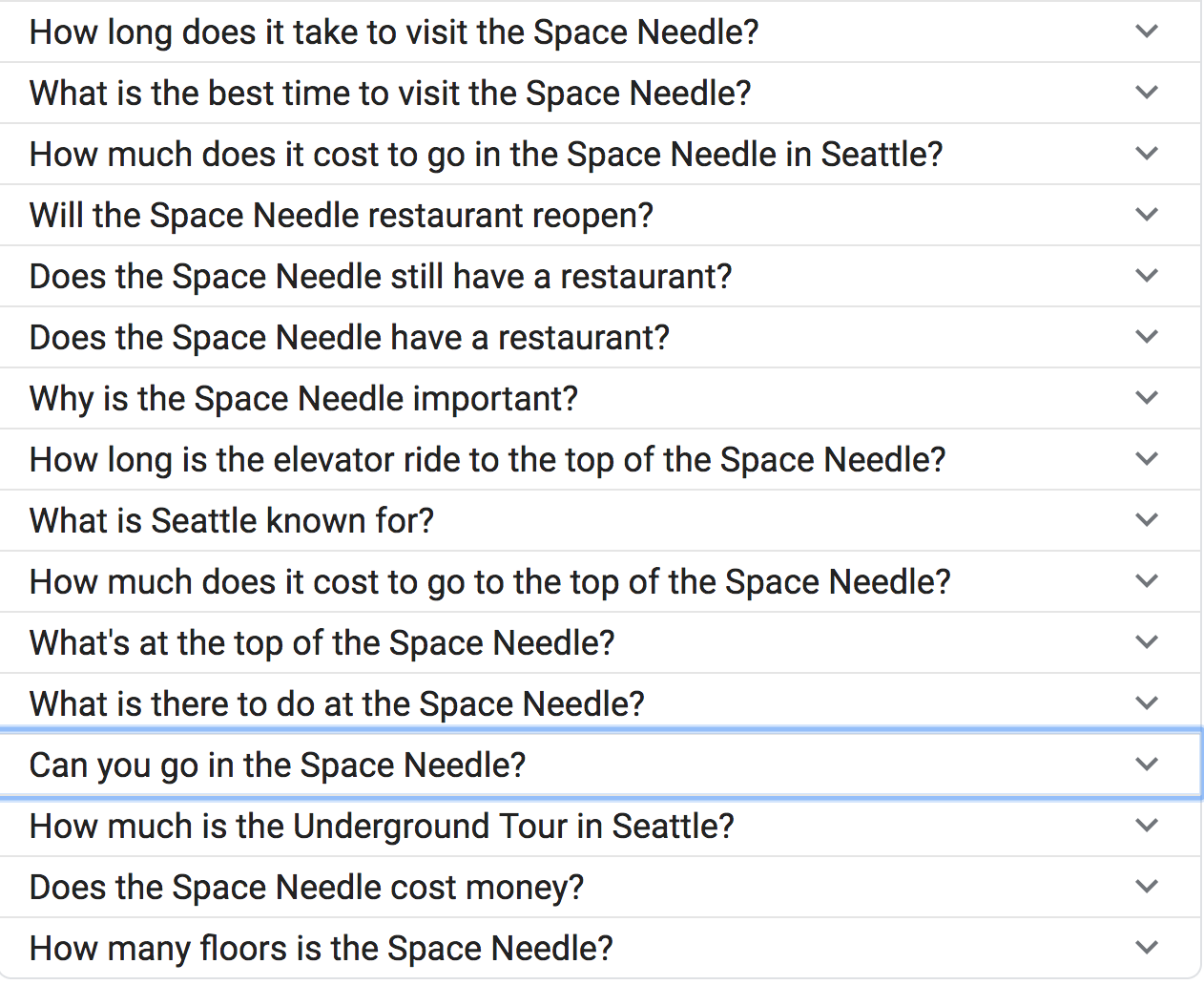 As you can see, it takes you down the path of follow up questions & refinements. To my knowledge, this might be the closest thing that Google provides us when it comes to followup queries. It's possible there is something on the paid side, but I haven't seen SEOs talking about it.
Generally the best approach is to use your favorite keyword tool and dig deep into a topic, make a list of all the words you can fine, then using human intuition to figure out the logical query path that someone might use. Also, the words you use to start a query might help. For example:
How do I know if my gutter is leaking?
Is it easy to install gutters yourself?
How to install gutter DIY.
Where can I buy gutters?
What kind of caulk should I use for gutter?
What kind of nail should I use on gutter installation?
How do I lift gutter up to repair with just one person?
---

Mar 18, 2019 - 03:44 PM
2 more approaches to add to Dustin's explanation
1) Check Keywords with High Impressions in Google Search Console
Another good place to find this information is in your own Google search console data.
Google shows you what search terms people typed in to find your page.
That could reveal questions or keywords you never expected.
For example, I ran a check for my article here: https://www.hayksaakian.com/cheapest-new-top-level-domains/
And it revealed that my page shows up for "buy new tld" and "cheapest domain" -- I can use that information to either create a separate page to rank for those terms, or optimize my page to better answer those queries.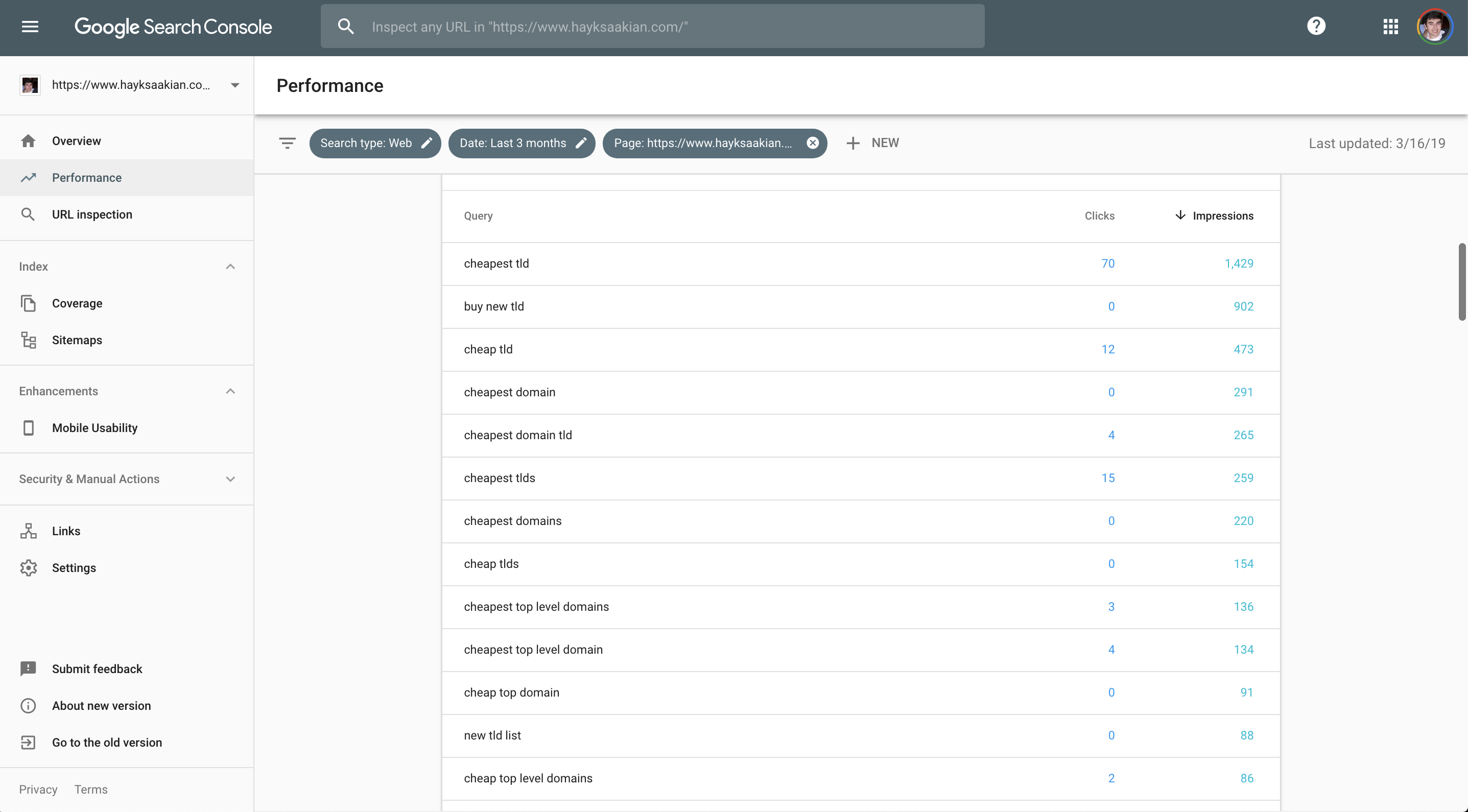 2) Advertise with Google Ads to uncover long tail keywords
Another good strategy is to run a minimal PPC campaign. Under the "search terms" report you can see exactly what people are typing in.
This data is much more revealing than Search Console reports. When you bid on 'brad match' keywords, you can uncover many of the extended long tail terms people use to find your products.