Answers

Apr 08, 2019 - 01:42 PM
In her article- MailChimp and Shopify Integration Breakup: What Should You Do? posted on March 25, 2019, Jenny Miranda provided an excellent analyses and response to ecommerce merchants who are impacted by the recent announcement by MailChimp and Shopify.
Jenny analyses both sides of the equation by taking a look at the reasons and impact of the integration breakup from the Shopify and MailChimp perspectives, then provides a conclusion/recommendations that I think is well researched and understood.
Please feel free to read her entire article here. In the meantime, I'm just going to re-post Jenny's conclusions below.
~~~~~~~~~~~~~~~~~~~~~~~~~~~~~~~~~~~~~~~~~~~~~~~~~~~~~~~~~~~~~~~~~~~~~~~~~~~~~
What this means for MailChimp customers who use Shopify
MailChimp is leaving it up to the customer to decide what it is that they want to do. By taking the stand to not comply with Shopify's terms, it's essentially saying that e-comm never has been, and (possibly) never will be its biggest priority. This is by far different from what some of the other email marketing platforms are doing. Just last year, Drip, another email marketing software, recently announced that it was relaunching as an email marketing CRM built for e-commerce stores. Hubspot similarly has shown signs that it wants to put e-commerce first when it comes to its types of marketing software offerings.
Your options
If you're an e-commerce store using the Shopify platform, and you have also been using MailChimp, you have a few options in light of this news. The good news is that the integration wasn't the best, to begin with, so you're not losing out. The so-so news is that you can use an API tool (software that lets two software tools talk to each other) to connect your email list to Shopify.
The main thing that you're most likely missing out on with this breakup is the Abandoned Cart emails. Without Shopify passing your customer's checkout activity over to MailChimp, you will not have the ability to send abandoned cart emails (easily). With abandoned cart emails, you can potentially recover 60% of sales that could have been lost if you had not reminded the customer of the items that they have in their shopping cart.
MailChimp offers a list of integration solutions in light of this change. They're leaving it up to you to figure out which route is best for you to take. You also have the ability to manually port your data between both tools. If you have a big customer and email list, then this is not advisable for many reasons, including that it will take too much time, and you're essentially now opening yourself up to legal risks of not synching data properly and missing out on key privacy or opt-out requests.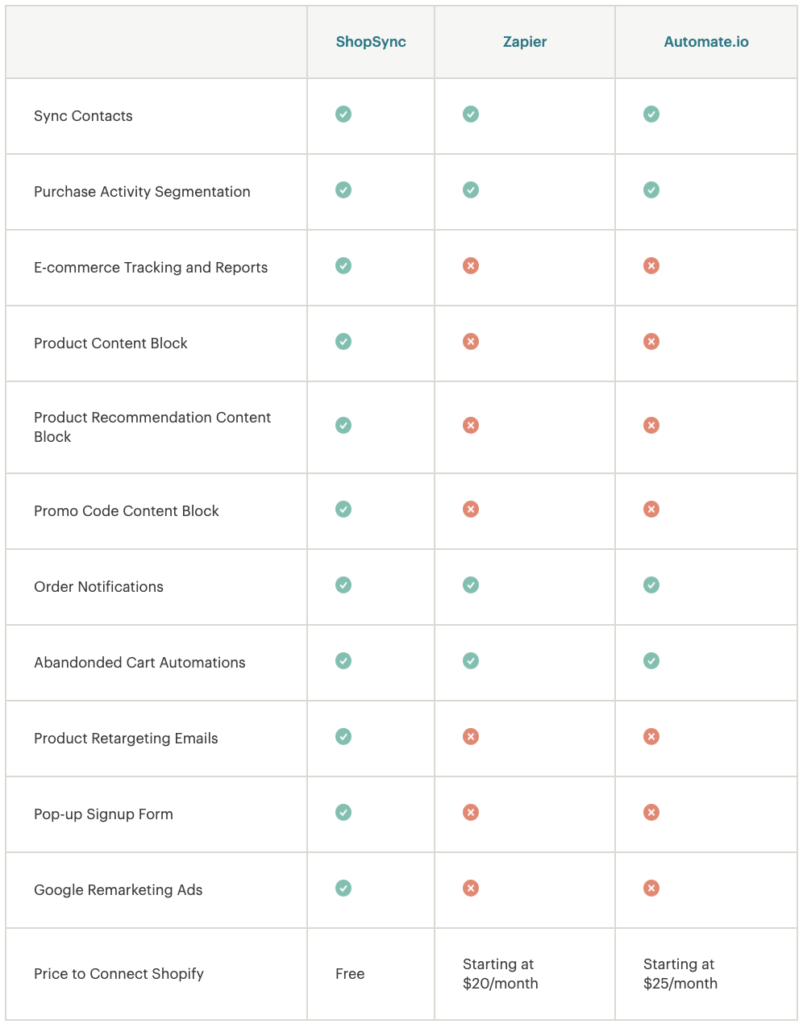 Fig 1: MailChimp for Shopify workarounds
In practicality your options are:
Do nothing (wait it out and see what plays out from this)
Manually import your customer list from Shopify into your MailChimp account
Use another 3rd party integration tool to do the sync (such as Zapier)
Select another e-commerce platform, such as BigCommerce
In conclusion
This is not the end of the integration wars. The marketing industry quickly moved into doing direct integrations and software API integrations before anyone guessed that privacy concerns would become as big a topic as it's become. Privacy concerns aren't going away anytime soon. Frankly, it's only going to become even more of an issue not just for big companies such as Facebook but it's going to considerably affect all the tools that we use and the marketing power that they give us as merchants by synching data with each other.
As business owner or company, you'll have to be ready for things that are outside of your control, but you'll also need to understand what's happening with your customers data and make sure that every single party that you're working with is putting customer's privacy first.