Answers

Apr 06, 2019 - 06:01 AM
Best Tools For Reducing Cart Abandonment
In the e-commerce world, cart abandonment is used to describe a situation where potential customers who already started to pick items on their cart quit the web page before completing the buying process. It is, therefore, no wonder why it is increasingly becoming a source of worry to E-commerce site owners.
There are several reasons for cart abandonment, ranging from expensive shipping to unexpected fees popping out of nowhere during the checkout process.
Whatever the reason, cart abandonment can be a serious cause for the failure of any business, and that's why e-business owners are always seeking effective ways to beat the challenge.
Over time, we've witnessed the development of several tools, software, and plugins to help reduce cart abandonment to the barest minimum. While some of these tools are very efficient, others do very little work.
Here are some of the most effective means of reducing cart abandonment.
Rejoiner
The rejoiner tool is one of the most popular and useful tool for reducing cart abandonment. It is an email platform that can be used for personalisation and remarketing of business emails. Commonly, the tool is used to measure the effectiveness of such emails and to turn abandoned web forms into actionable data.
Your biggest concern as an e-business owner is probably abandonment of carts by customers without completion of the purchase. The issue here is that most of those visitors are enormous potentials for conversion into actual paying customers. (Of course, adding a product to their cart means that they have the intention to buy).
The concept behind the use of Rejoiner is quite simple - it gives you an opportunity to setup personalised e-mails that would be customised to the number of days after abandonment date when they should be sent.
Apart from working with the most popular E-commerce platforms, Rejoiner also offers you data to measure how effective your campaign is. The software also provides a 14-day free trial for first-time customers.
Pros:
Ease of setup

Comes with an interface that's simple to migrate

Offers an opportunity for trial before actual purchase
Cons
Not an ideal tool for new stores

Can often get very expensive.
Price: $320/Month
2. CartStack
This is another handy tool for reducing the rate of cart abandonment. CartStack can be helpful to E-commerce sites that are looking for the best possible ways to recover abandoned carts using simple, inexpensive mail reminders that can be integrated with any E-commerce platform.
Apart from this, CartStack comes with a number of features including high professional email designs, A/B testing and a lot more.
With this fantastic tool, you can interject cart products into emails.
Pros:
Works well with most E-commerce platforms

Offers some excellent features

Easy to use
Cons
Fixed monthly rate can be expensive for small users.
Price: $39/100 orders
3. AdRoll
No doubt, as an e-business owner looking for the best ways to reduce cart abandonment, you would have heard of AdRoll, primarily because of its popularity among users for retargeting strategies.
While not a true "cart abandonment" tool, its powerful re-targeting features (best in class) can bring back "on the fence" visitors and thereby reduce cart abandonment.
The tool can potentially re-target site visitors through websites, Facebook, Twitter, and other social media channels. Presently, thousands of popular brands are already adopting the use of AdRoll, mostly because of its effectiveness.
Some of its most popular features include unparalleled ROI, cross-platform compatibility, flexible segmentation, mobile retargeting, dynamic liquidAds, and E-commerce optimisation.
The LiquidAds feature is particularly helpful for re-engaging visitors. Using the ads, you can show off products without the need for additional development resources. Ads can also be personalised to feature products that have been viewed before.
Finally, AdRoll has a nice transparent analytics option that provides metrics and data in an interface that's easy to use.
Pros
Amazing support team

Offers customisation to particular target needs

Lots of unique reach
Cons
Not as user-friendly as a lot of others.

Expensive for startups.
Price: Up to $1,000/month
4. CrazyEgg
CrazyEgg has gained increasing popularity in the past few years among e-business owners looking to reduce cart abandonment. It is one of the favorite tools in this list and is highly effective in its own way i.e. primarily as a heatmap and Conversion Rate Optimization tool.
Its shows you what visitors clicked on and what piqued their interest. Google analytics lets you see links followed by prospects, but CrazyEgg shows the parts of the page that visitors clicked on or spent the most time on.
What CrazyEgg does for you includes:
Also, if a particular product has multiple links pointing at it, CrazyEgg will show you the specific link a visitor used to access the page.
Pros
It comes with some pretty amazing features

It has scroll maps and heatmaps
Cons
It is not too easy to use

It is relatively expensive compared to some other tools in its class.
Price: Pro package = $249/month
5. Yotpo - Social Reviews
Online customers are increasingly turning to reviews and testimonials to find out the authenticity of a product before purchasing. Studies show that clients will most likely take actions when they see positive reviews from past customers.
Of course, customers want to see positive reviews to increase their trust for your product, but you also have to prove that your reviews are not fake for them to completely trust you. The recent scandal around a major company that created fake Amazon reviews (and got shut down by Amazon) just shows how important reviews are.
YotPo helps you to deal with reviews and site testimonials socially.
With YotPo, e-business owners can send emails to customers after making a purchase. The email prompts visitors to share an opinion about products that they checked out. This can in no small extent encourage visitors to come back.
Pros
Offers amazing features

Ease of usage

Great customer support
Cons
Quite expensive

Not great for low volume retailers.
Price: Pro Package = $349/month.
Conclusion
There you have it, some of the best tools that can help e-business owners to reduce cart abandonment. Of course, there are a lot of others, but we've chosen the best that can be integrated into nearly any business and any platform.
Click on the attached links to try the various solutions.
---

Aug 19, 2019 - 07:52 AM
If you need to reduce shopping cart abandonment, you need to use some development and design techniques in addition to tools. A well-built shopping cart is crucial to a successful checkout process.
What do we advise? Give your customers the choice to change the quantity of the item or to completely remove it from the cart. If the customer still hesitates, let them save the product for later or add it to their wishlist. When they add a new item to the shopping cart or their wishlist, you can highlight it with a simple notice message.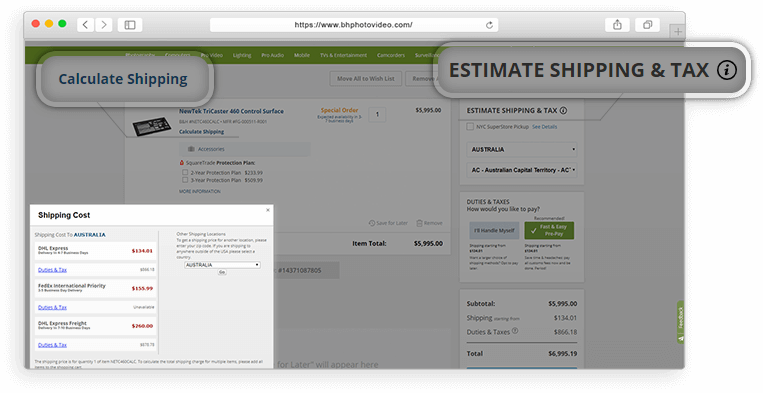 To keep customers from getting surprised by shipping costs or taxes, implement a "Calculate Shipping" option, available during the checkout process. To calculate the total shipping charge for multiple items, the customer merely has to add them to the shopping cart. If you have special shipping conditions for particular products (fragile, unique products, etc.), be sure to highlight it either at the product page or in the shopping cart. The financial side, such as taxes and shipping, should be resolved before your store browsers become customers.