Answers

Apr 03, 2019 - 07:00 PM
I don't have experience with them but GeekWire recently wrote about Talkoot, which is used by Adidas and Under Armor to accomplish the same task you describe.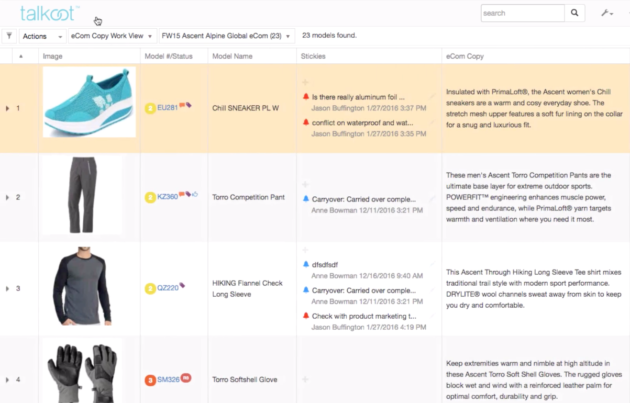 Image Credit: GeekWire. Talkoot's platform allows teams to manage and create product copy for e-commerce websites. (Talkoot screenshot)
https://www.geekwire.com/2019/talkoot-raises-1-7m-help-adidas-armour-big-brands
-write-product-copy/
The founders built the solution to scratch their own need, which is usually a good sign and so it is worth trying out. Here'san excerpt from the article:
Talkoot
, a Portland-based startup that helps e-commerce companies create and manage website content, raised $1.65 million dollars in a round led by Seven Peaks Ventures. Talkoot's niche is helping major brands to create, manage and translate the thousands of product descriptions and other content scattered across their websites. Current customers include Adidas, Mountain Hardwear, Dr. Martens, Burton Snowboards and Under Armour. "We went looking for a solution for our own needs producing high volume, high-quality product content for global brands," Talkroot CEO and co-founder Brian Hennessy said in an email. "What we found were a lot of dark, windowless product databases that had none of the collaboration, workflow and functionality we needed." For a company such as Adidas, which
currently lists
around 7,600 products on its U.S. online store, the task of coordinating all of those descriptions can be daunting. Talkroot's platform aims to make it easier and faster for marketing teams to collaborate.