Answers

Apr 17, 2019 - 07:52 PM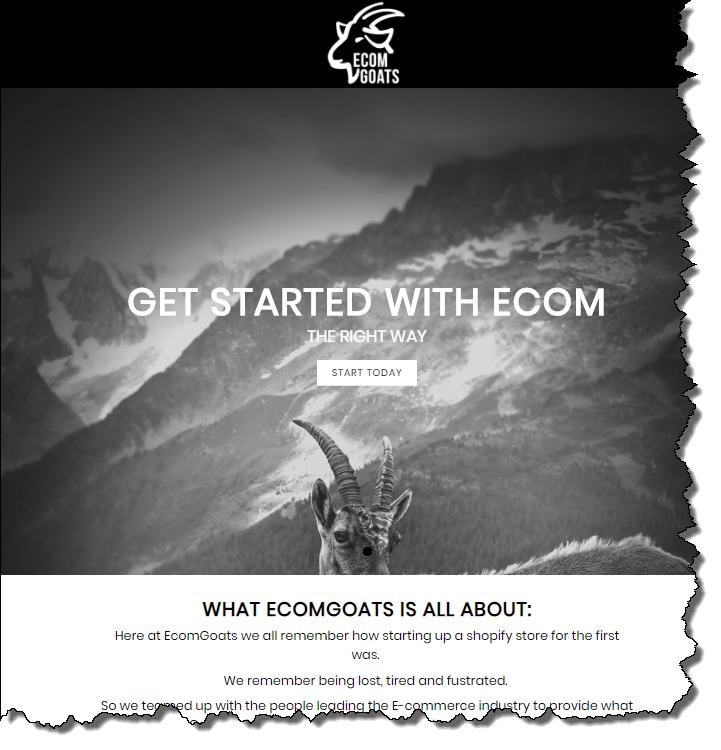 Buying pre-built does save you time, and reduces the learning curve of getting started. But that's also the main drawback of this option: without a learning curve, you can't learn.
Depending on how invested you are in ecommerce, it might be valuable to DIY things just so you can learn from the experience. For example, Ecom Goats promises to stock your store with products. But with a pre-stocked store, you won't discover how to select the best products on your own.
This could be knowledge you'll wish you had later on, but it all depends on the future you plan to have with ecommerce. If you want to grow your store later on or make other changes, you might struggle because you didn't learn from the ground up.
One warning you may also run into about buying pre-built stores is the possibility of getting ripped off. Ecom Goats doesn't have any reviews yet - there's not much information about it aside from the site itself, which might make you hesitant.
But it doesn't seem to be a scam: the fact that they're a Shopify Partner helps to legitimize things. Still, that doesn't mean your profits will be as good as the site makes it sound.
That said, $50 is a relatively small investment in the grand scheme of starting a business. My suggestion would be to consider your goals first, and also get Shopify's free 14-day trial, so you can tinker with a site of your own and see how it goes.
If you hope to learn the ins and outs of ecommerce completely for future use, doing things yourself will certainly teach you more. But if you want things to be quick and easy, a pre-built site might work best (just remember that the profits in ecommerce are rarely fast, and never guaranteed).
Playing around with your own Shopify store for two weeks will help you make up your mind as to which option to choose.
---

Apr 17, 2019 - 07:57 PM
Sadik is right. $50 isn't a lot to use to test a product in the grand scheme of things. You could use ecom goats as 'training wheels' and then shed them later on.
The other thing I would add is about 90% of success in ecommerce is figuring out how to acquire customers cost effectively at scale NOT setting up the actual store. That is trivial in comparison and to me Ecom Goats has little value add!
Plus the name and branding is plain silly!
---

Apr 27, 2019 - 03:07 PM
store concept is copied from dropshipforsale.com but cheaper problem is you only get store open no products. A friend opened one up 4 days ago and is about to do a charge back----not a bad concept if they could follow through on what they are supposed to do. dropshipforsale.com is doing it right!!
---

Apr 29, 2019 - 05:12 PM
Scam - Got Caught for $100.00
Shop I received not working - 3 emails to customer support and no reply to date.
---

May 01, 2019 - 07:36 AM
if ecomgoats does a site for you this is what you get ledstore.shop
---

May 03, 2019 - 06:23 AM
Starting to feel like I got scammed when i bought one a couple of days ago. I got an admin account and tried changing my domain name but i dont have permission to since.... they're still the owners of it. I sent an email and left a comment on homeboys insta so heres to hoping he responds.