Answers

May 13, 2019 - 12:09 PM
As more commerce moves online and new brands proliferate reviews have become increasingly important. They are a proven factor in increasing conversion rates.
Online costumers today are keen on ensuring that your business is trustworthy before they can commit their money to you; this means that you must always guarantee the right level of transparency.
And for a lot of online businesses, this need for transparency usually means using one of the online rating and review tools.
The high number of review platforms available however poses a problem to operators of e-commerce sites. Selecting the best out of many is difficult, but in this review, we've outlined 5 of the best review platforms to help you make an easy decision of which to choose.
Trustpilot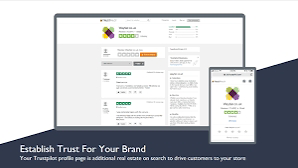 TrustPilot has maintained its status as one of the most popular customer review software since its creation in 2007. It is designed mainly to help businesses in their quest towards gaining the trust of actual and potential customers.
With this review tool, e-commerce site operators can upload a mailing list that contains the email address of all their recent customers and with the tool, automatically send out personalized invite emails to customers, requesting them to review the services they got from the business.
Depending on your choice, this is either done immediately after a customer makes a purchase or at a particular time of the month when all customers are reached at once. The reviews gotten from customers are sent to search engines, therefore strengthening your brand reputation.
Through a protected environment, users can see the progress of their reviews as it is coming in.
Features
Automatic Review invitations

App integrations

Customer API

Business generated links
Pros
Showcases reputation where it matters

Drive more traffic at lower cost

Increased conversion and sales

Enrich customer experience
Cons
May require technical expertise to set up.
Feefo
Feefo is another popular online customer review tool that is being adopted by e-commerce site owners to gain trust from potential customers.
As a review tool, Feefo works similarly to Trustpilot. Just like Trustpilot, it also sends personalized emails to customers, inviting them to provide a review for the service they received or the product bought.
Here, you can decide to customize how website reviews are displayed, including text display, rating percentage display, and star rating display. For analysis sake, the dashboard is designed to provide integration tools like API and Facebook app.
The tool is designed to improve the reputation of users as well as help them gain SEO progress through real customer reviews. Additionally, Feefo also has a feature that allows calculating ROI. Just enter your monthly metrics, and the tool calculates your potential returns on investment.
Features
ROI Calculation

Social media integration

API

E-commerce stores integration
Pro
Positive reviews from satisfied customers helps to increase conversion.

Helps to provide real insight into how your business is fairing

Great for building trust and engagement which is great for SEO
Cons
Relatively difficult to navigate website

Not suitable for less technically savvy businesses.
TestFreaks
TestFreaks is an all-encompassing customer review platform for e-commerce operators. It is designed to provide users with syndicated reviews extracted from several hundred experts and consumer review sources.
The reviews taken are channeled to match with the product feed of the operator. TestFreaks also features a review collector that designs and sends branded emails to customers after they've made their purchases, requesting that they leave a review.
Additionally, TestFreaks is designed with a unique feature referred to as a review analytic solution with a duty to collect scores and sub-scores wherever possible, works on them and provide solutions that will help you improve customer satisfaction.
Features
Review analytics

Syndicated reviews

Social media integration

Q&A
Pros
Positive reviews and ratings help to increase the conversion rate

Improved SEO and visibility drive more traffic

Relatively easy to use review tool

Simple setup
Cons
Too complicated for smaller businesses.
TurnTo
TurnTo is an online customer review software that intends to redefine the way reviews are being collected and used. The software is designed to capture four different content types generated by users including, Ratings and Reviews, Visual Reviews (images created by customer), Community Q&A (social answers) and checkout comment.
Each of these aspects of the review is made to cover a particular section of customers; hence the tool automatically targets personalized review request to customers based on their purchase behavior. This review tool also offers ease of integration to the profile of customers to enhance the personalization of user experience.
Features
Ratings and Reviews

Powerful Analytics

Fast and Accurate moderation

Visual Reviews

Open API
Pros
Diversified reviews and rating solution

Personalized buying experience

Streamlines shopping experience for retailers to evaluate their services.

Easy integration to multiple platforms
Cons
Relatively expensive for smaller stores.
Yotpo
Yotpo ranks favorably as one of the most popular content marketing software of our time designed for retail businesses and e-commerce stores. The system is designed to help online store owners generate product reviews and use the best among them as incentives for boosting sales.
This platform offers a good variety of solutions. Yotpo sends out automated emails to actual customers right after the purchase has been completed for upselling purposes. The rationale behind the start of the platform is to allow E-store owners to convert visitors to actual customers easily.
Features
Plug & Play

Look and feel customization

Powerful analytics

Multiple language support

Community Q&A

Powerful moderation tool
Pros
Has got everybody covered, from established online retailers to starters.

Multiple platform integration.

Fast and efficient support
Cons
It doesn't engage with customers for retention.

Less than enough reviews
There you have it, 5 of the best review platforms available to online stores. There are a lot of others, but these have been chosen after careful look into their overall features and how well they perform.