Answers

Jul 22, 2019 - 11:15 AM
Each region has its own version of Amazon. With the exception of Australia and Singapore, Amazon is currently limited to North America and Europe. This is because other regions have established their own e-commerce prior to Amazon or after Amazon and have gained a huge following in their respective regions while Amazon was busy in North America and Europe.
E-commerce can be segmented to B2C or B2B. Amazon is a B2C company (Business to Consumer) which will make comparison more clear by comparing it to similar platforms. These platforms are not limited to their country of origin but can have market even in other nearby counties.
Below are the top platforms in each region.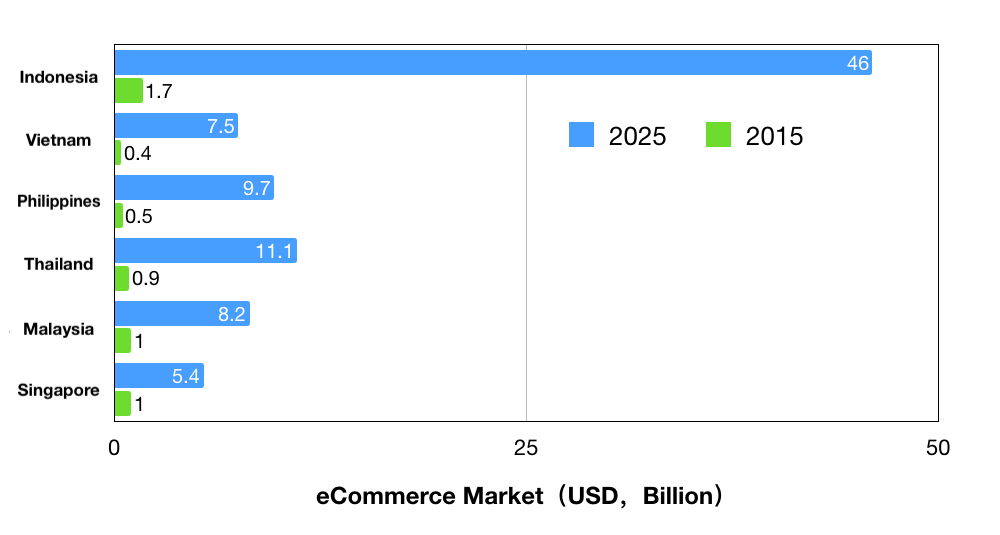 Note: Asia's market share for e-commerce (excluding China) is as follows. Of course the stats below is dwarfed by the Chinese market.
Photo Source: https://www.tmogroup.asia/southeast-asia-ecommerce-market/
Asia Top 3 (in no particular order).
Rakuten launched in 1997, they operate Japan's largest online bank, own Viber and have large market share on ecommerce. Rakuten is a Japanese company but has headquarters in California too. Rakuten has partnered with one of China's e-commerce paltform: JD.com

Lazada is owned by Alibaba group. It is present in most Southeast Asian nations: Singapore, Indonesia, Philippines, Vietnam, Thailand and Malaysia. It currently hosts 400,000 merchants as of March 2019. Alibaba declines to provide the exact revenue that Lazada has generated for 2018 but gave $650 Million as the total revenue generated by all international ecommerce platforms (including Lazada) under the Alibaba Group, for the second quarter of 2019.

Shopee is present in Singapore, Indonesia, Philippines, Vietnam, Thailand, Malaysia with the addition of Taiwan. It's gross market value is reported at US$1.7 Billion. But reported losses for its parent company the Sea group (Singapore).In the Philippines, Shopee is currently under investigation for allegedly scamming fans of the Korean group: Black Pink.
China
China is a category on its own. Revenue is reported in with trillions per year. China dwarfs most of Asia in terms of production, variety and market share. China's e-commerce is so big that it can be ranked among the world's top players. Below are the top ecommerce platforms with B2C models.
Jingdong or JD.com has its own impressive logistics system with drones and AI equipped systems making the delivery. Currently, Walmart holds 5% stake in the company. Almost all of its deliveries are completed within 2 days. JD's strong logistics network and growing list of domestic and international retail partners (170,000 and counting) is helping it grow GMV rapidl and reported $67.2 Billion for 2018 alone.

Taobao: Tmall is under Alibaba and is it's main B2C wing. It's GMV is at US$186.13B in Q3 of 2018. It has over 500 million active users and hosts and over 8.5 million active sellers.
Africa
Jumia's major investors are Rocket Internet, Goldman Sachs, Orange and CDC. It has also received 50 million euros investment from Mastercard in 2019. Jumia is currently valued at 1 Billion. It also owns Kaymu which currently operates in 32 countries spread throughout Africa, Asia, Europe and Middle East. As of 2017, Jumia ranks 47th among the smartest companies as listed by the MIT (Massachusetts Institute of Technology). Plus, it's the only African company to feature among the top 50 in the MIT list.
2. Konga is the major competitor of Jumia in Africa and has positive reviews on its logistics and customer service. Konga currently has 50 million active users and is a major competition to Jumia.
Latin America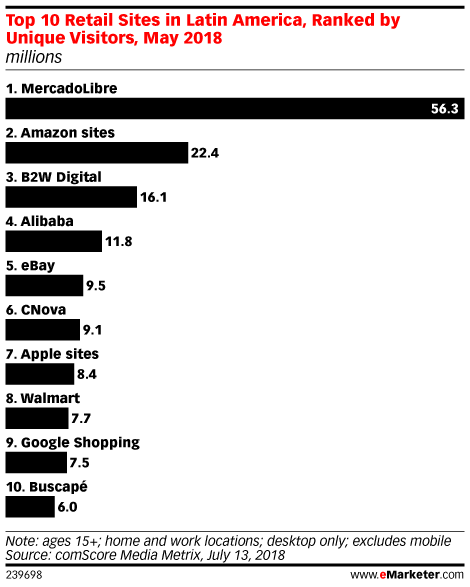 Source: https://pointerbrandprotection.com/biggest-ecommerce-platforms-south-america/
https://www.emarketer.com/content/latin-america-ecommerce-2018
B2W Companhia Digital reported a GMV of $0.51 billion for 2018 alone. It has announced its plans for expansion and partner with larger companies.

MercadoLibre is Latin America's most popular platform—with 56.3 million unique desktop visitors during May 2018 and has reported a Net Revenues of $355.3 million, up 58.3% on an FX neutral basis. It has also 33 million unique buyers and almost 13 million of sellers.