Answers

Jul 19, 2019 - 08:33 AM
Sites for Selling Art
First, here are a few sites to try out. It's good to have an active presence on multiple sites, but don't feel obligated to use all of these at the same time. Instead, try some out and stick with the ones that suit you best - or find other sites similar to the ones you like most.
Your Own Site
First, you should definitely set up your own site, no matter which other sites you choose. Even if you don't actually sell your work through your site, it can still help you grow your following and customer base. But you can also easily turn your online portfolio into an online store using simple ecommerce platforms like Shopify.
Whether or not you set it up for ecommerce, your personal site lets people learn more about you, giving them a reason to buy your art. You can include your bio and artist statement, providing context for your artistic style. You should also add any awards or accolades you've gotten as an artist. Include the link to your personal site on the other sites where you sell your art, so people have a reference point when they shop your work.
WordPress is a great platform if you want the ultimate customizability (and ecommerce options), although it does involve a bit of a learning curve. But you can also use more simplified platforms, like Strikingly, to keep it simple. Just make sure your site is visually pleasing, informative, and features good examples of your work.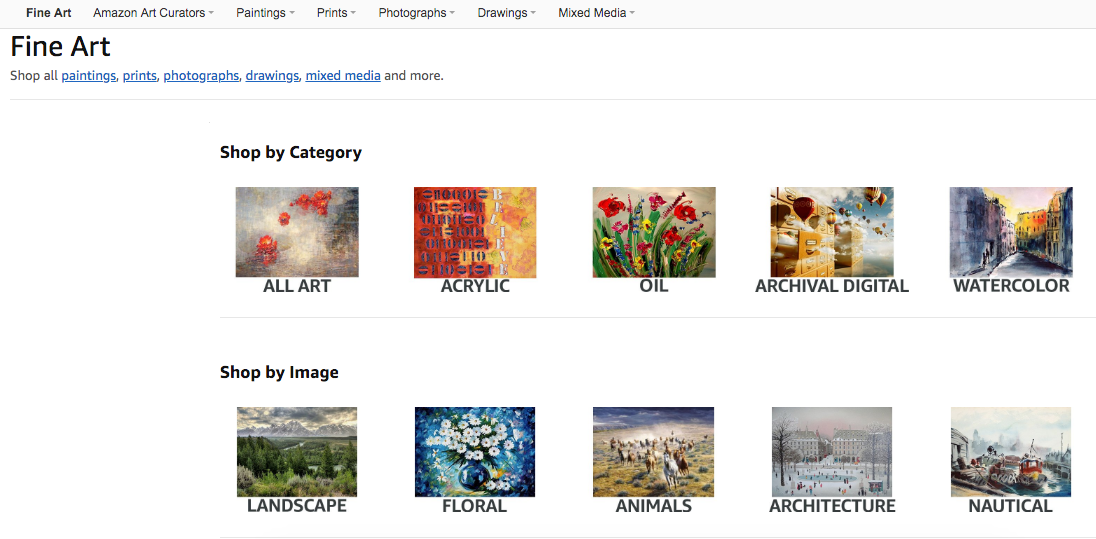 Amazon
Now, let's delve into some outside platforms where you can sell your art.
Amazon might come as a surprise, but the Amazon Art marketplace is actually a good fit for many artists. However, even though Amazon is often seen as a place where anyone can sell anything, you do need to pass the pre-approval process before you can sell your art. Also, you can only sell two-dimensional work on Amazon Art.
ArtPal
If you want a platform that's even more accessible, ArtPal may be a good choice. You don't need to pass an approval process or pay any fees to start selling. There isn't even any commission involved. Plus, the platform offers free guidance to help you market your art to their audiences. This is one of the fastest, easiest platforms to get started with.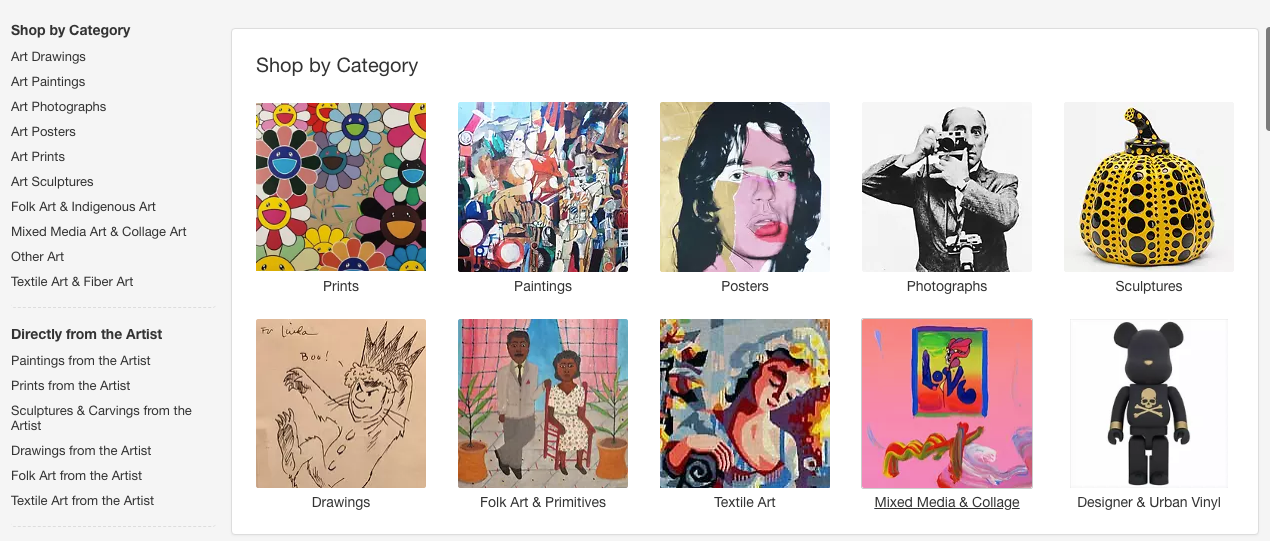 eBay
While eBay is often associated with vintage goods, it also has a thriving art category. You can sell any kind of art through the platform, and eBay is also well-known for providing lots of support to sellers, including free guides to help you market your art better.
Saatchi
In addition to these accessible platforms, there are also more selective art marketplaces online. While it's a little harder to get in, you can tap into a more serious art-buying community if you make it through the selection process.
Saatchi is one of the biggest online art galleries you can find. If you get in, you get to access their sleek app, possibly get featured on the blog, and learn about pricing, promotion, and more from their manual.
Luckily, it is free to apply, and the application isn't hard. As selective online galleries go, this one is fairly easy to get into. And if your work gets selected by a curator for a feature on the homepage, your sales will grow even faster.
You do pay to tap into this market: you'll only keep about 65 percent of each sale. But to many artists, this is worth the opportunity to tap into such a large marketplace.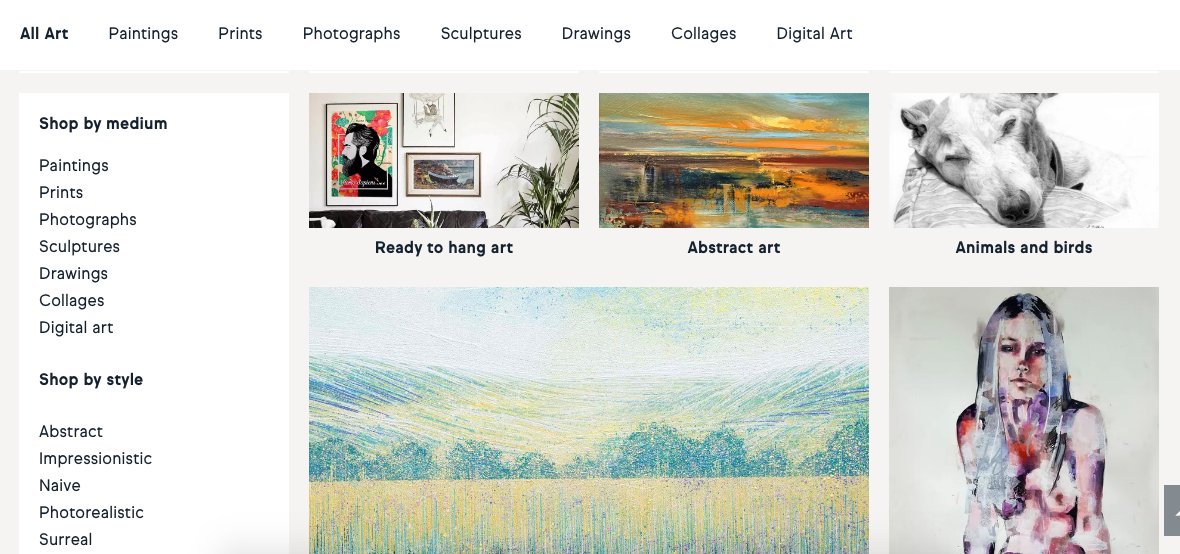 Artfinder
Artfinder is similar to, but even more exclusive than, Saatchi. You can sell many mediums on this platform, but the work must be original (no prints).
To sell, you have to pass the selection process, which involves sending examples of your work plus a supporting statement. But if you get in, Artfinder's AI and personal shoppers will help connect your work with customers who will love it. You keep 67 percent of each sale, and it is free to apply.
How to Market Your Art
While this selection will get you started, there are also many other platforms similar to these. But no matter which ones you use, these best practices will ensure your art sells better.
Keep Prices the Same
On every platform, make sure your prices match up perfectly. If shoppers notice that the piece they bought was listed for less money elsewhere, they might feel like they got a bad deal, which means they won't become repeat customers.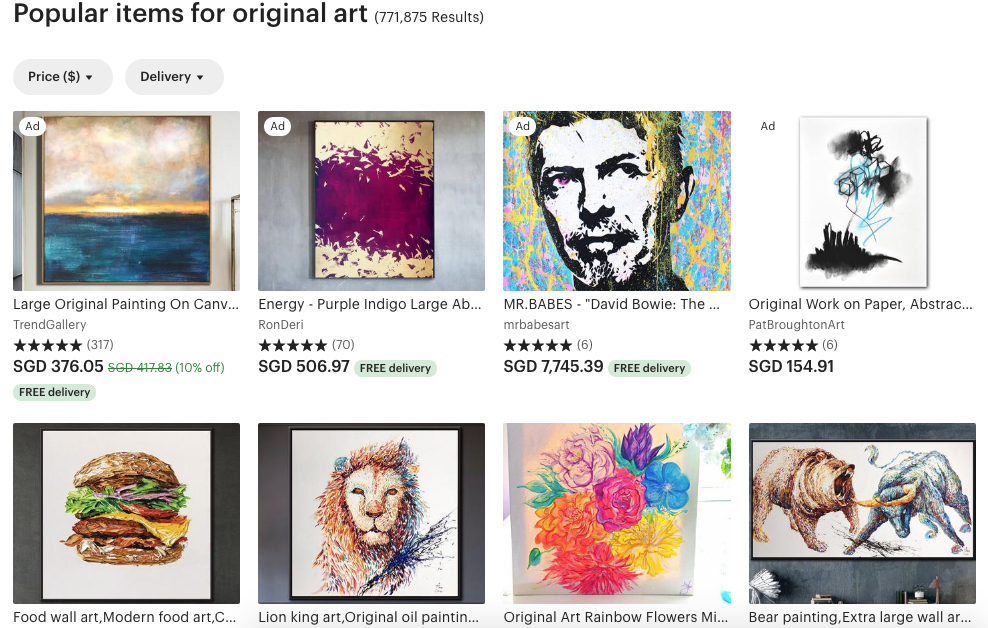 Consider Your Platform
Only choose platforms that fit your art style. For example, if you do fine art, you may not want to sell on platforms like Amazon, which may be seen as low-brow by people in the art community. But if you do pop art, Amazon and other casual marketplaces like Etsy might be the perfect fit.
Track Your Inventory
Stay organized across platforms, so you don't accidentally double-sell a piece. Keep a spreadsheet or list of everything you have for sale, and where each piece is listed. As soon as a piece sells, pull it from the other sites.
Brand Yourself
People often buy a single art piece just because they like it. But people will return to buy another piece from the same artist because they like the artist and what they stand for.
To get these repeat customers (plus more new customers), you need to brand yourself as an artist. Your personal site can be an important springboard for establishing your personal brand. Social media is also your friend. Share your pieces on social media, along with the thoughts that inspired them. Post behind-the-scenes looks at the creative process. Establish a consistent tone and visual style in all your posts online.
When you invest in your personal brand and build a healthy online presence, you'll build a following of people who love your art style overall, not just your individual pieces. This will translate into more sales, plus other opportunities. For example, a popular social media post might lead to someone featuring you in their art blog or magazine.
(Also, consider adding a watermark to pieces you share online, so they can't be reposted without credit. Just make sure the watermark isn't obtrusive, so it doesn't detract from the piece itself.)
Selling your art online is a time-consuming process, so be sure you're ready to devote the time it takes. From photographing your pieces well, to writing compelling artist statements, to posting on social media, you'll need to spend hours each week doing the work to make your sales grow. But if you do invest that time, and find the platforms that fit your work well, it will pay off.