Answers

Jul 20, 2016 - 02:08 PM
Those are the keyword phrases that usually have 2+ words (definition might very depending on the industry vertical). Long tail keywords are more specific (in terms of user intent for the search performed) and most often will convert better than short keyword phrases that consist of 1 or 2 words. However, long tail terms have much lower search volumes compared to short terms (as people don't generally like to type long phrases when performing searches).

It is recommended to bid on both short and long tail keywords. If you bid only on long tail terms you might not be able to get enough impressions, clicks and conversions. If your budget is very small, the amount of long tailed terms you might have and their corresponding search volumes can be enough to accommodate spend. In such case you don't need to bid on shorter keyword phrases at all.

---

Mar 07, 2017 - 02:07 PM
The long-tail of search is a difficult concept for many to fully appreciate. The long tail was first popularized by
Chris Anderson
, former editor of Wired Magazine. He was mostly analyzing music and products, shining a light how users were picking and choosing songs and buying niche products that brick & mortar stores didn't offer, but sites like Amazon did. He found the old 80-20 rule was flipped on its head.
The long tail is a visual piece, where if you plotted out all the products or purchases on a graph by popularity, you would notice that the most popular products dominate the "head" of the graph, while the less frequently purchased products make up the tail. But the interesting finding is that the tail, is very, very long--and when added together, represents 80% of all purchases (opposite of 80-20 rule).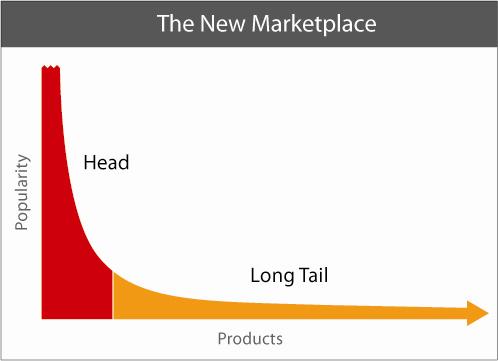 Having experienced the long tail of search, particularly with a recipe site I worked for, I noticed that Chris's 20-80 concept
underestimated
the long tail of search because the demands people put on search engines were massive. On the recipe site I worked for, I ranked #1 for most "head" terms like "recipes", but that head term, for example, only represented 2% of our organic search traffic (we never bought traffic). So I conducted my own study to help search marketers better understand our playing field.
In 2008, Hitwise (an expensive data product at the time that used data from large ISPs to obtain search traffic info)
allowed me to study their search data
to determine the size of the tail from a search perspective. I published the study on the Hitwise blog called "Sizing Up the Long Tail of Search", which, unfortunately I just discovered was lost when the updated their blog after they were bought. It was a well-referenced study, by even Chris Anderson himself. I will republish it on my blog soon.
In that study, I found discovered this about the head vs the tail:

To better illustrate how big the tail was, I stated this:
"There's so much traffic in the tail it is hard to even comprehend. To illustrate, if search were represented by a tiny lizard with a one-inch head, the tail of that lizard would stretch for 221 miles."

In your original question, you ask about long tail keywords, but I think you meant keyword phrases (long tail keywords would be misspellings or less frequently used words).
Examples of "head" keyword phrases would be popular searches, like "facebook", "recipes", "auto insurance", "cheap flights" and "Jennifer Lawrence." Mid-tail might be phrases like "iphone 8", "taxes", and "italian recipes." Long-tail phrases would look like "how much money does jennifer lawrence make" "2016 tax deadline", "when does the iphone 8 come out?", and "quick and easy gluten-free italian recipe ideas with low sodium."
Often times when people talk about long tail, they are referring to long tail phrases within their own industry. The same level of granular, multi-word queries happen in every industry. The challenge of long tail is we often can't get data for it. For example, Google
states
that every second they receive millions of search queries, but 15% of those queries they've never seen before. And even if we had the data so we could target it, we often wouldn't have the capacity to hire writers to write about each long tail concept or phrase--this is where popular UGC sites do well, because they basically have an army of writers and ideas on topics to cover.