Answers

Sep 20, 2018 - 04:28 PM
Drop shipping (like Affiliate Marketing) can be profitable but it is far more difficult to succeed than those who teach it would have you believe. Typically most people teaching drop shipping courses have failed at it or only been moderately successful. There is a saying that those who know how to do, do. Those who don't know how to do, teach!

Think about it. If I've found a highly profitable niche, why would I teach other people how to do it? I've seen a few people who were moderately successful teach their "system" and after a few months no one could make money because everyone was doing the exact same thing.

I spoke at an internet marketing conference in Bangkok in December and most of those teaching 'how to make money online' courses had never made money at anything other than teaching others how to make money :)

That said, you can be successful if you have one or all of the following:

1. Sustainable low cost traffic. E.g. you've built a blog on a topic that gets a lot of visitors. You can then parlay this 'free' traffic into sales of drop-shipped items relevant to your audience.

2. You have a low cost supply advantage. Maybe you know something about sourcing product from China that most others don't know and enjoy a cost advantage. You could then compete on the same channels (Amazon, Facebook, Google) with everyone else and still succeed because of your lower costs.

3. You are better at converting visitors and get significantly higher EPCs (Earnings Per Click) than most others can. I know two Ebay powersellers who followed this path and generated $4.5 million in sales their first year.

If you have none of these advantages your chances of succeeding are very slim. By definition, 'drop shippping' means marketing someone else's product, which means you do not have a proprietary product, which means you do not have a compelling value proposition, which makes it difficult to succeed.
---

Oct 22, 2018 - 11:52 AM
To expand on Jasper's #3, one way of having better conversion rates is picking a product where you can create information to help customers purchase from you. For example, let's say you are selling solar panels. A first time solar panel buyer has a million questions and the latest info is constantly changing. Also installation and maintenance is extremely complicated.

You can differentiate yourself from the market by offering the best buying guide in the industry to prove your knowledge and help people purchase. Then you would also offer an amazing installation/maintenance guide to anybody who purchases through your site.

This does require you to develop deep knowledge and understanding of your industry, but if you pick products you're passionate about or already have a background in, it's a fun/interesting challenge that scales really well. You can also outsource the content if you have a budget for it.
---

May 15, 2019 - 06:46 PM
Really informative. Thanks. I am into dropshipping from the last 2 years and pretty expert in this field but one thing which annoys me is Aliexpress invoices as we know that Aliexpress does not provide invoices for bookkeeping purposes. Recently came to know about AliBilling which certainly provides <a href="https://www.alibilling.com/"> AliExpress invoice</a> but I haven't used this app. I hope you guys will soon write something related to this.
---

Jul 10, 2019 - 11:04 AM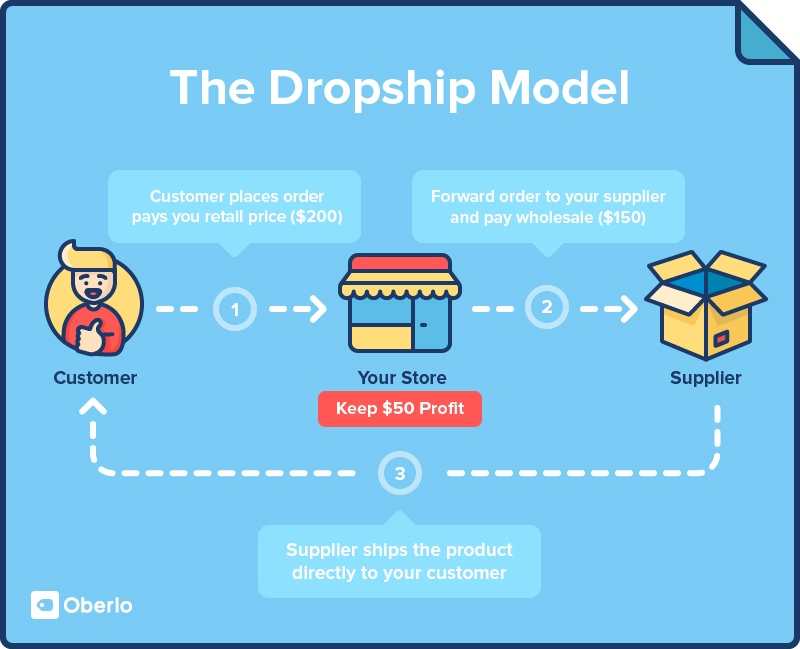 Image courtesy of Oberlo
[by Scinider. Posting on his behalf]
Some tips and thoughts regarding Dropshipping in 2019:
A bit of background about myself. I am currently staying fulltime at Shenzhen China, have been doing this for over 5 years, launched a dozen or so dropshipping sites surpassing 7 figure annual revenue.
What type of site should you build?
In most cases, I would recommend building a store with few SKU's and focus on them. Gone are the days where you'd test 200 SKU's with 5$ ads each. About a year or two ago, we'd have a 15% breakeven chance by testing hundreds of products a week, that's with a somewhat ok lander + video ads, but now that number is less than 5%. Spending time optimizing your website/funnel and ads is I believe more profitable than blindly testing products.
2. Invest in good copywriting
This seems pretty obvious, but few are doing it to maximize it's potential. You should AB test by yourself or preferably test with multiple freelancers. We have on average 4 angles we focus on for each store (that generally only focuses on 1-2 product), each with 5 variations of copies.
It's a rather slow and costly process but much more profitable than spending that money blindly on ads. Ideally, you would want to integrate good copywriters to your product selection process, as they are the ones most directly affecting the success rate of a certain product.
I almost hire exclusively on upwork, some of which I have hired permanently to work at my office. Also... videos are essential, if you don't have people to create videos. I would suggest taking a look at animoto. Bottom line is, it's much easier to have profitable ads by optimizing your creatives/landers than tweaking your ads platform (FB/Google).
3. Where to dropship from
Now, this is a tricky question. I don't see a problem using Aliexpress to start out since it has the most competitive prices and the largest selection, but I see the doubts you may have, quality and shipping.
The quality issue is for me a non-issue, you get what you pay, if you are scraping the cheapest products, then sure chances are you'll receive a crappy product, same goes with shipping. On the other hand, Chinese dropshippers don't really use Aliexpress, they use 1688/Taobao/T-mall.
I would recommend getting your hands on 1688 (Yes it's not easy for foreigners, but that's how you gain an edge), there will be an MOQ but not too much. Also, they don't use epacket.
You should know that shipping time is the single most influential thing to your FB page score. Most here use what's called a "special/dedicated line", it's not that much expensive than e-packet and you'd get products shipped to the US in 6 natural days on average.
Now if you want to scale, eventually you'd need to have a fulfillment partner. There are hundreds of them in Shenzhen and lot's of details you should keep an eye on, but generally speaking, one element is largely overlooked, that is, local shipping prices, which actually is super important since it adds up to your costs.
Every single fulfillment center will tell you that they have the best prices, but that is absolutely not the case at all. The only way you'd get better prices is with volume, so you need to compare carefully.
You should also negotiate with your fulfillment partner to see whether they can process your order in less than X hours.
4. Make sure you hide your site from Spy tools
The Chinese are just catching up to the whole dropshipping game and they are good at it. Check your Google analytics and see whether you have traffic coming from commerce inspector etc.... You can insert 2~3 lines of code to your store )if you're using shopify) and avoid a large percentage of spy tools.
5. UPSELL UPSELL UPSELL
Regardless of what my store sells, I always import hundreds of products to my store . I do not display them anywhere on my store, they only show up when people have purchased, just before the thank you page. You will likely not be profitable if you do not have an up/downsell funnel. There are plenty of tools that can help you achieve this.