Answers

Oct 28, 2018 - 09:55 AM
If you are only seeking to find out whether Amazon ads work, then the answer is simple: Yes, they do work. However I would like to respond to this question in terms of budget, duration, choosing the products etc and whether this service has a solid value proposition.
Amazon Ads focuses its pitch on their own capacity as a shopping giant and they put an emphasis on the fact that its data reflects how people research, and purchase things on Amazon itself as well as other platforms. In my opinion, Amazon seems to be aiming a shot at other prominent platforms like Google and Facebook since they seem to have a huge wealth of shopper data than these platforms.
An article on Digiday seems to support this notion. They claim that essentially Google's arsenal comprises of search data and Facebook is armed with interest levels while Amazon has real power because they know what people are purchasing and why they do it. This will in turn help them to make their ad program scalable.
Looking at Amazon's approach, it emphasizes large scale targeting across contextual, behavioral, lookalike, remarketing, geographic and demographic targeting. With over 300 million users, Amazon boasts of user data (which it keeps close to its chest) from where they live, what they browse and what they buy. Amazon is able to create a complete picture of customer data better than many other platforms.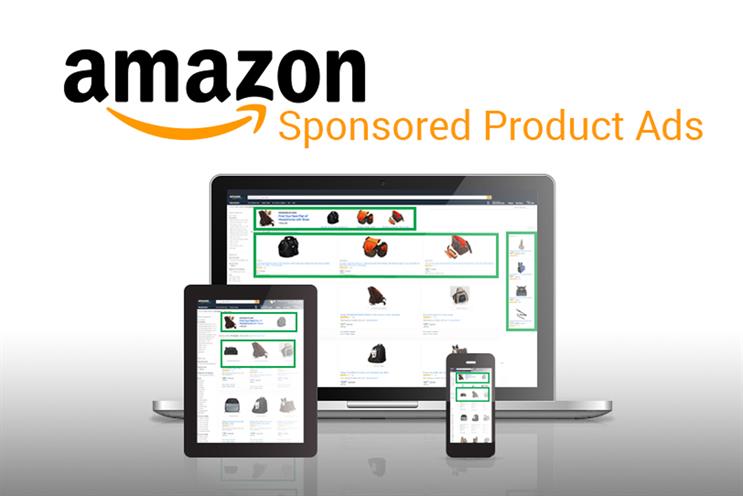 What Are Amazon Sponsored Products?
Before we look at how these ads actually work, it is important to take into consideration that Amazon searches have a purchasing intent then actually differentiate these ads from other types of ads.
Amazon has a confusing amount of advertising programs with even more nondescript and confusing names. I prefer differentiating them in terms of what they actually look like. Sponsored products often consist of image ads and appear alongside Amazon search results often intermingling with them. I think this is where they derive their powerful stature. In search results, ads are always marked as "Sponsored."
Amazon has what we call self serve ads and premium ads. The difference in these two categories is that self serve ads work typically like Google search results while Premium ads function a bit more like display ads and often show up as visual banner ads and side bar ads. In what seems to be Amazon's charm offensive, these ads also transcend other websites and you will find them on other websites just like Google's.
How to get started with Amazon Ads
Now let's get to answer your question in terms of how to actually implement Amazon Ads Services. Since I presume that you already set up your seller or vendor account, we can move onto the real part where you set up your ad campaigns.
Here you need to decide where to get started in terms of what type of ads you will put up. Since our main goal is to ramp up e-commerce sales, we have three main options to choose from: Product Ads, Sponsored Ads, Headline Search Ads and Product Display Ads. We will briefly look at each of these types of ads.
Amazon Sponsored Product Ads
These ads work in a way that is almost similar to the ads which we run through the Google network and are solely responsible for driving Amazon's searches directly to the product that you are selling on the site.
A shopper who clicks on the sponsored product will be directed to the ads product detail page and often are displayed either above or below the search results page. In other instances, the sponsored product ads will camouflage on other product detail pages.
A good thing about these ads is that they are keyword-targeted, where you get the option to choose from exact search phrases or broad match types. They also give sellers a control over their daily advertising budget, as well as duration of the campaign. The only catch is that your campaign must run for at least one day before it can be paused.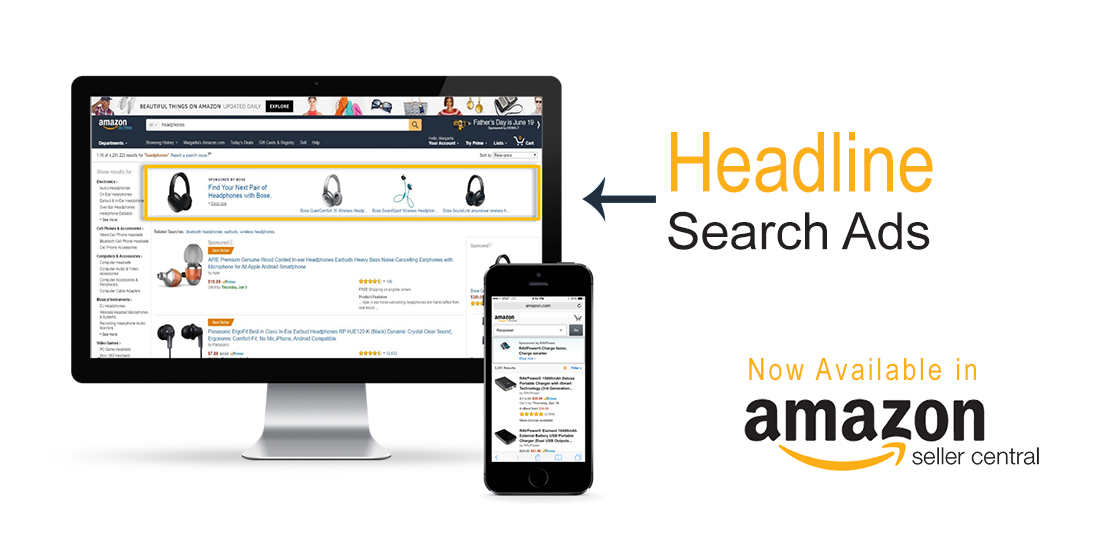 Headline Search Ads
These ads are displayed in the search results page as headline banner ads. They take precedence above the result listing and their pricing takes the form of cost-per-click, and the searches are directed to any page that you have specified on Amazon. This page acts as your landing page and is typically customized.
One consistent feature of Amazon Ads is that they are keyword targeted and headline search ads are no exception. You can use them to promote more than three products together.
Their mode of pricing is also cost-per-click and a minimum bid of $0.10 has been set. Only two keyword match types –phrase and exact match- are supported for this type of ads. Another notable point is that these ads have a minimum campaign budget of $100 and a daily spend limit of $1.
Amazon Product Display Ads
The last type of Amazon Ads is Product Display Ads which work a bit differently from the other two ad types above. The main difference is that Product Display Ads are not keyword targeted but rather product or interest targeted. The pricing strategy employed here is also the cost-per click method and the ads send customers to the product details page.
The beauty of this category of Amazon Ads is that you can select from a list of products or interests to target your ads to relevant shoppers but take note that you can only use one target type per campaign.
Amazon Advertising Costs
An analysis of an ads service is nothing without touching on costs as they are the yardstick for measuring the service's value proposition. Bob Sieracki of Practical Ecommerce puts the figure of the average cost-per-click nowhere more than $0.35, which is by far an effective route on a cost-per-click basis than on other platforms such as Google AdWords. It is somewhat comparable to some of the lowest CPCs that we have been seeing on Facebook ads.
Since we are all about optimization, let us look at ways to keep lowering your Amazon Ads cost.
Amazon Ads Optimization
Since you have never tried this platform it is justified to have some sense of doubt whether the platform could actually give a positive ROI. If you are wondering what to do about it, you are in luck as there are a few tweaks you could employ to stand out from the competition in Amazon's jungle of a marketplace.
You could employ this simple 6-step Amazon advertising strategy to turn the tide on your insecurities.
#1: Set Up Organized Campaigns by Product Category
This generally involves streamlining your ads and an experienced AdWords advertiser ought to have really mastered this concept. The best way to go about it is to have separate well-structured campaigns for each of your product categories. Under each campaign, you could create more specific ad groups.
Your ads will remain relevant when you have a solid account structure saving you a ton of cash and increasing your ROI in the long run.
#2: Create Compelling Ad Copy
While keeping it urgent, ensure your ad text is both accurate and has some sense of creativity and humor. In a sea of cluttered search results, it is more important than ever to stand out amongst your competitors.
#3: Make Your Ad Copy Specific
Your ad copy must be very specific with regards to whatever product you are selling. While it might be difficult exposing all the product details and descriptions in an ad text, it is important to jam the most specific details in it.
#4: Remember to Bid on Popular Brands Selling Similar Products
Some brands are too popular to be left out of clients search, including some of your well-known competitors. Bidding on these popular brands' tags will enable you to ride on your competitors' popularity and gain exposure which may result in a purchase.
A generic keyword search for products in your vertical on Amazon will reveal to you some of your top competition.
#5: Experiment with All of Amazon's Ad Formats
If you want the fastest and most visible ROI, sponsored product ads is your forte but remember that headline search ads may lead to loyal, repeat customers. It doesn't hurt to experiment with all the three ad types to find out which one yields the highest returns.
#6: Use Negative Keywords with Conservative Match Types
Negative keywords will help you reduce wastages from irrelevant clicks, just like advertising on Google. Imagine being charged for an accidental click from someone who is not looking to buy your product.
Being conservative with your match types by steering clear of broad match and putting a stronger emphasis on phrase and exact match could also help your mission. A thorough keyword research will always ensure that you are targeting the right words as well.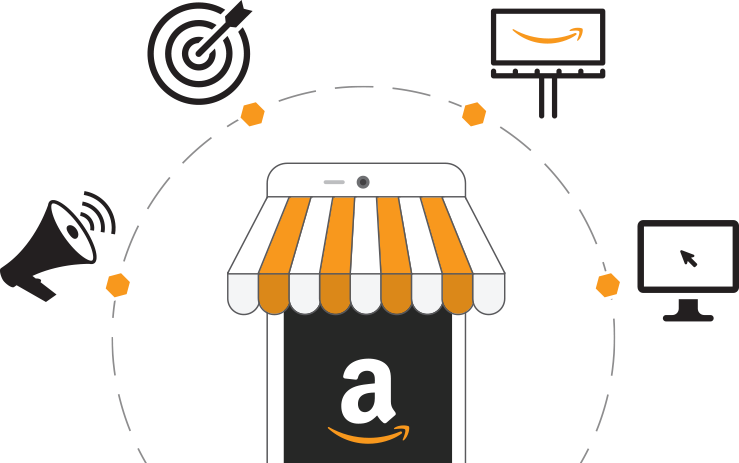 Practical Observations
In an attempt to get more practical experiences, I asked around for friends from other sectors who sell on Amazon and have tried their sponsored services and they reported with varying results. While the responses came from sellers either selling general products on Amazon India or just books on Amazon.com, they seem to come to an agreement that Amazon Ads do work.
One told me that the key is to assign your best sellers to auto campaign for a set of keyword collection for about a month then go for manual campaigns. He reckons that since they adopted sponsored products, their sales did actually increase.
He throws in a caveat though. The problem he observed is that there is no clear way to exactly quantify the increase in sales since the sales numbers that show on the Advertising Dashboard are inclusive of pending and cancelled orders which never came to fulfillment. In their case this figure turned out to be between 50 and 70%, which was quite high.
As far as budget is concerned, I got the following response from yet another user who sells electronics on Amazon India:
Amazon gives users on their Indian site a $10 credit to get started with Amazon Ads and they will use their own investment once this amount is depleted. He notes that while Amazon's CPC is low, so is the conversion. He could quantify their ROI in terms of dollars spent vis-a-vis the number of sales that they got. They could get 10 sales for every Rs100 ($1.4) spent. This will help you figure out how much budget you need to set per month as time goes by and you use up your $10 credit.
One thing he advised me about was the fact that you may need to factor in the amount of orders you can fulfill. An example is that you could spend $60 daily on advertising which could net you an extra 1000 orders. It would be in futility if you are not able to ship out the additional orders that are coming from advertising resulting in a net negative as your account health dips and your ad money goes for a toss due to auto-cancellation of orders.
The only problem I found with Amazon Ads is that they lack big time in reporting and you might have a lot of difficulty doing any sort of meaningful analysis on your ads. It is nowhere close to Google Analytics in terms of insight and reporting.
If I were mulling over whether to take up the service, I would ask myself a simple question, "Would I do the same sales without it?" I would go as far as to say you got to do it but that really depends on your competition.
All in all I definitely suggest the sponsored ads. The question is; can you afford not do it?
---

Mar 20, 2019 - 05:22 PM
In addition to Kevin's post below, Amazon Ads has made two important changes:
1. They block ads for products that result in a loss for Amazon
2. They have now rolled out mobile ads.
1. They block ads for products that result in a loss for Amazon
Amazon is blocking products that result in a loss to Amazon i.e. merchants who promote products and then use Amazon to fulfill the product. According to this CNBC article, Amazon has been sending vendors an email saying:
"One or more of your products no longer qualifies for advertising because the sale of this product on Amazon.com currently results in a loss to Amazon." The email goes on to say that the brand must "lower the product's cost" to Amazon in order to become eligible for advertising again. "Like all retailers, Amazon decides which products to market and promote in our stores based on a variety of factors, such as relevancy, availability, profitability and other factors," the spokesperson said. Cleaning up the 'CRaP' Internally, Amazon calls these products "CRaP," which stands for for "Can't Realize a Profit." Typically, they are items that sell for less than $25, but could go up to $2,000 if they're bulky and expensive to store and ship, Hansen said. Of late, Amazon has more actively been pushing those unprofitable products off the site, the
Wall Street Journal reported
in December. 2. They have now rolled out mobile ads
According to Bloomberg:
https://www.bloomberg.com/news/articles/2019-03-21/amazon-said-to-launch-mobile
-ads-in-threat-to-google-facebook
Amazon has been beta testing the ads on Apple Inc.'s iOS platform for several months, according to people familiar with the plan. A similar product for Google's Android platform is planned for later this year, said the people, who asked not to be identified because they're not authorized to share the information publicly. The brief video spots appear in response to search results on the shopping app, valuable space for advertisers since people searching for products on the app have a higher propensity to buy than those scrolling through Facebook or watching videos on Google's YouTube. Amazon has emerged as a
fast-growing challenger
in the digital advertising market since it captures 50 percent of all online sales in the US. Amazon's digital advertising market share will grow to 8.8 percent this year from 6.8 percent in 2018, according to EMarketer Inc. Market-leader Google will see its share slip to 37.2 percent from 38.2 percent.
---

Nov 10, 2020 - 05:29 PM
Cautionary tale about Amazon ads. If you are spending heavily, and therefore generating lots of sales for your product, Amazon may create a clone of your product and then restrict you from running ads. I advise clients not to build their whole business on Amazon, no matter how seductive. Always invest a little in your own website and other channels. Here's an article by the Wall Street Journal on this.
https://www.wsj.com/articles/amazon-r...
In response to a request for comment, Amazon didn't directly address the question of whether or not it hobbles rivals' marketing. Instead, it said that it is common practice among retailers to choose which products they promote on their websites.
"News flash: retailers promote their own products and often don't sell products of competitors," said Amazon spokesman Drew Herdener in a written statement. " Walmart refuses to sell [Amazon brands] Kindle, Fire TV, and Echo. Shocker. In the Journal's next story they will uncover gambling in Las Vegas."