Answers

Mar 30, 2019 - 11:23 AM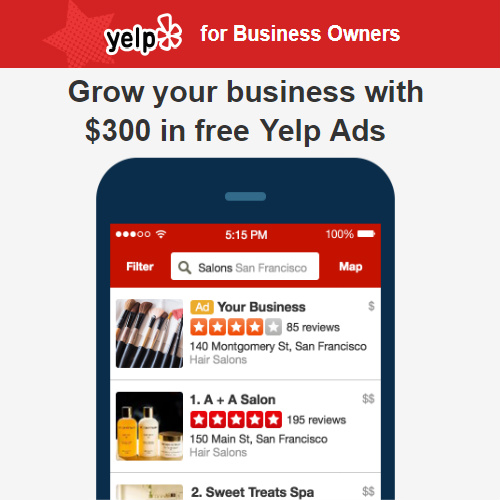 As you note, Yelp is primarily a review site for restaurants and local businesses. They make money by selling ads against the business listings and reviews.
That is the polite fiction, at least. In reality they are little more than an extortion ring. The Harvard degrees may give them a veneer of legitimacy, but much of their business has been built using the following playbook:
1. Find a local business with negative reviews (there have been rumors that some of their salespeople seed negative reviews but not sure how true these are).
2. Get a high pressure salesperson to call them and ask if they might perhaps "like to claim their business listing" (Translation: Buy some ads and we'll let you edit or even expunge the negative reviews)
Yelp is in decline as more user reviews move to Google. Google is also denying them traffic, giving preference to Google reviews in the search rankings. Their battle is well documented. See these:
Usually, when you have to go the courts to gain business advantage, that is the beginning of the end!
So, do you really want to invest in a platform that is in decline? As a small ecommerce store owner you have limited time and resources. Better to focus your efforts on channels that are growing (and not support an extortion ring!).
But I digress--those Arabica beans are too strong this morning--you asked if the ads are worth it for a non-restaurant business...
Yelp Ads: The Basics
To be fair to them, Yelp recently transitioned to a shorter, no-term contract model, making it easier for companies to give Yelp Ads a try with minimal commitment. Still, you'll want to know if the cost is worth it before you make the investment.
One thing first: if you're hoping to get a lot more site traffic, Yelp Ads aren't the way to go. For the few people who make it to a company website from Yelp, the bounce rate tends to be low. But most people looking for businesses on Yelp don't navigate away from the review site at all.
However, Yelp Ads still have lots of value in other ways, even for non-restaurants. In fact, restaurants only make up about 20 percent of the businesses on the platform.
With Yelp, you'll set geotargeting for your ads, so the ads show to people within a certain radius of your store. This can be a great source of local marketing for brick-and-mortar companies. But the fact that you're an ecommerce store makes things a bit more difficult. Geotargeting may not be of much use, unless there are certain areas where your target clientele lives or hangs out.
Does Yelp Work for Ecommerce Stores?
This is the real question: not whether Yelp Ads have value for non-restaurants, but whether they have value for ecommerce stores.
Even though the platform has dabbled in ecommerce on and off for several years, consumers still mainly associate it with brick-and-mortar businesses.
Yelp Ads look appealing simply because of the sheer volume of people using the site. And most of those people are primed to make a purchase once they're on Yelp - they're looking for something specific that they've already decided to buy. They're also looking specifically for sources of that item or service that are in their area.
Another benefit of Yelp is that the platform allows you to control the online commentary about your store (to an extent). This is useful for ecommerce stores as well as traditional stores. If you're not yet on Yelp at all, you'll start by claiming your business listing and updating the relevant contact information.
Then you'll work to get positive reviews that will attract new customers. Yelp also allows you to reply to negative reviews, so you can show potential customers how well you handle these situations.
These benefits can be helpful to an ecommerce store, but the value of Yelp Ads also depends on a few other specifics.
Are Yelp Ads Right for You?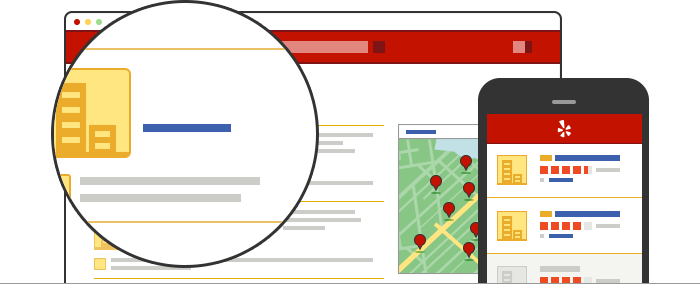 While I wouldn't totally write off using Yelp Ads as an ecommerce store, it is a somewhat unconventional use of the platform. To decide whether or not Yelp Ads will be valuable, you'll need to first decide how much value your company gets out of Yelp itself.
The ads primarily help you get more exposure within Yelp, but they won't draw in new customers from all over the internet. Customers view Yelp reviews as a reliable source of information, and the platform can help drive a small stream of low-bounce-rate traffic to your site. So before investing in Yelp Ads, start by investing in Yelp.
Work to build up some positive reviews if you don't have many yet. If you can't get good reviews, the ads won't be worth it, because having poor reviews will drive people away from your Yelp page even if an ad brought them there. But if you want reviews and don't have any at all yet, Yelp Ads may also help you get them.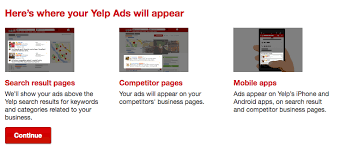 Also, in terms of figuring out the cost per impression, finding answers is difficult due to the way Yelp Ads work. Although Yelp will show you clicks and impressions, it won't show you how many came from the ad, versus how many came from your Yelp page itself. This lack of information alone might make you think twice about using Yelp Ads.
You'll also need to consider just how valuable investing in Yelp Ads is when you don't have a physical location. For example, many people may want to call your business through Yelp for more information.
Do you have a system in place that will allow you to take those calls during regular business hours? If not, you'll miss out on some of the value of sending people to your Yelp page.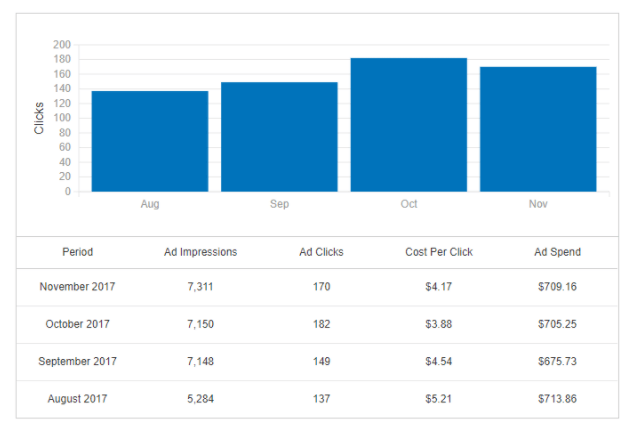 Image credit: SearchEngineLand
Keep in mind that many customers using Yelp are searching for something they can buy immediately in their area. If they're searching for an organic ingredient to cook with tonight, they won't be willing to order it through your ecommerce store and wait for it to arrive, no matter how much you invest in Yelp Ads.
Yelp is a location-driven platform, and this could work to your advantage if you plan to sell to customers in certain areas, and if they don't need the product immediately. But if your target audience isn't easy to target by location, Yelp Ads may not be the best use of your advertising budget.
---

Apr 25, 2019 - 09:25 AM
So true what you said at the beginning of your answer about Yelp's tactics. Here's something a Reddit poster wrote:
I wanted to share a recent interaction I had with a Yelp sales agent, a cautionary tale. I haven't seen it documented on this sub so I thought I'd share my experience. If this is a repeat, my apologies for the repost. The dark side of Yelp is pretty well documented; filtering positive reviews and moving negative reviews to the fore if you don't advertise. I am a co-owner of a small business and shortly after we stopped advertising 2/3rd of our 5 star reviews vanished overnight. We were annoyed initially but figured it wasn't worth raging against the machine. Today a pushy, condescending Yelp sales rep called my business partner to sell advertising under the guise of compliance and a threat.
You can see the entire post here:
https://www.reddit.com/r/Entrepreneur/comments/b76d01/yelp_tried_to_strong_arm_
us_today/
---

May 20, 2021 - 07:23 PM
The pandemic seems to have forced Yelp to invest more in their non-restaurant advertising product and they are now courting plumbers, movers and other non-restaurant service providers according to
this Wall Street Journal Article
.
They have also eased the restrictions on geography so these non-restaurant businesses could potentially get customers a little further a field.
But I still think Yelp will struggle in an age of Google dominance for reviews. Most people start their searches on Google and Google stopped giving prominence to sites like Yelp a long time ago. There are also plenty of entrenched competitors (like Angie's List) in these new verticals that Yelp is going after and many have stronger brands.