Answers

Apr 29, 2019 - 09:25 AM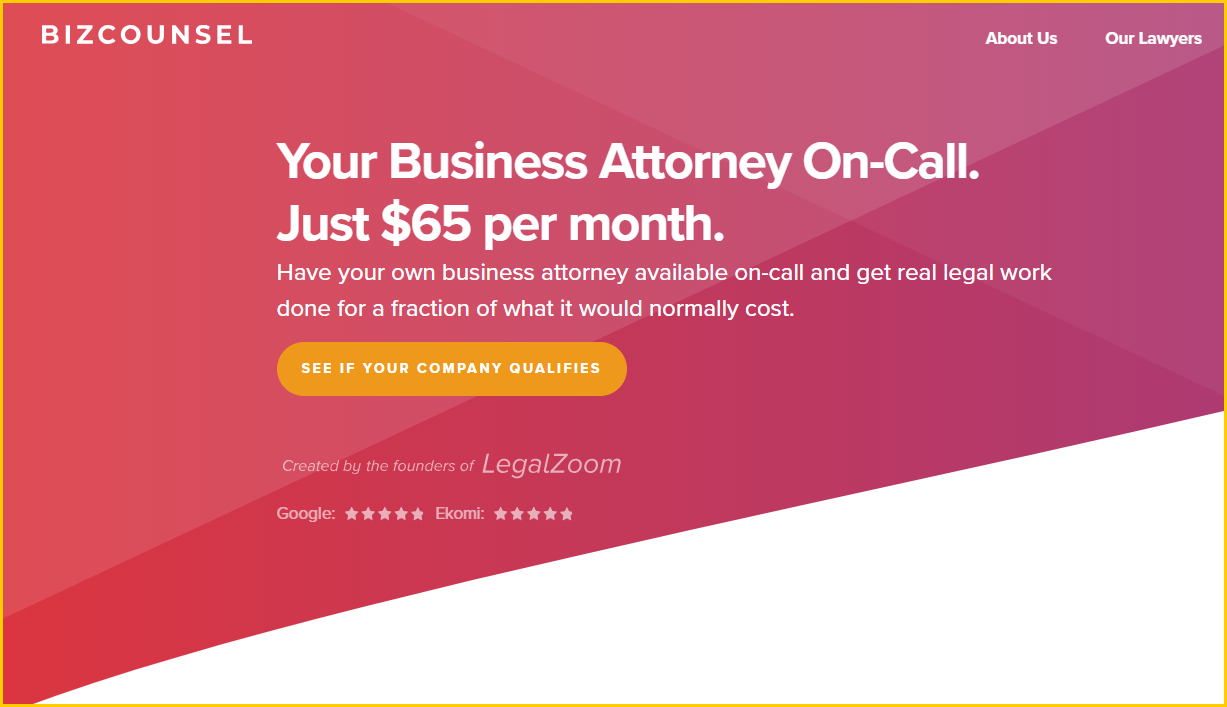 BizCounsel functions by charging a low fee for the counseling service, allowing business owners to get legal advice without paying the high hourly fees traditionally charged by lawyers. However, I'd imagine they make up the profits when you actually need legal work done.
Although their site promises "50% off flat rate services and 20% off hourly services" for BizCounsel clients, charging for those services is likely how the platform allows companies to access attorneys for just $65 a month. That flat fee lets you speak to an attorney, but doesn't cover any actual legal work you need done - so in that way, it's not too good to be true.
However, BizCounsel also looks like a very new service. They have limited reviews online and a barely-there social media presence, with a just over 100 likes on Facebook. This means not a lot of real business owners have put their promises to the test yet.
With that in mind, $65 a month really isn't much for real legal counsel, and if your company can spare it, BizCounsel might be worth the cost. Just keep in mind that when you need legal work, not just consulting, you'll be paying considerably more for it than just $65.
Although LegalZoom, by the same founders, is widely used, it does have some negative reviews which might hint at possible issues you could face with BizCounsel. Many people don't like the high costs of LegalZoom's add-ons, and find themselves paying more than they expected if they don't carefully check what they're getting charged for. I'd suspect that people might run into similar problems with BizCounsel.
Also, keep in mind that even with LegalZoom and Rocket Lawyer, you can still pay a flat fee to get counseling from local attorneys - you just won't have a "dedicated attorney" for your company. Rocket Lawyer offers similar services to LegalZoom, but it does have better reviews.
With BizCounsel, LegalZoom's founders seem to be separating the counseling services from document services and the rest. BizCounsel also lets you access a broader range of legal work than just the one-off processes you can get from LegalZoom, Rocket Lawyer, and their competitors.
So, if you feel the need for a dedicated attorney's counsel, or want a one-stop-shop for other legal services, BizCounsel might be right for you. But I wouldn't expect an experience that's wildly different from the poorly-reviewed LegalZoom, just different services. So unless you really need dedicated counsel and a wider range of legal work (that you're willing to pay for), I'd stick with Rocket Lawyer over BizCounsel.
---

Aug 06, 2019 - 03:54 PM
They wanted $285 for a standard Cease and Desist letter that I would write and the Attorney would rubber Stamp. I can get a real lawyer to do that for $75 on a bad day.
---

Dec 21, 2020 - 06:12 PM
The reviews on several sites to be glowing but they also seem fake. Here are the stats:
Google Reviews
: 4.7/5 stars, 105 reviews
BirdEye
: 4.9/5 stars, 116 reviews
Martindale Huble
: 5/5 stars, 17 reviews
Lawyers.com
5/5 stars, 15 reviews
Here are some verbatim reviews:
+ "Excellent guidance & recommendation for my business"


+ "
The value was incredible. They went above and beyond for a fraction of what I would normally pay an attorney."


+ "
II recommenced this services they lhave a very satisfied experience in businesses."

Then there are also comments like the one below from Reddit. A highly skilled attorney is not going to charge $100 flat fee and so I really question how much value a service like BizCounsel can offer except for the simplest of issues. Boiler plate contracts, wills, cease & desists, non-disclosures and so on. We use RocketLawyer's $7 per month plan for exactly this, as well as their digitized signature feature (which has improved a lot!).
------

I would caution anyone using these services. I'm not aware of this particular company, but I've had to bail a number of companies out that used these "legal insurance plans" and got extremely poor advice that led to them getting sued. The less than $100 a month looks great until you are paying $75k for a full fledged litigation. Buyer beware.
Source: Attorney [on Reddit]
---

Apr 09, 2021 - 12:42 PM
That was definitely the starter price when they were getting going. The lowest price today is $249. The early adopters of BizCounsel made out well!