Answers

Jun 06, 2019 - 09:04 PM
You have lots of options for starting a religious ecommerce site! The key is figuring out your niche, just like with any ecommerce brand. "Religious people" as a whole is too broad, but here are some religious ecommerce brands that have done a great job of knowing and marketing to their target audience.
Lola Kooi
This "inspired by faith" beauty brand recognizes that for their religious customers, the focus needs to be on inner beauty as much as outer beauty. The site's landing page promotes a community of like-minded people by immediately suggesting that you follow the brand on social media, which is wise. The brand also partners with Compassion UK for an altruistic component that speaks to many religious shoppers.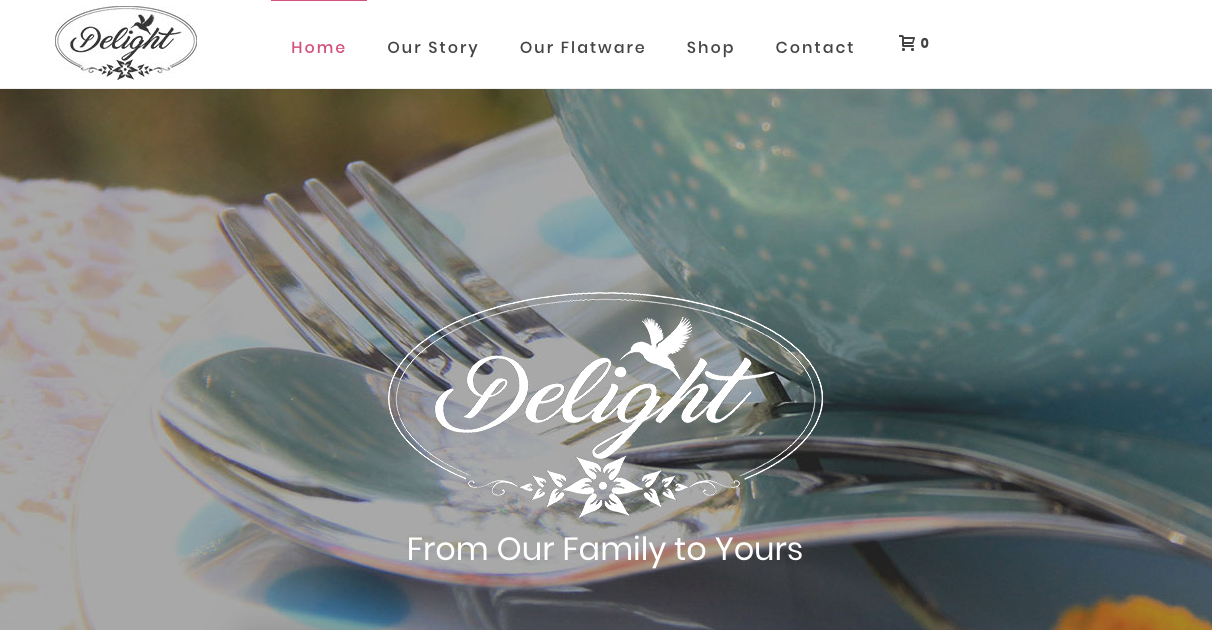 Delight Flatware
Design Flatware shows that you can be a religious brand without making religion the main focus of your products. This company specializes in stainless-steel silverware designed for children. It's a useful product that fills a niche, but it's not an inherently religious one: their target audience is health-conscious people with children, who may or may not be religious. However, on the "Our Story" page, the founders mention that their brand name came from Psalms 37:4, making a clear religious connection.
Christian Apparel Shop
https://www.christianapparelshop.com/
Finding a niche is important, but as Christian Apparel Shop shows, it's possible to make things work even with a fairly broad target audience. The brand focuses on t-shirts for both men and women that feature Christian wordplays on popular logos and slogans. The products have broad appeal within the Christian community, but are still specific enough to stand out: for example, most of the shirts use humor to get the message across.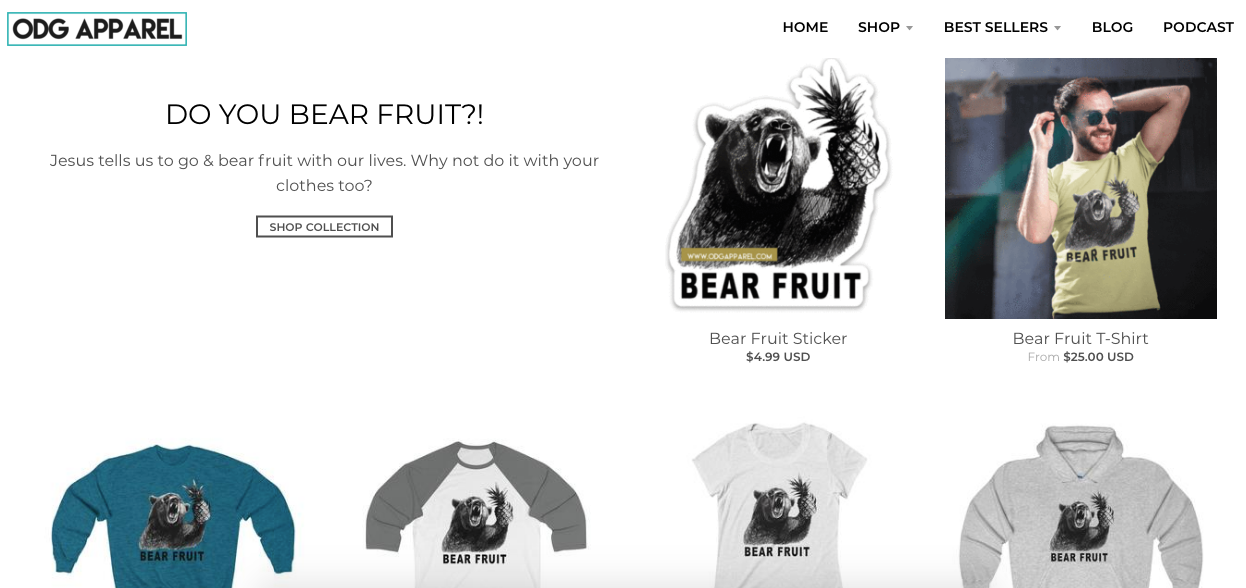 ODG Apparel
Here's another excellent example of a religious clothing ecommerce brand. ODG Apparel takes a more sleek, modern approach to the concept, although they also use humor in a lot of their products. The site shows young, hip people wearing ODG clothes, which tells me that ODG knows exactly who their target audience is and have designed a site just for them. The simple layout and white background help the clean, attractive images stand out even more.
Kress Biblical Resources
https://www.kressbiblical.com/
Your religious ecommerce brand can also focus on being informative, rather than just a place to shop. This company specializes in educational and informational resources for everyone from students to pastors. They specifically mention that their books aren't written by celebrities - these texts are meant for people looking for down-to-earth information from relatable authors. The site design is simple, but works well for the informative, non-flashy products being sold.
The Daily Grace Co.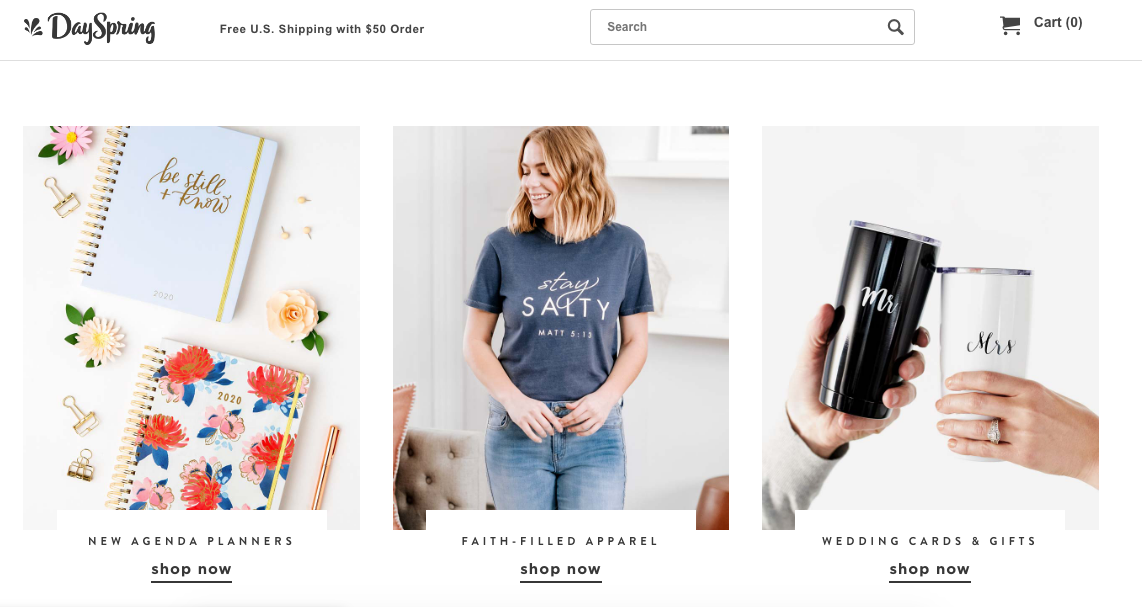 This brand focuses on trendy, religious-themed products for home and organization, such as decor, journals, and mugs. It feels like the online equivalent of a trendy gift shop, with a wide variety of small, giftable products that are loosely tied together by aesthetic. I love the simple, yet image-heavy landing page showing the lifestyle products in action. And the site's tagline, "Equipping Disciples in the Word," leaves no doubt that the brand is speaking to a religious audience.
DaySpring
DaySpring actually offers something very similar to The Daily Grace Co., although this brand focuses more on cards in addition to small gifts and decor items. Even the branding is similar: sleek images and pastel colors on a white background. But since this look is used widely by ecommerce brands across the web, it doesn't feel copycat or redundant.
As all of these sites show, there are lots of ways to make a religious ecommerce brand a success. Some, like Delight Flatware, focus on filling a general niche, with the religious aspect as a sidenote. Others, like DaySpring, make religion the main focus of their site. But even within the religious niche, you'll still need to know your audience: are they young or old? Male or female? Wealthy or not?
Just like any ecommerce brand, you'll need a target audience that's neither too large nor too small, and a product that solves a pain point for them. These examples show how you can do that successfully from a religious perspective.
---

Jun 07, 2019 - 07:44 AM
A few others are
Faithlife Corp
The are a 'bible technology' company founded in 1986. The first products was an MS-DOS program that allowed users to do a full text search of the King James bible .
Today they have a social network, several apps, Christian ebooks and church presentation software, among other products.
Christian Mingle
https://www.christianmingle.com/en-us
A dating site/app for Christian singles to find spouses. Their tagline is "Find God's choice for you". Surely, isn't God all powerful? Why does he need puny humans to create apps to exercise his will? :)
Others in this genre are Christian Mingle and JDate (for Jewish Singles).
United Bible Societies
https://www.unitedbiblesocieties.org/bible-apps/
Founded as an organization that donates bibles to the poorest parts of the world, they now have a thriving ecommerce division and a suite of bible-based apps.
---

Aug 24, 2019 - 09:25 AM
Made In Agapé
This Christian apparel brand is pretty new but they are already quite successful with their products and marketing. Unlike other brands, they have really unique and appealing designs for their t-shirts, hoodies, mugs, hats etc. Besides selling apparels, they have Christian resources such as infographic for bible verses which people can read and benefit from. A pretty inspiring company I would say. They also donate part of their profits to the charities.