Answers

Jun 12, 2019 - 09:47 AM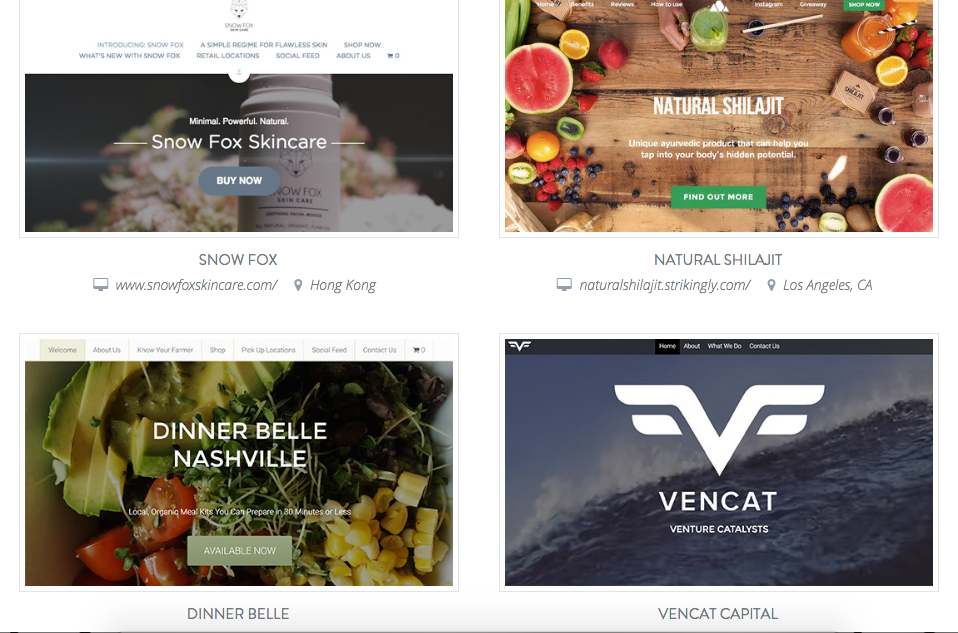 How Strikingly Works
This platform aims to simplify building a site for those who don't have (and don't want to learn) web-building skills. Strikingly has actually been around since 2012, so even before the current explosion of ecommerce popularity, it was helping people build simple websites.
Those sites aren't necessarily ecommerce stores, though. Unlike Shopify, Strikingly isn't specifically geared toward ecommerce. Instead, the platform offers a selection of templates, broken down by category. The categories include Store, Business, Product, Portfolio, and Blog. What each template has in common is that it uses just a single page.
If the one-page site design doesn't work for you, you do have the option of adding up to twenty pages to your Strikingly site. You can also customize the colors and design of your template, or switch templates without losing your content. And, most importantly for your question, you can add ecommerce functions to a Strikingly site for free.
You'll choose one of four plans before you start building your site. The free option only lets you sell a single product on your site, so it's ideal only for the most niche of ecommerce stores. You also can't register your own domain name through the free option - your site name will be followed by ".strikingly.com."
For $8/month, you can upgrade to the Limited plan. This plan lets you use a custom domain name, but limits you to selling five products per site.
For $16/month, you can get the Pro plan instead. This plan removes the "Powered by Strikingly" icon from the site's footer, so you aren't displaying any Strikingly branding. With the Pro plan, you can sell up to 300 products per site, making this a better fit for many small ecommerce stores. You can also upgrade to a VIP plan for $49/month, which lets you sell 500 products and offers a few other features. (Find full details about each plan and its features here.)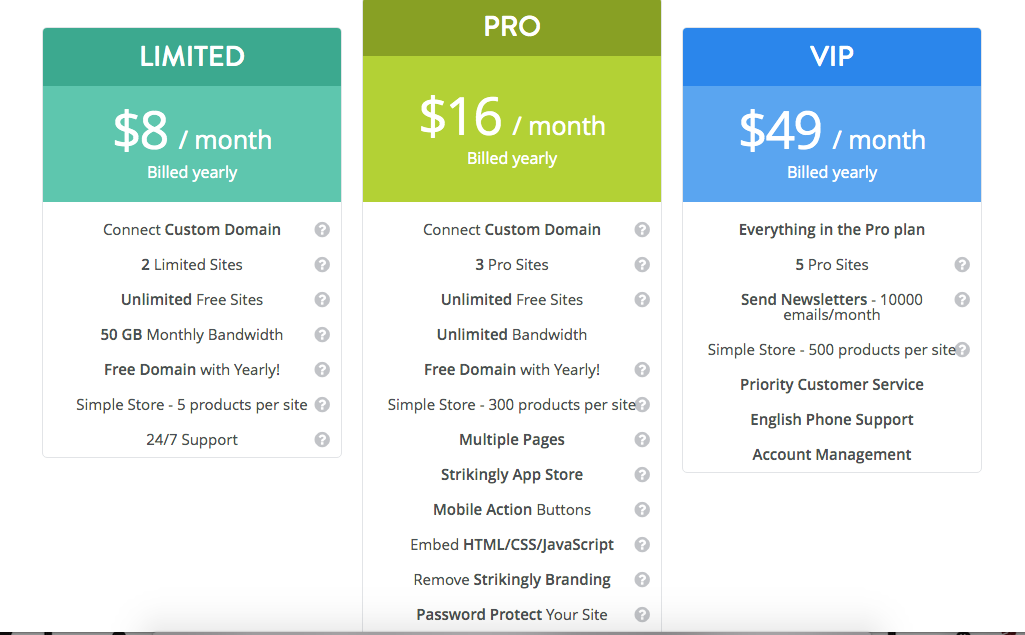 Strikingly's Pros
The primary benefit of Strikingly is that it's incredibly easy to use, and does give high-quality, professional-looking results. While the functionalities are more limited compared to a platform like WordPress, many stores don't need elaborate designs and can fare just fine with Strikingly.
The site builder uses a drag-and-drop system, with no coding knowledge required. After choosing your template, you'll add sections to your page so it has exactly the content you want. You can change colors and fonts to further customize the design. You can also add other content, like contact forms, images, videos, and more, as needed. The templates rely heavily on photos, which works well as long as you have professional-quality images to use.
Strikingly automatically optimizes your site for mobile, which takes away a critical concern for many ecommerce stores. If you want extra mobile options, you can add mobile-friendly buttons that let shoppers call or email with just one click.
With this platform, you can integrate a newsletter, use Google Analytics, and add Google AdSense, too. Although there's nothing remarkable about these options, they do cover some basic needs for an ecommerce store.
Finally, many users report that Strikingly's help center is fast and excellent. Although the ease of use means you shouldn't have too much trouble building your site, it's easy to access help if you do run into issues.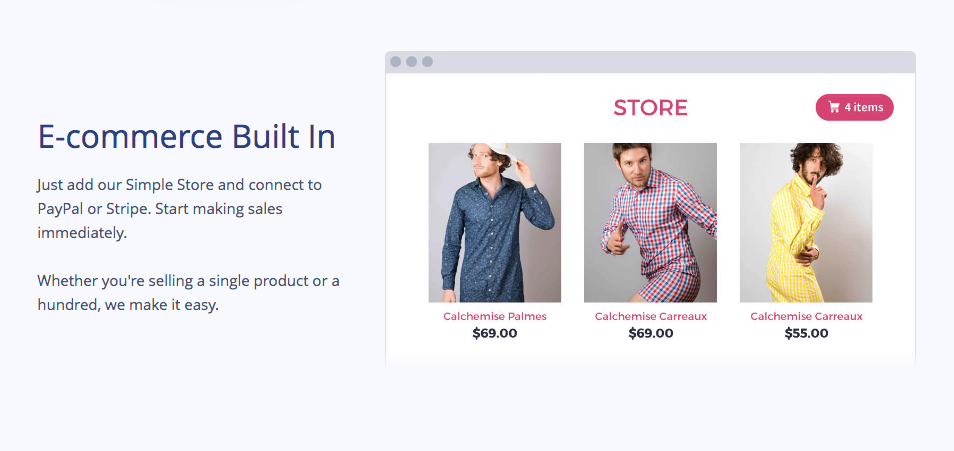 Strikingly's Cons
Like most platforms, you can't do much with the free version of the site (at least, not in terms of ecommerce needs). But even with the paid plans, you will run into some limitations that other platforms don't have.
For example, it's difficult to use advanced SEO techniques with the Strikingly platform. The limited number of pages makes it hard to get great SEO results. And although you can add a blog section to your site, you won't have advanced blog functions like the ability to schedule posts ahead of time.
You can add products, coupon codes, and other shopping options with Strikingly. However, there's no way to sell digital products, and customers can only pay using PayPal or Stripe.
If you want a highly customized site, Strikingly also isn't the best choice. You're limited by the templates you can use, and by the built-in customization options for those templates.
And, of course, you're also limited by how much you can grow your business on this platform. Once you need more than 20 pages on your site, or have more than 500 products, you'll need to find a different platform - and that transition to a new site can be challenging when you're in the midst of scaling up.
Who Is Strikingly Right For?
Strikingly is a great platform for small ecommerce stores that don't intend to scale up past 500 products. Although it's limited in its functionality, this won't be an issue for most small stores that intend to stay small.
Even with its limitations, Strikingly does what it does well. The simple features it offers work beautifully, and the design looks professional no matter what device a shopper uses to view it. If you don't intend to sell many products, and don't rely heavily on SEO or site customization, Strikingly is a great choice. However, if you want to sell thousands of products, add lots of custom functions, or rely on powerful SEO, you're better off with a more flexible site builder like WordPress.
There's no one-size-fits-all ecommerce platform, but Strikingly does fit a specific niche very well. Just make sure you have a clear idea of what your site needs and where you want to take your brand in the future before you commit to a platform with these limitations.