Answers

Jul 28, 2019 - 07:12 PM
There are a number of software services that specialize in providing handwritten notes to order. Most of them are intended for purposes like bulk-mailing business prospects, which is a bit different from your needs.
However, there's no reason you couldn't order these handwritten cards shipped directly to you, so you have a stock to pull from for each new order. Here are some of your options.

Postable
This bulk-mailing service often handles things like wedding announcements and save-the-dates. However, it should also work well for what you have in mind.
There's a large selection of attractive stationery designs, so you can choose something that's on-brand. Or, you can upload your own images for custom cards if you prefer. The realistic-looking handwriting fonts will require a close eye to tell that they're not really handwritten.
Even better, reviewers mention loving the brand's great customer service for troubleshooting. Some of them do note that the service can be slow, but since you're not mailing cards directly to customers through Postable, this shouldn't be an issue. Also, pricing isn't available on their website, so you'll have to contact the company for an estimate.

Handwrytten
Handwrytten's site gives you a better hint at how much this kind of service will cost you: their cards start at $3.25. (One reason this kind of service costs so much is that it includes the cost of stamps and mailing.) This can become a steep added cost for your brand quickly - though it may very well be worth it.
Through Handwrittyn, you submit your text and select the handwriting font you want, as well as the card style. Interestingly, Handwrittyn also integrates with some business marketing software, like Salesforce and Zapier. So if you decide that you also want to use the service for marketing to new customers, you can easily do so.
Also, when Handwrytten creates each card, they use robots to write the message, instead of printing it out. This makes it look more convincingly real than most of the competitors' cards.

Letterly
Letterly works a bit differently. Their design team creates a custom card style for your brand, then each card is actually written by hand by a staff member.
While you do get to choose from three handwriting styles, there's bound to be some variation between each card. This could create the risk of a return customer noticing that each note is in a slightly different handwriting. Letterly also doesn't publish their rates on their site, so you'll need to ask for a quote.
Unfortunately, many other similar services have closed down in recent years - it seems like bulk handwritten letters were not as popular as some companies hoped they would be. Also, all of these services aim to mail cards on your behalf, which complicates things a bit when you simply need to bulk-order notes to add to packages yourself. To simplify things (and reduce costs), you could also try one of the below strategies.
Streamlined Copy
If you're writing paragraph-long notes for each order, maybe it's time to streamline your copy. You could have a standard sentence or two for each new customer, and maybe a slightly different one for each return customer. Then, you can write out lots of each kind of note at once, and stock them up for when you ship orders. While this may not work well as your business continues to grow, it could help simplify things as you look for other solutions.
"Personalized" Tips
You can also use a typed and printed note, but with a personal touch. For example, maybe you can offer a different text for each available fragrance, such as recommendations for which scents to layer that fragrance with. Even though it's not handwritten, it has a more personal feel. Adding specific tips also provides your customers with more value, which can help keep them coming back.
Stamped Cards
You could turn a short thank-you note and your signature into a custom stamp, so you can quickly add your message to each order. While people will be able to tell that it's a stamp, it still has that handmade feel that people love about small businesses.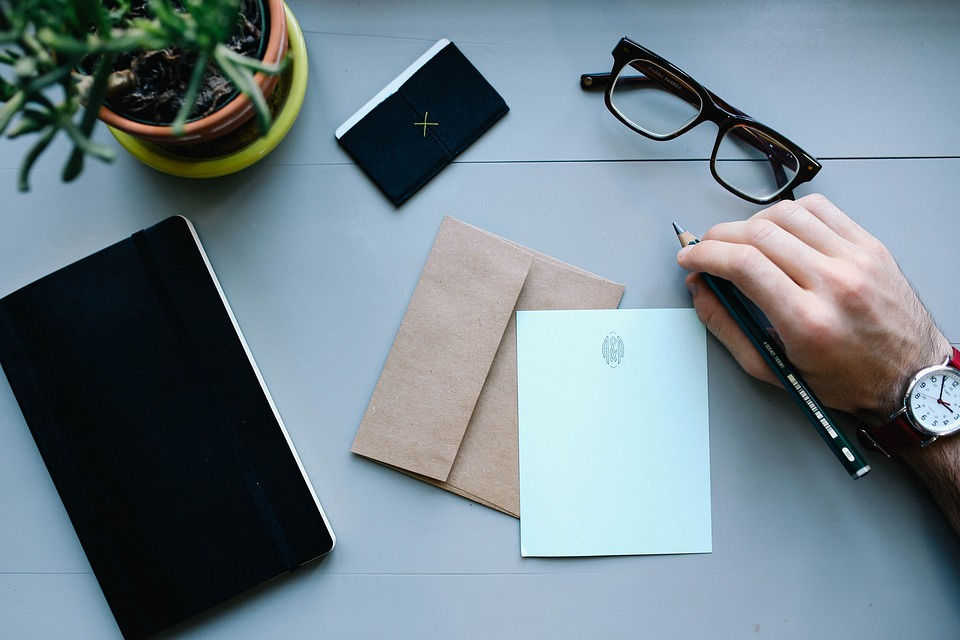 Image via Pixabay.
Scanned Cards
You could also scan a handwritten note and print it out on your cards to keep things quick but personal. Of course, each note will be the same for each order, unless you scan in a few different versions. But this would certainly save you a lot of time.
Notes for Select Orders
Finally, you could start limiting which boxes you put a handwritten note in. Maybe only each new customer gets a note, instead of both new and return customers. However, depending on the customers you have, this might not reduce the volume of notes by much. This would also require you to keep careful track of which kind of order is coming in.
As businesses scale up, it usually takes some trial and error to find what works. It's great that you're thinking about this issue now, and keeping your customers' happiness first and foremost. As you experiment with some of these platforms and ideas, you're sure to land on something that suits your business well.
---

Oct 14, 2019 - 08:07 PM
Hi @sheriweiss! This Custom Thanks is a great service to provide exactly the kind of handwritten notes you're looking for. Including notes with your product is such a great way to connect with your customers - we'd love to help you do it! Check out our site and feel free to reach out!