Answers

Aug 30, 2019 - 08:03 AM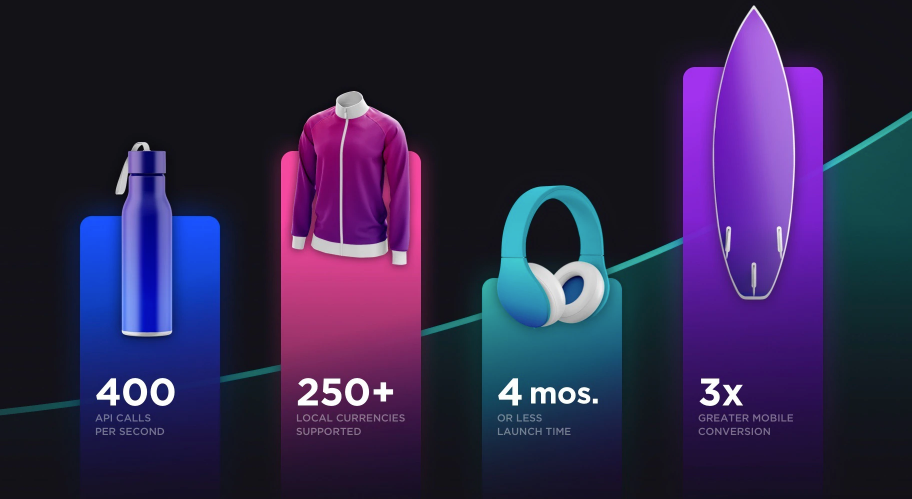 How BigCommerce Works
To date, BigCommerce has powered over 160,000 websites, so it's certainly no small player in the ecommerce platform world. It has also powered sites for some major brands, including Yeti coolers, Pandora, and even Toyota.
BigCommerce offers a very reasonable starting price of $30 a month, although the pricing goes all the way up to the Pro plan at $250 a month. Thanks to the low starting price, it's a favorite of small- and mid-sized brands that need a sleek, professional site on a budget.
To get a better idea of where it sits in the ecommerce platform spectrum, though, let's weigh the pros and cons.
BigCommerce Pros
BigCommerce remains consistently popular because it has a lot to offer, like these major benefits.
Ease of Use
BigCommerce lets people without web development experience (or the funds to hire a developer) easily set up ecommerce stores, with its straightforward UI. You can also use the built-in app store to customize your site easily.
Great Customer Support
Many small brands face the challenge of a steep learning curve as they try to set up shop, even with easy-to-use platforms. BigCommerce's customer support can help get them through those difficulties.
It's easy to reach a representative, and reviewers note that their customer service reps are often knowledgable and capable of solving most issues quickly. The phone support service is available 24/7.
Unlimited Accounts
Even with its most basic plan, BigCommerce lets you add unlimited staff accounts, something even Shopify doesn't offer with its cheapest plan.
Sleek Features
BigCommerce's free features let you do a bit more than Shopify's do, and BigCommerce also releases new features often. The platform was ahead of the game when it came to offering saved payments, single-page checkouts, and other helpful features to keep customers on the page. This means it might stay on the cutting edge with future features, too. And if you have a large, complex list of products that you need to organize, BigCommerce's features can handle it more smoothly than Shopify's can.
BigCommerce Cons
All ecommerce platforms have limitations - here are the primary drawbacks of BigCommerce.
Limited Flexibility
Like Shopify, BigCommerce trades off some flexibility by offering simplicity and ease of use. Although you can use apps to customize your site some, you won't get the same level of flexibility that Magento and WooCommerce can offer. Customizing a theme can get expensive and difficult, and you may never reach the level of customization that you want.
Limited Themes
Although BigCommerce does offer attractive themes, it doesn't offer many of them. That, combined with the lack of flexibility, can make it hard for a brand to build a truly unique site. Unless you invest heavily in customization, a BigCommerce site can easily end up looking kind of generic.
Slowness
Many BigCommerce users mention that the platform gives them slow-loading sites. While the difference between "slow" and "fast" can be a matter of seconds in the ecommerce world, the slowness can still become a source of much frustration for you and your customers.
Cost
Although it's standard for ecommerce platforms, the fact that BigCommerce charges to unlock features is a drawback for brands. While BigCommerce will let you build a site for $30 a month, it won't let you do much with the site until you pay more. That can quickly get expensive as you customize your site.
Poor Email Hosting
While BigCommerce does technically offer email hosting, it doesn't work well enough for most brands' needs. In fact, BigCommerce itself recommends using a third-party email service, since they don't offer many necessary features for email.
How It Stacks up Against the Competition
BigCommerce stands nearest Shopify in terms of ease of use: both platforms are even simpler for beginners to learn than WooCommerce is. While some HTML knowledge will help you get more out of BigCommerce's templates, you don't need it to set up a basic site.
The platform is also comparable to Shopify in price: both start at around $30 a month, but quickly become more expensive when you want to unlock features. However, since BigCommerce offers more free features than Shopify does from the start, it may actually offer more appeal for many brands. The ability to add unlimited staff accounts is another place BigCommerce "wins" over Shopify.
So, on the spectrum you mention, BigCommerce truly lands right next to Shopify. Whether one is better than the other will come down to what a particular brand is looking for, but both are ideal choices for brands willing to pay steeper prices in order to keep site set-up simple.
---

Oct 29, 2019 - 02:57 AM
Hi,
BigCommerce, Founded back in 2009 as a two-person startup, BigCommerce was completely bootstrapped until they managed to get a Series A funding worth 15 million USD from General Catalyst Partners. Right then, BigCommerce also announced that the site's client base had risen 680% year after year.
It went on to become one of the most popular platforms for all kinds of online entrepreneurs. The company then made a bunch of special deals with giants such as Paypal, Instagram, etc. As a result, it is the one you would like to use if you want huge connections.
Advantages of BigCommerce
Possessing the single largest collection of built-in features in all of the e-commerce platforms
It has one of if not, the best SEO helper that can help you tremendously in the process of boosting the store's ranking in the search engine
Supporting multiple channels that can sell across a lot of platforms like Pinterest, Instagram, and Facebook.
The flexibility of the platform is quite great.
Disadvantages of BigCommerce
It is quite poor for the beginners, as it has quite a complex terminology.
It does not offer the support of the mobile application, meaning there will not be any BigCommerce mobile app.
The interface that you will be using to edit your store is actually quite difficult to navigate around.
I do recommend BigCommerce for anyone who is serious about developing a huge online business, though. ;)
---

Jul 15, 2020 - 09:58 AM
BigCommerce just filed to go public. According to their S-1, they say they are the #2 ecommerce SaaS (Software as a Service) provider. Below is an excerpt.
https://www.sec.gov/Archives/edgar/data/1626450/000119312520191966/d844671ds1.h
tm
-----------
Overview
BigCommerce is leading a new era of ecommerce. Our software-as-a-service ("SaaS") platform simplifies the creation of beautiful, engaging online stores by delivering a unique combination of ease-of-use, enterprise functionality, and flexibility. We power both our customers' branded ecommerce stores and their cross-channel connections to popular online marketplaces, social networks, and offline point-of-sale ("POS") systems. As of June 1, 2020, we served approximately 60,000 online stores across industries in approximately 120 countries.
BigCommerce operates at the forefront of a world of commerce that is changing rapidly. The transition from physical to digital commerce constitutes one of history's biggest changes in human behavior, and the pace of change is accelerating. According to eMarketer Inc. ("eMarketer"), retail ecommerce was nonexistent in the early-1990s and grew to approximately 10% of all global retail spending in 2017. They predict it will take just six years for this percentage to more than double to 21% of global retail spending in 2023, as shown in the chart below. The growth in ecommerce has no end in sight.

We strive to provide the world's best SaaS ecommerce platform for all stages of customer growth. As of June 1, 2020, BuiltWith.com ("BuiltWith") ranked us the world's second most-used SaaS ecommerce platform and top five overall among the top one million sites globally by traffic, which we believe consists primarily of established SMBs
---

Nov 12, 2020 - 05:18 PM
I've used WooCommerce and BigCommerce so I know some of their differences personally. With WooCommerce is designed to be a WordPress plugin so it is a plug and play if you have a WordPress site. It is heavily SEO focused and so if you intend to build your store on a WordPress platform, you will be at home with WooCommerce.
I simply integrated it with my site for handmade jewelry and couldn't believe how easy it was to set up. I could have blogs on it too and being able to optimise it for search engines came in handy in getting my name out there. I had to get a lot of extensions like abandoned cart recovery, stock management, tracking and analytics, and promo codes, because the built in features came up a bit short.
With BigCommerce, it was a different story. As it's an e-commerce website builder, it was pretty robust and I didn't have to get any extensions at all and could sell across Instagram, Facebook, and Amazon.
I was bummed out about not having a mobile app and the editing interface was a bit hard to navigate. BigCommerce also provided me with the domain, security certificates, and hosting- everything was under one roof. For someone looking to be strictly in e-commerce, I would tell them to go for BigCommerce.
Because I love information and research before taking the plunge with something like this, I also read up on Shopify. To start with, Shopify has lots of great reviews and having the best sales features among the three stores is the first one. It is easier to navigate and set up and takes an overall shorter time to create and stock.
Shopify also has better designs but is not as flexible as the others. Their support though is better because it includes social media support and is easier to navigate with automatic direction to the relevant help pages. Shopify will work great for any size of store big or small, but it does cost quite a bit more than the others.
If you want value and quality and savings while taking your shop to greater heights, I would say go for big commerce. If you have the extra money to spare, then Shopify is the better choice. If you are most interested in savings and growing your brand organically through SEO, then WooCommerce is for you. I hope this helps, and you can now make the decision you need to make more easily.