Answers

---

Aug 13, 2018 - 10:01 PM
First, start with research. Figure out how much the whole project is going to cost, so you can set a realistic goal. If you don't meet your goal, you get none of the money, so pick a bottom-line number. You can also look for similar projects and wait till they finish to get an idea of what your goal should be.

Shorter campaigns actually tend to do better. Create a strategic, realistic marketing timeline to follow. Use a marketing calendar so you don't miss any steps.

Once you've set your goal and timeline, contact your personal network. Your friends and family can help jumpstart the campaign. Make sure they're on board and ready to start sharing info about your campaign when you say "go." Use a group chat or another quick way to notify them when the campaign goes live. However, don't annoy them with updates, or you might lose their support.

Next, make a great video. (Keep in mind that all this is prep work before the campaign goes live. Once it's live, it's too late to start marketing from scratch.)

The video is the most important part of your marketing strategy. Most people won't keep reading if they don't like the video. Make sure it's easy to understand, conveys the purpose of the project, and is no more than two minutes long. Tell a story that will resonate with viewers. Most people will have decided whether or not to support your project by the first minute, and may not watch any further. Don't forget to make it fun - for them and for yourself!

When you draft the content for your Kickstarter page, make sure it's easy to understand, too. Break up the text with engaging pictures and interesting headlines. Keep it short - remove any information that's not essential.

The rewards descriptions should be short and sweet, too. Let people know what they'll get and when. Have no more than 10 rewards to choose from at first, and introduce new ones during the campaign as needed. Get some high-quality photos of the rewards to use in promotional materials and post on your Kickstarter page.

Create social media pages for the campaign before it goes live. Work on building your fan base, so you'll have support as soon as the campaign starts. Your high-quality images will come in handy here - use them and share them. Make sure all your information and links are correct. Use contests with free rewards to encourage user engagement on social.

When it's time to go live, use Bitly to get a shorter link to the Kickstarter page that's easy to share and remember. Bitly has stats, such as info about where clicks on your link come from, that you can use to fine-tune your marketing approach.

Make sure to provide regular updates to your backers. Thank them when you hit a benchmark, and send information about new rewards when they come out. Remind people to follow the campaign on social, and ask them to share it with their networks. If you include a short post they can copy and paste, they'll be more likely to share. You don't need to pay influencers - your backers can be your influencers.

Finally, use press releases to get the attention of the media before going live. Have high-res images to share. If you can, hire a PR agency to write great press releases and send them to the right people.

Starting a Kickstarter campaign is essentially starting a business. Approach the marketing like you're an entrepreneur, and you're much more likely to attract backers and reach your goal.

---

Aug 30, 2018 - 08:28 AM
Kickstarter's past is riddled with many projects that have been transformed from ideas to startups and here's your chance to make the big leap as well. There are a few way to go about it but I will take a Case Study-like approach in response to your question.
First, I will highlight one small startup whose campaign I think was a success. Even though they did not raise anything close to what fundraising giants like Pebble raised, I highly believe in their methodology. This startup is called Enda.
Secondly, I will take you through their journey and you will see what works especially for a small project.
Combining these two approaches and a bit of innovation and caution, I believe you can gain a bit of insight on how to proceed with your own project.
Enda Startup Funding Journey
Here's a link to the project whose funding journey was hailed as a success by its runners:
https://www.kickstarter.com/projects/...
I like it because they paid attention to solid marketing indicators such as conversion rate, value and traffic.
Enda ran its funding campaign between May 2016 and July 2017 that sought funds for manufacturing sportswear, precisely running shoes in Kenya for worldwide distribution. Enda attributes its funding success to cooperation between itself and its backers, volunteers and friends.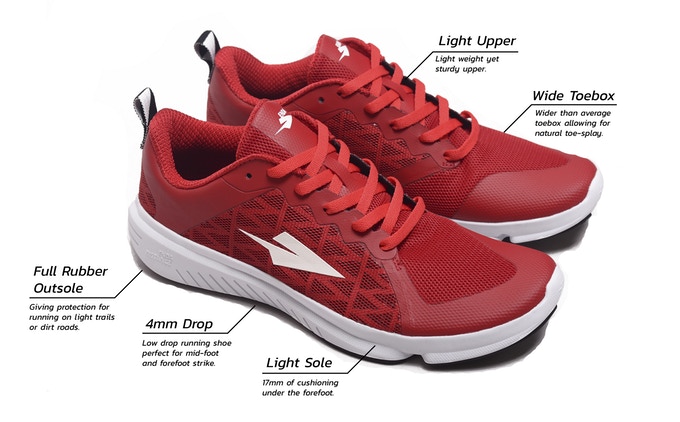 The Enda Iten: Running Shoes
Key Lessons from Running a Successful Kickstarter Campaign I gathered a few lessons from Enda's journey that I think can answer your question. Overall, Enda's team emphasized paying attention to and maximizing the following variables at all costs:
Traffic -the amount of traffic that you can channel to your way is important. Think of the amount of traffic that you can derive from all sorts of platforms i.e. social media, emails, adverts and media coverage that you may ran into along the way.
Conversion- The fraction of all the people you get to your funding page from all channels who eventually contribute to your campaign. Remember that conversion rate varies depending on the source of traffic and a friend who receives your email is more likely to contribute compared to traffic from a media coverage.
Value-The team at Enda poses the question: How much value can you get each person to contribute to your project?
A simple formula that can help you to calculate what you can achieve from your campaign is derived:

How to Approach these Variables There is no one-size-fits-all approach to how you approach each of these variables and the tactics that you will employ largely depend on what your crowd-funding campaign seeks to achieve.
To maximize each of these variables, here are a number of tactics that Enda used. The methods were unique to the startup's crowd-funding goals but they are replicable to some extent.
Traffic In preparation of initial traffic, Enda reckons that they not only solicited feedback from lots of people but also created relevant in-bound content as they built the company.
Considering Kenya's position in global athletics, Enda produced
blog posts
on Kenyan running, gathered insights from surveys from elite runners, upcoming runners and the public about their brand positioning.
They argue that the importance of all this is that it helps build your project build legitimacy and a social media and email audience.
Never underestimate the power of giving your early backers a discount. This startup offered an
"early-bird" discount
to enable the people who signed up early to snag a better price.
Another important source of traffic comes from leveraging your existing audience to reach more people. The potential that can possibly come from messaging your backers to share your campaign is immense.
A
referral
rewards programme is one way to motivate those backers who can go an extra mile to recruit more backers to your campaign.
Media traffic
is another big contributor to Kickstarter traffic. The amount of traffic you can create from a single media post is quite significant.
Enda gained immense traffic from press coverage. An
article about the startup by Fast Company
was one of the biggest media coverage that the startup got in its infancy stages.
The most important observation from Enda's media engagement is that you need to help journalists to tell your story as well as how to tell it. Do not bombard them with press releases.
Communicate with them empathetically and quickly help them to easily how your story will be of interest to their audience. Blogs, niche websites, and mainstream media are a soft strategic target for your campaign.
Of course it would be a disservice not to mention
platform traffic.
Kickstarter on its own is a traffic source through its editorial and algorithmic recommendations. It has a huge potential to send backers your way.
The amount of intra-platform organic traffic you could get from ranking as a 'Project of the day' or 'Projects we Love' is enormous.
Conversion The aspect of conversion on Kickstarter is rather a slippery affair. It is as much an art as it is a science and the scope of flexibility is very narrow. One thing you must remember is that you only have one landing page to work around. You cannot really carry out A/B testing to optimize for better conversion rates.
In that regard your conversion optimization arsenal is minimized to having a fantastic story to tell. From Enda and other startups' journeys, a video is close to the perfect way to tell your story.
Your video must:
show personality
inspire the audience
convince backers to want the product
give a sense of what the creation journey looks like
When it comes to connecting to customers, creating a high quality compelling video does almost half the job. Generally, projects that had a high quality video generally did better than those without one.
Overall, your Kickstarter page ought to have as much information about your product as possible. People are always excited to take part in creating something new and always keeping them updated is something you will need to do.
Value Kickstarter estimates that the modal rate of contribution stands at $20 and setting your reward at around that mark generally drives contributions.
Enda approached this point from a very interesting angle by offering an Enda bracelet for a small contribution and further a t-shirt and a bracelet for the cost of two bracelets.
But the real show of the campaign was on their main product-running shoes and while at it, they got people to order a pair -or two- and discounts on multiple pairs.
Other technical approaches to the fundraiser The most technical approach that formed the core of Enda's strategy was maximizing the three variables. However, along the way, you will often be met with tough decisions to make and more so, to the detriment of your funding journey.
Here are a few decisions that border on a dilemma that you might need to make:
Hiring a PR Machine Should you hire a PR specialist for your campaign? No, you must not. Depending on the magnitude of the campaign, professional PR certainly has its place.
A relatively small campaign can make do without any outside PR help as its creator are perfectly in a position to manage a number of media contacts.
During the course of the campaign, your project will be bombarded by lots of PR and marketing firms with unsolicited services. Just keep these people are looking for business for themselves.
If you are going to use a PR or marketing firm, ensure that you settle on who you want to work with before the campaign starts to help you wade through the multitude of mid-campaign solicitations.
Advertising on paid social media How should you proceed with advertising on paid social media? Which platforms work best at a shoestring budget?
You can use some paid advertising on social media platforms such as Facebook and Instagram. Putting up ads on the platforms had different results for our feature startup.
They observed that they got new followers on Instagram, practically nothing on Twitter and netted some sells on Facebook.
They reckon that, if they had a larger budget, they would have directed it to Facebook as the audience there was converting to sales.
Honestly though, considering the time it takes doing this, you might find it is better to focus more on producing new and better content to engage your base and have them spread the message to their friends.
Kickstarter campaigns are exciting, so word of mouth tactics can be especially powerful during this brief window of time.
Just one more thing, do not forget to:
Keep the momentum
Stay loud
Experts are not always right
Everything takes time
---

---

May 14, 2019 - 10:57 AM
You can learn from our experience :)
For a great crowdfunding campaign, you need a great product.
Azat (an inventor) presented us his invention, a smart wallet with a power bank and a Bluetooth distance detector: the first version of Volterman Smart Wallet.
After just a bit of research, it was obvious that it had nothing new compared to its competitors.
Nomad wallet was already a successful and long-time leader, which included its own power bank. Others like Walli, Woolet, and Ekster had successfully introduced the Bluetooth distance alarm feature and had very successful crowdfunding campaigns.
It was crystal clear that the arena of smart wallets wouldn't be won with the features we had.
So when you see that others had similar features and successful outreach, would you make the choice to give up and walk away?
Maybe, but you shouldn't. We sure didn't
There was no way we'd get the audience to embrace us, or get the crown of the #1 slot in crowdfunded wallets if we had something that we tweaked to be just a little bit better than our competitors.
If we wanted to beat the competition (and we really did), we had to have a product that was so remarkable, so far beyond what people expected or saw in other wallets that nobody could argue whose was the best.
Rule #1: If you aim to be just a little better than your competitors, you will lose. Be the first – a Champion whose advantages are so obvious that nobody will argue the opposite.
While our competitors had power bank and a Bluetooth alarm system, we added into a list of features a global GPS tracking, memory card, worldwide WiFi and most critically, a camera which would take a photo of thieves when in lost mode.
The last feature was created specifically for media, giving a WOW factor to the product.
As a hook to catch media attention, it really worked.
If you go over the thousands of articles about the Volterman Smart Wallet, you'll notice that most of the headlines include something like "This Smart Wallet photographs thieves".
Of course, the article then goes on to discuss all of the wallet's features, which is what matters to the customers and backers more.
Rule #2: Create a WOW factor with your coolest feature. The camera was not our most practical feature, but it was definitely the coolest one.
Were the great functionality and a cool feature enough to get the crown?
Of course not. We needed a great design!
The design is one of the most important factors in your success.
It plays with people's emotions.
And if you dig deeper into marketing, you will understand how important emotions are in driving sales.
It's well-known that people make their purchases emotionally, then justify them with logic. Sometimes they might justify that logic to their spouses, but they still buy with their emotions.
I totally agree with the research in this area.
Because the design was such a critical element in our product, we decided to involve the best design agency out there that we knew – Backbone Branding.
I highly recommend working with professional designers, and here's a great model to bring them on to the team.
The best design agencies are also the most expensive ones, and you most probably will not able to afford their flat fee before your crowdfunding campaign. There's where the trade comes in: you can offer them a percentage from the raised amount after the campaign is over.
Because they aren't getting the money right away and are sharing the risks of an unsuccessful campaign, their rates will be more than their upfront fee.
That's more than fair. It worked.
Learn more about this case study about Volterman's Indiegogo campaign.
---