Answers

May 18, 2019 - 12:47 AM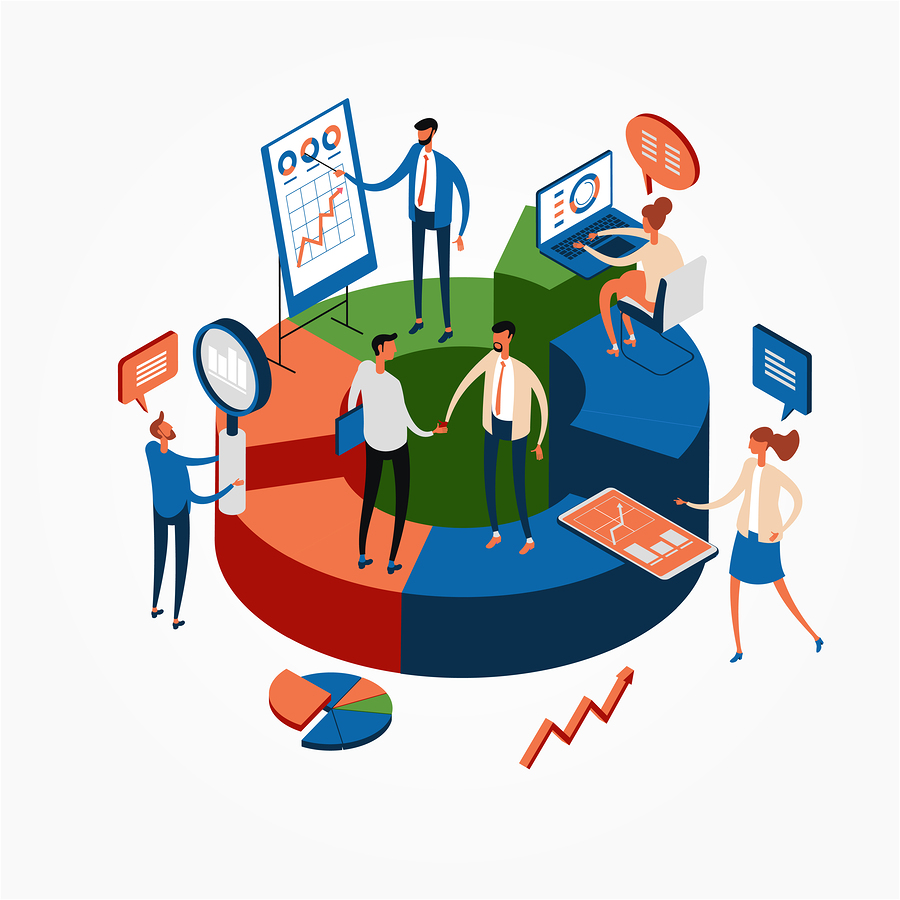 Brands as Friends
Brands have arguably always wanted to be seen as friendly and welcoming - sort of like an older sister who knows what's best for you. But lately, brands have started trying to position themselves as our peers instead, using social media as a platform to work their way into consumers' lives.
Take, for example, the automated, branded Facebook messages that many companies now send. Brands are in your inbox, chatting with you, reminding you of that cool item you could buy.
Brands are also showing up in your Instagram and Facebook feeds, in much the same way that friends' posts do. Influencer content blurs the lines even further: now, your "friends" or the people who you follow are also brands.
The push for branded content to look more like actual "friend" content on social media isn't likely to die down anytime soon, as the nexus of AI and influencer culture allows the two to become increasingly one and the same.
Influencer Marketing
While influencer content overlaps with the "brands as friends" idea, it's really a new marketing trend all on its own.
You could say that influencer marketing started with the celebrity endorsement, which is hardly a new concept. But what's new is the idea that a successful influencer can be a non-celebrity whose job is purely to grace their followers with content and recommendations.
In fact, non-celebrity influencers seem to be more impactful than celebrity endorsements now. Many people no longer want to hear from famous folks who are getting paid big bucks for endorsements they don't really care about. An influencer who at least appears to genuinely have used a product, and want to help followers by recommending it, holds more weight.
This type of marketing would have been unimaginable a few years ago - and now, regular people are making "influencer" their full-time job.
Personalized Content
It's so ubiquitous that it hardly seems new anymore. But not so very long ago, ads always appeared the same way to the same people - even online. The idea that individuals should see specific ads based on their prior activity is only a matter of years old.
However, the days of "one size fits all" ads are well behind us now. Why show every user the same product in the same way, when you can show every user the thing most likely to get them to click instead? And of course this trend extends beyond traditional ads: brands are also sending personalized emails, messages, smart speaker ads, and more, using ever-more-clever AI.
I'd hazard a guess that personalized content is going to make its way into new, unexpected places in the future. For example, with smart TVs on the market, someday television ads might be just as customized as online ones.
Visual Searches
With the latest mobile camera tech, people can now take an image of something and use that image to find out information about it.
Brands can leverage this by optimizing images on their sites, as well as using social media strategically (Pinterest is one site where this kind of search has taken off). If someone searches for an image featuring your product in it, or even something related to your product, you'll want to make sure that your product is what shows up. As this search option becomes more popular, expect to see more brands finding new ways to use it.
Interactive Photos and Videos
Photo and video content isn't new, but interactive visual content certainly is.
For an easy example, just think of the new 360-degree photos that Facebook now allows users to upload. They give people the option of exploring a whole space through an image, which has interesting potential for brands.
However, interactive video might turn out to be an even more valuable marketing tool. 360-degree videos offer even more interaction and interest for users. With more and more video content vying for attention, adding an interactive aspect can get more people to click and spend more time with the video.
Authenticity and Transparency
Posting live videos on social media is another thing that's so common, it hardly feels new anymore - but it is.
Live brand videos are just one side of a bigger trend, though: the trend of brands showing a more authentic, transparent, "inside look." Of course, the content is still carefully curated, but it's presented in such a way as to make customers feel like the brand has nothing to hide.
This can look like anything from a raw, emotional live interview with a founder, to a sassy realtime clapback on Twitter. How brands choose to prove their authenticity is up to them, but they must tread carefully in a world where consumers are increasingly wary of being "sold to."
If "authentic" content doesn't ring true, consumers won't trust the brand (for example, if a brand tries to use a new slang term, but uses it wrong). But if the content is too raw and unfiltered, brands run the risk of showing customers a side of their business that doesn't look good (such as a live interview where the conversation rambles, or worse, veers into offensive territory). Brands are still struggling to get authentic content right, but they won't give up, because the potential payoff in consumer loyalty is huge.
---

May 23, 2019 - 04:43 PM
Some other trends worth noting are:
The Rise of Chatbots: The open rates and click through rates are far superior to email although I don't know how long this will last. There is newness in both the medium of chat and using automation to engage with users/customers/audiences in surprisingly realistic ways even though the messages are pre-scripted or synthesized by computers. See this Q&A on chatbots: https://capitalandgrowth.org/questions/1506/chatbots-some-quick-questions.html
AI Adoption: This isn't a single trend but AI is being used increasingly in many areas of marketing. One of the most exciting is the use of AI in CRO (Conversion Rate Optimization) through technologies like Ascend Evolv, made by the guys who sold Siri to Apple. It allows you to run hundreds of thousands of experiments in days, harnessing 'weak signals' to dynamically compose page variations that produce massive conversion lifts! Traditional software like Optimizely or VWO would take several lifetimes to even approach this kind of power.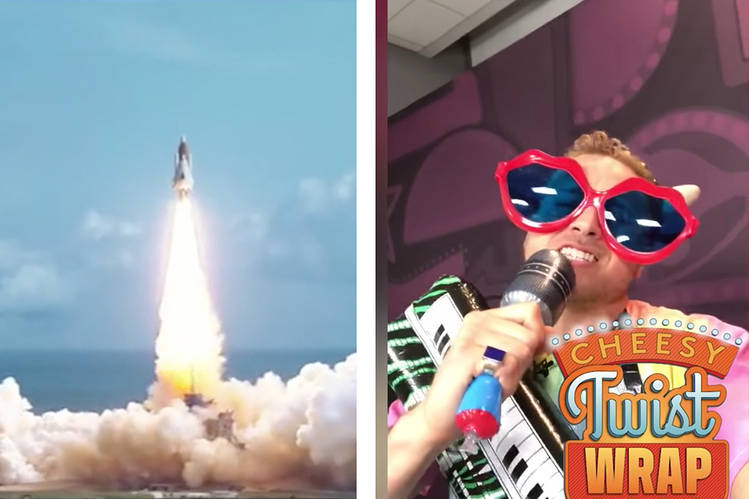 image source: WSJ.com: Taco Bell's "Retrieval" TV ad (left) was so slick, some viewers thought it was a real movie trailer. The online low-budget "Taco Bell Show" has a much different look. PHOTO: TACO BELL
Growing ad avoidance by consumers is eroding the value of perfection. "People are developing an aversion to ads that look like ads," says Mr. Leake. "When they see that production value, it's a trigger that you're trying to sell me something, and people aren't interested in that
."
Consulting Firms Muscling their way into Advertising: Firms like Accenture and Boston Consulting group have set up Digital Transformation practices that are taking some of the business that has historically been the preserve of creative ad agencies. This is being driven in part by advances in technology and the "data driveness" of all aspects of marketing, that consulting firms are better capacity to do. These consulting firms are also acquiring ad agencies at an astounding rate and at jaw-dropping prices! And this trend has, in turn, given rise to another one...namely that of....
Ads Becoming More Boring and Homogeneous: When everything is "data driven" the creativity and originality is lost, according to WSJ's special report on Advertising. But creativity isn't a good metric in my mind. Are the ads more effective? If they are, then it shoudn't matter how boring they are! It turns out many other people share my view and so a lot more advertising is shifting to Direct-to-Consumer campaigns (see next point below)
Increase in DTC (Direct to Consumer) advertising. More brands now demand that they get demonstrable ROI from their campaigns rather than the traditional awareness (measured by "recall" and "share of voice"). In other words they are saying "show me the money" and if you can't, they won't do business with you. Procter & Gamble cancelled all their Facebook advertising when they found out that it didn't affect sales one way or another. Many others are following suit.
---

Jun 10, 2019 - 02:45 PM
Marketing technologies, expertise and regulations are rapidly changing annually if not monthly. So every business small and large, online and brick & mortar should be tracking marketing trends and mapping those trends against their marketing strategies/execution. This approach should enable companies to confirm if they are meeting their business objectives with regards to their marketing
The question is what are the newest marketing trends in 2019 and beyond?
There are 2 approaches to addressing this question.
Option 1: The trends in the existing marketing strategies & metrics - (Depth)
Review existing and well known marketing trends. Theses include-
Social media marketing (Facebook, Instagram, YouTube, Twitter)
SEO
A/B Testing
Online Ads
Email marketing
Content Marketing
Option 2: The new marketing methodologies, technologies and protocols (Breadth)
Research and discover new methodologies, technologies and protocols that are expected to impact marketing industry in the next 1-5 years. These they include-
AI
Machine Learning
Chatbots
Video Marketing
Micro-Moments
Voice Search/Smart Speakers
Visual Search
My response will focused on option 2.
My approach to answering this question is to make my response actionable. In other words, any Chief Marketing Officer (CMO) or VP Marketing or marketing manager should be able to take this response and build a marketing strategy around it. The goal is to comprehensively look at marketing trends and projections and strategically determine-
Technology – Automation, Platforms & Tools
People – Roles, Talent & Expertise
Processes – Business Analysis, Strategy & Execution
Data – Velocity, Volume, Variety, Veracity & Value
Regulatory – Data collection requirements, monitoring & compliance; California Privacy Law, GDPR
Below, I have aggregated the marketing trends from marketing experts and thought leaders for 2019 and beyond. I'll start with technology and perhaps, in the future, we will dive into the other segments I have outlined above.
Technology – Automation, Platforms & Tools
AI & Machine Learning
Chatbots
Video Marketing
Voice Search/Smart Speakers
Visual Search
Micro-Moments
~~~~~~~~~~~~~~~~~~~~~~~~~~~~~~~~~~~~~~~~~~~~~~~~~~~~~~~~~~~~~~~~~~~~~~~~~~~~~~
Artificial Intelligence & Machine Learning
(2019 Marketing Trends Report: Nine Factors Reshaping Marketing And How You Can Stay Ahead of Them – IBM)
IBM's 2019 Marketing Trends has done an exceptional job diving into the advantages of leveraging artificial intelligence & machine learning in marketing. Below is IBM's analyses of AI and machine learning in marketing:
AI and Machine Learning Make Hyper-personalization a Reality
The promise of one-to-one marketing has been around for two decades, and brands still send consumers an overwhelming amount of marketing messages that are irrelevant, generic or only mildly segmented or personalized. In some respects, the proliferation of data and compartmentalized marketing stacks has made the goal of deep personalization both easier to visualize and more difficult to implement.
The challenge in many cases are the marketers themselves and the limits of human capabilities, time and resources. While 94 percent of companies agree that personalization is critical to their current and future success, almost half say that IT roadblocks (47 percent) and legacy technology (46 percent) are major barriers to their personalization efforts.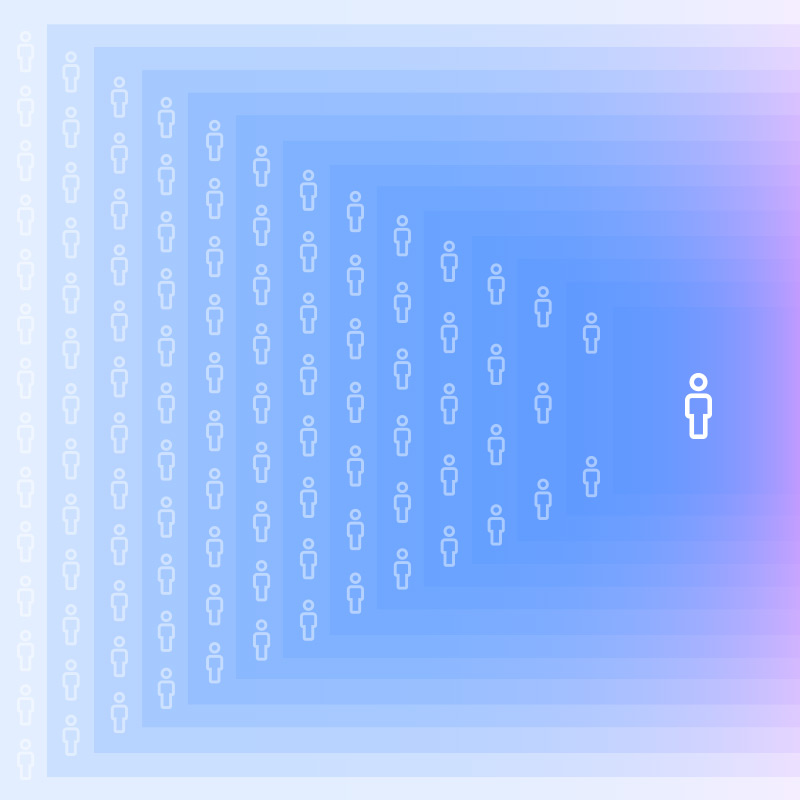 Fig 1: Personalization of the web experience
---
Enter AI and machine learning-based marketing tools that are changing the nature of how marketers make decisions and deploy campaigns.
"While humans still are in the driver's seat with respect to strategy and creative, machines can analyze, process and deliver personalized content at a massive scale."
A common inhibitor to deeper personalization for most marketers is creating multiple versions of content and then determining the right combinations at the right time for thousands or millions of customers. These systems can then create and deliver individualized content on the fly to each recipient.
This hyper-personalization is increasingly being based on the predicted behavior of the individual rather than conforming to a statically defined segment. AI-based systems make personalization easier for marketers by learning through each interaction and delivering the right content in the context of the customer's previous interactions with the brand.
What might this look like? A marketer will receive an SMS alert from a marketing automation tool notifying him or her that a sizable number of customers is predicted to not renew their memberships in the next 90 days. The marketer will then produce multichannel content and campaigns that will be personalized by AI-powered tools with specific offers and content that are optimized in real time across each channel the customer engages in.
Finally, look for 2019 to be the year when testing from after-the-fact A/B and multivariate transforms to more predictive-based and combined models with rules that optimize content and offers in real time.
~~~~~~~~~~~~~~~~~~~~~~~~~~~~~~~~~~~~~~~~~~~~~~~~~~~~~~~~~~~~~~~~~~~~~~~~~~~~~~
Chatbots
(10 Marketing Trends That Will Dominate 2019 – Quick Sprout)
In an article titled 10 Marketing Trends That Will Dominate 2019, Quick Sprout (which was founded in early 2008 by Neil Patel, the world's leading online marketer) has a great post on Chatbots in marketing. See below-
Chatbots and live chat isn't new technology by any stretch. However, we're definitely seeing a shift in the way these are being used from a marketing perspective. Have you seen chatbots recently when visiting websites?
According to stats, 1.4 billion peopleinteract with chatbots each year. And 80% of companies say they're already using or plan to use chatbots by 2020.
I'm expecting to see a huge increase in chatbots being used for marketing purposes in 2019 in order to reach that number by 2020. You should consider using this technology in your business if you're not already doing so. That's becauseimplementing live chat provides better customer service.
It's much easier for customers to communicate with chatbots online than to send an email or call a representative. Using chatbots has many potential benefits: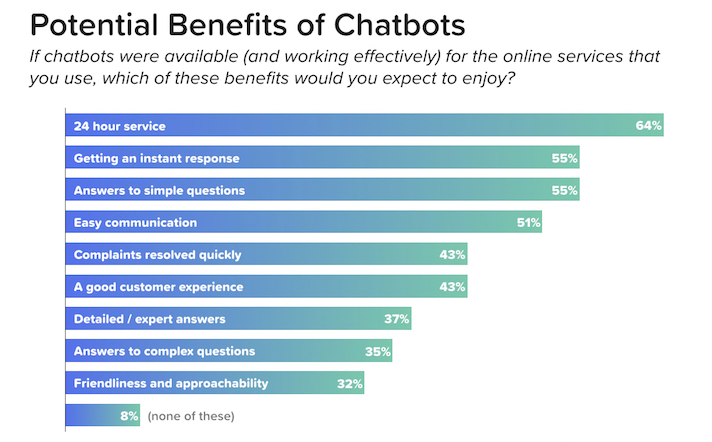 Fig 2: Chatbot use cases
You can have a chatbot window automatically pop up once a visitor lands on your website. This will make it much easier for them to reach your customer service team. Chatbots also help drive conversions.
Live chat makes it three times more likelythat your customers will complete the purchase process. Furthermore, live chats generate a 20% increase in conversions and a 305% increase in ROI.
Marketers have recognized these advantages and acted accordingly. I'm expecting to see more websites with chatbots in 2019. You should consider using this marketing strategy as well.
~~~~~~~~~~~~~~~~~~~~~~~~~~~~~~~~~~~~~~~~~~~~~~~~~~~~~~~~~~~~~~~~~~~~~~~~~~~~~~
Interactive Video Content
(10 Marketing Trends That Will Dominate 2019 – Quick Sprout)
Video marketing has been trending upward for years now. We're seeing an increase in videos on social media, websites, and blogs. People are even running successful video blogs. But in 2019, we'll start seeing additional changes in the way video is consumed. I'm talking about interactive videos.
The Washington Post uploaded this 360-degree video to its YouTube page: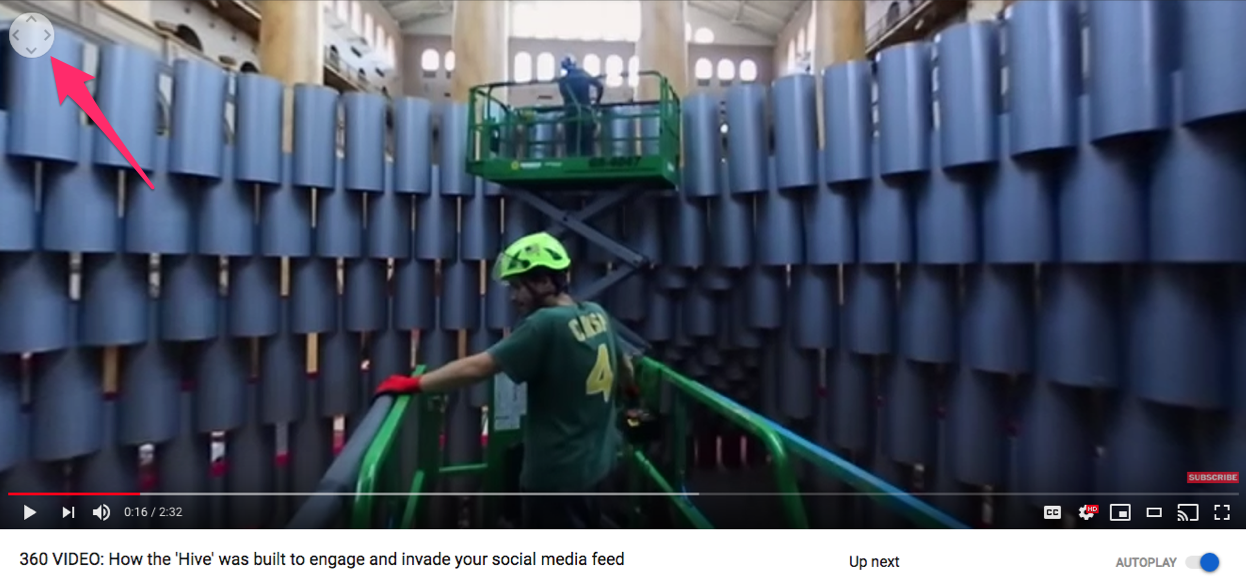 Fig 3: 360-degree video is more interactive and therefore, generates more engagement
As the video plays, users have a chance to view the entire area by clicking the navigation button in the top left corner of the screen.
You can start using interactive videos for all other purposes I mentioned earlier:
email
website
social media
blog
The idea behind interactive videos is to increase engagement:

Fig 4: KPI between regular video and 360 video
They perform better than regular videos. There is a greater chance that people will finish watching a 360-degree video and you'll get a higher return on your investment.
In fact, 98% of people in the United States believe that 360-degree videos are more exciting than traditional video formats.
And 90% of people say content is better when it can be viewed with a 360-degree view. It should be no surprise that 360 videos have a click-through rate eight times greater than that of traditional videos.
Furthermore, 70% of marketers say interactive videos have had a positive impact on their businesses.
Audiences are 65% more likely to interact with a 360-degree video.
Given these numbers, we'll see more of this content in the coming years, starting in 2019.
~~~~~~~~~~~~~~~~~~~~~~~~~~~~~~~~~~~~~~~~~~~~~~~~~~~~~~~~~~~~~~~~~~~~~~~~~~~~~~
Voice Search/ Smart Speakers
(10 Marketing Trends That Will Dominate 2019 – Quick Sprout)
Between smartphones and products such as Amazon Echo or Google Home, voice search is booming.
Voice recognition software isn't new. You've been able to use the speech to text function of your phone for years now, but you've probably experienced its imprecision.
Technology has evolved. Google Home has 95% word level accuracy.
Voice search will have a direct impact on ecommerce sales.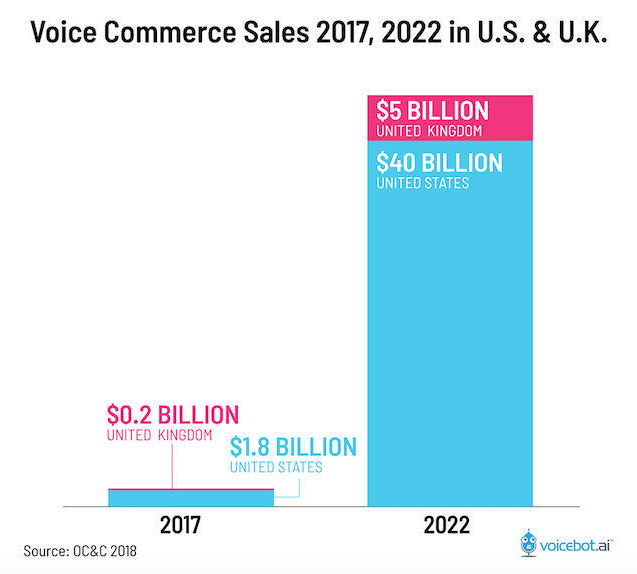 Fig 4: Voice commerce trends 2017 - 2022
Experts predict that by 2020, 50% of searches will be voice searches. Last year, 13% of households in America owned a smart speaker. This number is expected to reach 55% by 2022. As of January 2018, voice search was conducted 1 billion times a month. I predict that number to be higher in 2019.
~~~~~~~~~~~~~~~~~~~~~~~~~~~~~~~~~~~~~~~~~~~~~~~~~~~~~~~~~~~~~~~~~~~~~~~~~~~~~~
Visual Searches Are Taking Off
(10 Marketing Trends to Watch in 2019 – Entrepreneur.com)
Besides voice searches, can you name another kind of search method on the rise? Visual. Google has long enabled reverse-image searches, but new camera technology makes it possible for people to take a picture of something in the real world and find information about it.
Pinterest launched its Lens feature back in February, and the social media platform reports that its users conducted over 600 million combined monthly searches with it. To leverage the power of image searching, don't neglect Pinterest in your marketing efforts, and optimize your site (and social) images for SEO.
Sidebar
The Growth of Visual Search (The Rise of Visual Search: How Brands Can Adapt – Search Engine Journal)
Visual search technology is much more complex than text-based search, as with visual search the image itself is the query. Search engines are getting better at understanding the components of images, resulting in more reliable results and heightened usage.
While voice search usage has been increasing over the last few years, so has visual search. We can now search based on part of an image, search with our cameras, and search via augmented reality applications.
A 2017 report by Jumpshot and Moz confirms that visual search is on the rise, with 27 percent of all searches across 10 major properties being for images.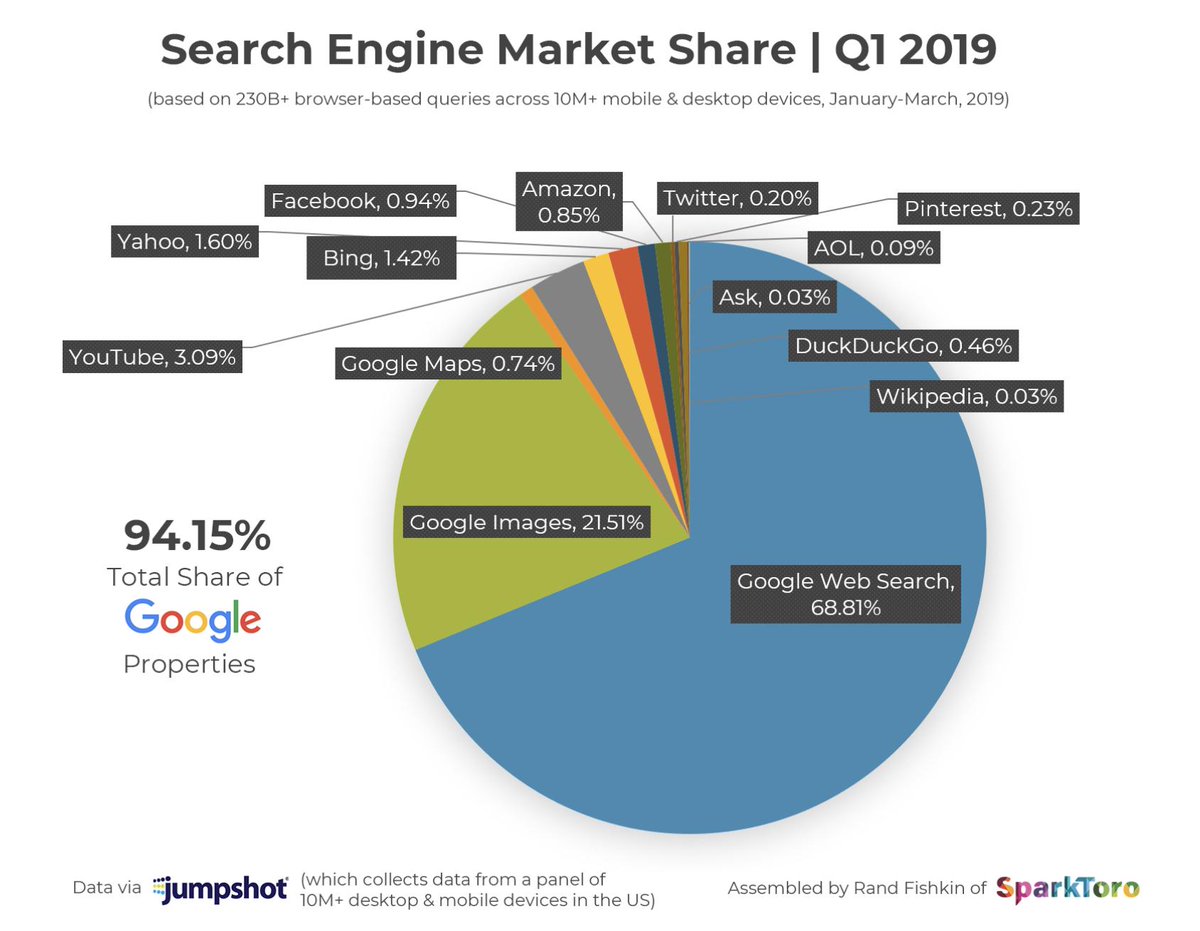 Fig 5: Share of visual search
Pinterest has reported that their users carried out more than 600 million combined monthly searches using their Lens technology in February 2018 and there are now more image results than ever being returned by Google.
Clearly, visual search is growing rapidly.
~~~~~~~~~~~~~~~~~~~~~~~~~~~~~~~~~~~~~~~~~~~~~~~~~~~~~~~~~~~~~~~~~~~~~~~~~~~~~~
Micro-Moments
(12 Digital Marketing Trends You Can No Longer Ignore in 2019 – Single Grain Marketing)
People spend an average of 3 hours and 35 minutes on their smartphones every day, and by 2019, mobile devices will be the medium that gets the most minutes in the U.S. (finally surpassing television).
This is changing the way brands must work to capture buyers' attention.
Micro-Moments is a "new consumer behavior," as termed by Google, that delivers your marketing message clearly and concisely in a way that is of interest to the consumers – all within a span of seconds (otherwise, they lose their attention and are onto the next article!).
People generally make instant decisions on what to eat, which restaurant to choose, what to purchase, or where to go, so Micro-Moments that that every marketer should know about are: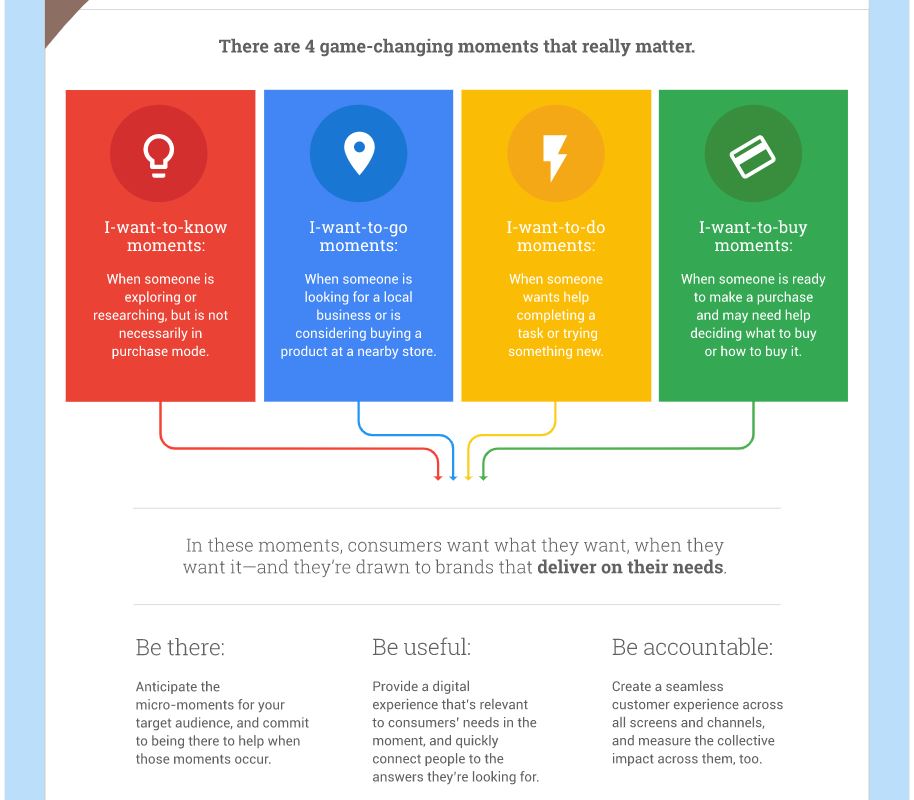 Fig 6: Micro-moment: be there when the moment arises
To take advantage of micro-moments in 2019, be where consumers search for information in the moment – such as Google, Google Maps, Amazon, YouTube, and anywhere else people search for information at a moment's notice.
Take a look at how a variety of brands are using Micro-Moments in their marketing: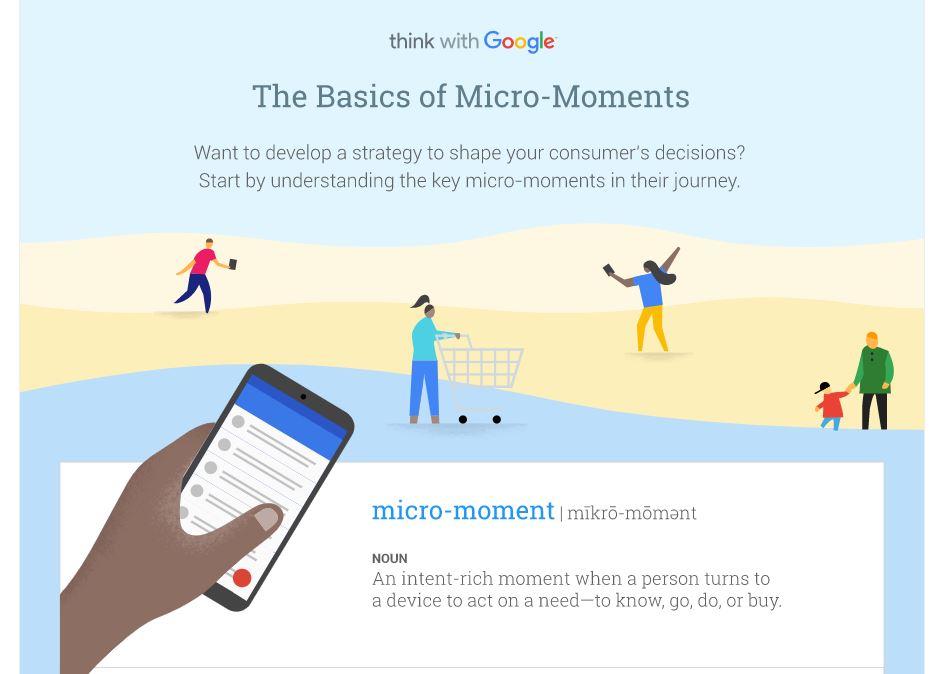 Fig 6: Understand key micro-moments
~~~~~~~~~~~~~~~~~~~~~~~~~~~~~~~~~~~~~~~~~~~~~~~~~~~~~~~~~~~~~~~~~~~~~~~~~~~~~~